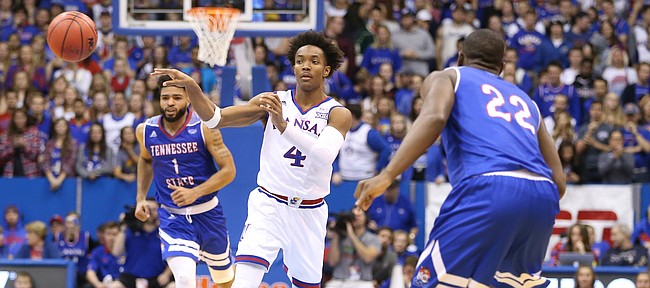 After putting up stellar statistics that did not officially count during KU's three exhibition games, Kansas point guard Devonté Graham finally got his senior season off and running on Friday night and nearly recorded a triple-double in the process.
The double-double (10 points and 12 assists) was the first of his career in 73 starts.
Not bad for his first official act of following in Frank Mason III's footsteps.
As had been the expectation throughout the offseason, Graham led the fourth-ranked Jayhawks (1-0) to Friday's 92-56 victory by flashing all of the best parts of his game.
Offense: The Raleigh, N.C., native set the tone by scoring five points in the game's opening minutes and tallied 10 for the game inside and out. His high-flying, two-handed slam early on ignited the crowd and Graham drained four of seven shots while also dishing out a dozen assists, several of which were worthy of their own highlight reel.
Defense: In addition to his 10 points, Graham snagged seven rebounds and three steals and generally made life miserable for the Tennessee State guards. Even when Graham did not come away with a steal, his defensive pressure and intensity often forced TSU completely out of what it wanted to do offensively. His block of a layup attempt by Tennessee State's Delano Spencer immediately followed one of his three turnovers.
Leadership: In terms of on-the-court instruction to his teammates and executing what the KU coaches wanted to see, Graham operated with a steady hand at all times, serving as a calming influence for a Kansas team playing together in a real game for the first time.
Emotion: From passionate roars and three-goggles after made shots to chest slaps and high-fives of encouragement, Graham, as he tends to be, was the heart and soul of the Jayhawks from start to finish.
"He's really good, OK," said Tennessee State coach Dana Ford. "And he's such a good ballhandler that you really can't guard him. He doesn't see the guy that's guarding him. He's obviously one of the best players in the country. He's so competitive, he's got great spirit, he's ultra-quick and fast and you can tell he's one of the leaders on this team."
For Graham, as has been the case throughout his KU career, Friday's opener was about much more than his final numbers.
"I want to try to make the right play every time," he said. "That's our main focus as guards, getting downhill and making plays."
In that way, Tennessee State proved to be the perfect first opponent for the Jayhawks, who used superior size, speed, strength and skill to roll over the Tigers.
"They're really fast when they play those four guards," Ford said. "Just unbelievably fast. I mean, you can't keep them in front and they just got downhill every time they wanted against us."