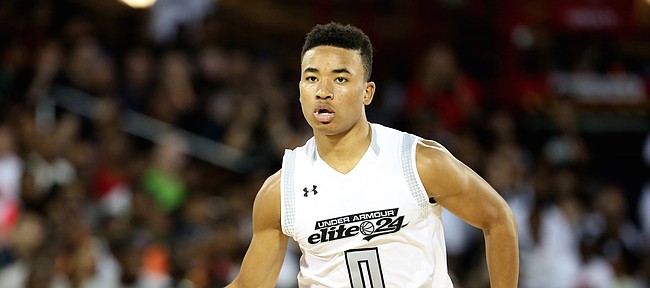 The Kansas men's basketball team officially has its point guard of the near future.
With Frank Mason III now playing in the NBA and Devonté Graham playing his final season as a Jayhawk, KU coach Bill Self knew he needed a lead guard to replace them and zeroed in on Devon Dotson, a five-star point guard from Charlotte, N.C.
The 6-foot-2, 175-pound Dotson orally committed to Kansas during a ceremony at his school on Oct. 13. On Saturday, he made that commitment official by signing his national letter of intent to join the Jayhawks.
"We recruited three or four lead guards in the country this past year, knowing all the perimeter players that we'll be losing," Self said in a press release. "We felt like Devon had the highest ceiling of the guys that we were recruiting."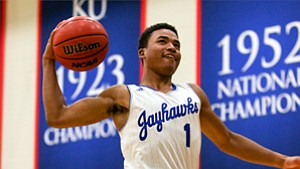 Ranked No. 17 in the 2018 class by Rivals.com, Dotson becomes the first official KU signee in a recruiting class that is ranked No. 2 in the nation by Rivals. Big men Silvio De Sousa, who is exploring the possibility of coming to KU early, and David McCormack also are expected to send their letters to KU before the end of the early signing period next Wednesday.
While he waits for those letters, Self elaborated on what he liked about Dotson.
"He's an explosive athlete," Self said. "He's very unselfish. He can make plays for others, but he also has plenty of explosiveness that he can make plays for himself. And even though they are different type players, in some ways he will remind people of Frank because of his ability to get into the lane."
Self called Dotson "one of the most explosive guards we've had since I have been here at Kansas" and credited assistant coach Norm Roberts for his role in Dotson's recruitment.
As a junior, Dotson averaged 24.4 points, 6.8 rebounds and 5.1 assists per game at Providence Day School for coach Brian Field.
As a sophomore, Dotson helped guide Providence Day to the 3A state championship and, this past summer, he averaged 19 points, 5.2 rebounds, 3.4 assists and 2.5 steals per game for Team Charlotte AAU.