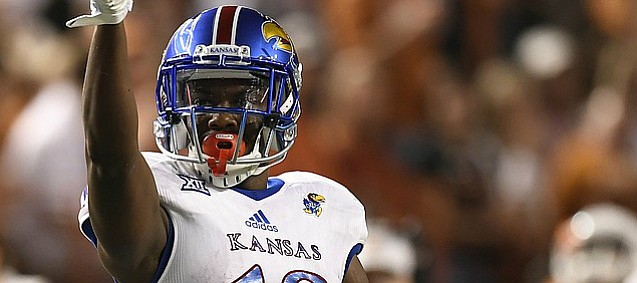 Austin, Texas — A revolving door of quarterbacks is the face of the longest road losing streak in the history of college football's highest division.
Nothing will commemorate Kansas knocking Western State (based in Gunnison, Colo., 44 in a row from 1926-36) out of the top spot and only two words were spoken about it by third-year KU coach David Beaty when asked if he had any thoughts on it.
"I don't," Beaty said after a 42-27 loss at DKR – Texas Memorial Stadium, consecutive road setback No. 45.
Nor should he. KU's next game is at home against No. 5 Oklahoma.
So many coaches, more than twice as many quarterbacks have made starts during the streak.
Kansas hasn't been able to settle on a QB since Todd Reesing played his final season in 2009. One quarterback wins the job, leads an offense that turns it over too often, loses his job, gets it back, and so it has gone for nearly a decade for the Jayhawks.
Why so many interceptions through the years? To blame it all on the men throwing them is to ignore how much duress they face as a result of battles lost up front.
Look deeper for the foundation of it. KU hasn't been able to recruit and develop offensive linemen that blend into a cohesive unit, spend as many as five years together in weight rooms and meeting rooms and play alongside each other long enough to communicate like twins. The names and frames forever change, much like the men they try to protect.
On this night, KU used just one quarterback, a testament to the toughness of third-year sophomore Carter Stanley, given how brutally and often he was rocked throughout the night, always popping back up to show the beatings didn't defeat his will.
"I'll say this about Carter Stanley: That might have been one of the toughest cats I've ever been around," Beaty said. "They knocked the fool out of that guy today. He is bleeding from every part of his body, and he gets up and he can barely move, and he is a tough guy."
Stanley, one of 11 quarterbacks to start a game for Kansas during the 45-game road spill, threw three interceptions, all in the first half. He also hit 10 different receivers, including emerging sophomore Evan Fairs (seven catches for 104 yards), threw for 268 yards and three touchdowns and rushed for net 43 yards, despite 19 yards in losses.
To what extent is the lack of protection to blame for the interceptions?
"Some of it," Beaty said. "There's a shared issue in some of those turnovers. It's never just the O-line. When I came here I said this in the Air Raid: There's always a place to go with the ball. There's always a trapdoor. I can tell you this: We go back and look at the tape and unless somebody absolutely busts a route, it's always there."
But tough to see with behemoths closing in on the quarterback. Stanley is better than many at buying time with his feet and backup Peyton Bender at this point in their careers is better at seeing which windows and trapdoors are open.
All the hits Stanley takes don't go unnoticed by teammates.
"He's a strong kid, mentally, physically," said junior defensive tackle Daniel Wise, the team's best player this season. "He keeps us going the way he plays."
Kansas competed much better in this road loss than in last week's 38-9 home setback to winless Baylor, a changeup because the road usually brings out the worst in the Jayhawks.
KU has visited stadiums in 14 different states during the extended dry spell, keeping in mind that a 15th is not part of the streak because the three losses to Missouri at Arrowhead Stadium were neutral-site games.
State-by-state records during the streak, listed in order visited: Colorado (0-1), Texas (0-18), Kansas (0-4), Mississippi (0-1), Iowa (0-5), Nebraska (0-1), Georgia (0-1), Oklahoma (0-6), West Virginia (0-3), Illinois (0-1), North Carolina (0-1), New Jersey (0-1), Tennessee (0-1), Ohio (0-1).
The head coaches: Mark Mangino (0-4), Turner Gill (0-9), Charlie Weis (0-12), interim Clint Bowen (0-5) and Beaty (0-15).
The starting quarterbacks, all of whom came to Kansas on scholarship, listed in chronological order of first road start: Reesing (0-4), Jordan Webb (0-7), Quinn Mecham (0-2), Dayne Crist (0-3), Michael Cummings (0-7), Jake Heaps (0-4), Montell Cozart (0-7), Deondre Ford (0-1), Ryan Willis (0-5), Stanley (0-2), Bender (0-3).
KU's final crack at keeping the slide from spilling into next season comes in the season-finale in Stillwater against Oklahoma State on Nov. 25, two days after Thanksgiving. KU last won on the road out in the west Texas town of El Paso, 34-7 against UTEP.
Since the 45-game road losing streak started on Oct. 17, 2009, with a 34-30 setback to Colorado, KU has gone 15-38 in Memorial Stadium, including 9-36 (.200 winning percentage) against FBS foes. Not great work, by any means, but considerably better than the results when they hit the road and the road hits them back much harder.
They took some hard hits against Texas, most notably Stanley, but on this night it didn't knock the fight out of a 1-9 squad that hasn't come within single figures of an opponent during its nine-game losing streak, which has dropped Beaty's record to 3-31 overall and 1-30 vs. FBS competition.
---
More news and notes from Kansas vs. Texas