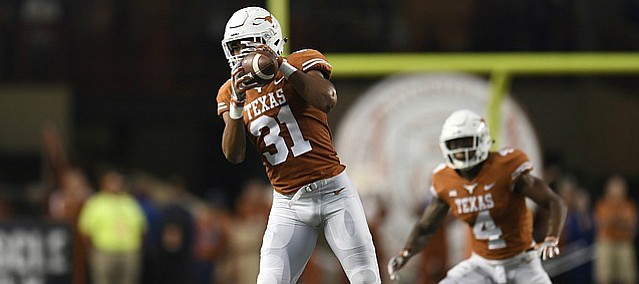 Austin, Texas — The Texas football team made a point to exploit Kansas for its most glaring flaws Saturday night. When the Jayhawks failed to do the same, the Longhorns had little trouble avenging their storied program's infamous 2016 loss to forlorn KU.
On a night Texas took the ball away four times and scored 21 points as a direct result, at Darrel K. Royal – Texas Memorial Stadium, a pair of UT mistakes only netted the eternal road underdogs three points, making it simpler for Texas to win 42-27.
The KU secondary's first interception in five weeks, a Hasan Defense fourth-quarter pick of UT's Shane Buechele (22-for-32, 249 yards, one touchdown), had little impact.
Trailing by 15 points at the time, and with more than 12 minutes left on the game clock, the rare Kansas steal possessed the potential to put some serious pressure on the Longhorns (5-4 overall, 4-3 Big 12), who entered the weekend two wins shy of bowl eligibility with three games to play.
The Kansas offense failed to apply such stress. The first play after Defense pilfered some momentum, a quick Carter Stanley pass to Steven Sims Jr. actually lost six yards. The next snap brought on a Breckyn Hager sack of Stanley. Facing third-and-20, Stanley initially dropped the following snap onto the turf before picking it back up, surveying the field and taking off for an 18-yard run. But after the teams traded infractions on fourth downs, the KU drive concluded with Malik Jefferson smothering Taylor Martin in the backfield for a turnover on downs at the UT 32-yard line.
"That's always huge. That tells the story in games, right. Turnovers and if you can capitalize on them," KU head coach David Beaty said. "Being able to capitalize on that interception which put us in great field position. … We were in good position and we have to be able to go down there and capitalize on that."
Just to bring normalcy back to the college football universe, the Longhorns traversed 68 yards on the following possession to officially bury Kansas (1-9, 0-7) with a Chris Warren III rushing TD with 5:34 left, perhaps even inspiring some to forget that KU beat UT nearly a year ago.
"Defense did a great job all night," KU redshirt sophomore quarterback Carter Stanley said. "Those guys play their tails off every week. Obviously it would've been great if we were able to capitalize with a touchdown there. But it hurt."
Texas, which went 3-for-3 on fourth-down conversions in the first half, couldn't duplicate that success in the third quarter, when back-to-back drives concluded due to a turnover on downs.
Yet, ever-snakebitten Kansas, which lost its 45th consecutive road game, couldn't even catch a break on that side of the ball in the third.
Defensive end Dorance Armstrong Jr. bobbled and couldn't corral a potential interception which he easily could've taken to the end zone at a juncture when Texas led 35-20.
"He's sick, because he can see that goal line," Beaty said. "The problem is he was looking at the goal line instead of seeing the ball in. But I know it, man, he's been wanting that for a long, long time. So that would've been a big play. No doubt about it."
On the same series, cornerback Julian Chandler forced a fumble, but UT recovered.
The initial fourth-down stop, at the 9:00 mark, with the underdogs trailing by 18, led to the only points of the third quarter for either team.
Two chunk plays — a 29-yard Stanley pass to Kerr Johnson Jr. and a 15-yard sprint down the right sideline by Martin — put Kansas in striking position, going as far as the 15-yard line. A 32-yard Gabriel Rui field goal was all the Jayhawks could muster, though, trimming UT's advantage to 35-20.
"You know, they understand it," Beaty said of the defense playing to its potential for a bit, keeping UT scoreless from the 4:49 mark of the second quarter until late in the fourth. "You give them an advantage. We've got to be able to just — just don't go backwards and let's see how things work out. Just don't go backwards. You'd be surprised."
Despite throwing a pair of interceptions in the opening quarter, unfazed Stanley (27-for-43 passing, three picks, three touchdowns, 268 yards on the night) opened the second quarter, with the help of positive Martin runs, by orchestrating a touchdown drive capped by a perfectly-placed toss to freshman tight end Earl Bostick in the end zone, cutting the Texas lead to 28-14.
It soon after shrank as small as 28-17 with a 36-yard Rui field goal, once kickoff coverage special teamers Kyron Johnson forced a Kris Boyd fumble and Kerr Johnson Jr. recovered UT's only giveaway of the first half.
Even so, it was only a matter of time before a Kansas mishap, in the form of a muffed punt by Steven Sims Jr., set Texas up with its third touchdown off a Jayhawks turnover. Lil'Jordan Humphrey's one-yard rushing score padded UT's lead up to 35-17.
Making matters worse, one of the more eye-pleasing drives of the night by Kansas on the ensuing series covered 71 yards over 12 plays with no points to show for it. The drive ended when Stanley badly overthrew Ben Johnson in the end zone, enabling UT nickelback Antwuan Davis to secure his second interception of the half.
"It was big-time. They scored off of them," Stanley said of the Longhorns' takeaways. "That's where I've got to be better. Just reading the coverage better. I think those were good plays by those guys anyway and we were just unfortunate."
Beaty referenced the words of former UT offensive coordinator Greg Davis in his summation of the late second quarter interception.
"Reserve the right to kick. Do not throw the football to the other team down there in that red zone," Beaty shared. "And we just were not able to get that done. We've got to be able to come away with points there. We've got the ball coming out at half and you have a chance to go make it a really good game and we weren't able to do that."
Their ninth consecutive loss couldn't have started much worse for the Jayhawks. After attempting an onside kick, easily recovered by the Longhorns, to open the game, it took one play from scrimmage and nine seconds of game clock for Texas to reach the end zone.
Wasting no time to take shots at the KU secondary, which was without injured starting defensive backs Mike Lee and Shakial Taylor, Buechele put a deep ball down the middle of the field on the money for senior receiver Lorenzo Joe, who beat the coverage deep for a 49-yard score.
After the KU defense displayed the ability to mentally recover on its second series, surrendering only one first down before forcing a punt, the offense couldn't escape a drive that began at its own 1-yard line unscathed.
UT punter Michael Dickson pinned KU deep, and two rush attempts only gave the Jayhawks an extra yard of breathing room. On third down, Stanley found himself under severe pressure in the end zone and his hurried throw over the middle was easily picked out of the air by Davis, who took the ball to the end zone for six carefree points.
Stanley and the Jayhawks at least proved resilient, though. The redshirt sophomore QB, who already survived a pulverizing hit on the first series, sparked a six-play TD drive with a 15-yard rush which concluded with him spinning forward to eke out extra yardage. Stanley later found senior tight end Ben Johnson for a crucial 20-yard gain. An ensuing hurry-up snap capitalized on that momentum, as Stanley found Sims for a five-yard touchdown, seemingly eradicating the lingering stench of the disastrous start and cutting the lead in half, to 14-7.
The Longhorns made sure the visitors, so used to suffering the worst outcomes on the road, didn't get too comfortable. A 35-yard kickoff return from Kris Boyd set up a quick, rushing-only 60-yard scoring drive bolstered by carries of 20-plus yards by both Daniel Young and Toneil Carter.
The Horns' 21-7 lead soon got an upgrade courtesy of Stanley's second interception of the first quarter. Freshman Texas QB Sam Ehlinger entered for a series after missing the past couple games due to injury and only needed two short completions and nine yards for a TD and a 28-7 cushion, thanks to senior safety Jason Hall's pick and 25-yard return.
Texas seized its big moments. The Jayhawks couldn't.
Said Defense: "Opportunities come and if they come to you, you have to make plays."
KU plays its home finale Saturday versus Oklahoma, at Memorial Stadium.
---
More news and notes from Kansas vs. Texas