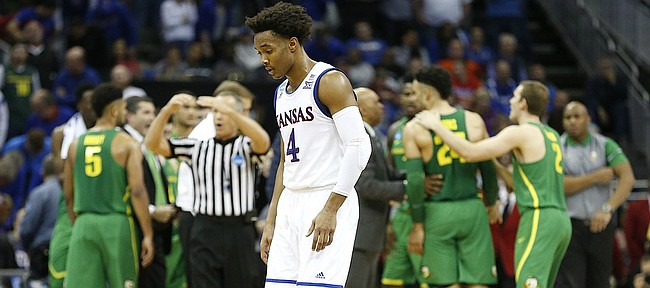 Kansas City, Mo. — After steam-rolling their way through the first three games of this year's NCAA Tournament at a record pace, top-seeded Kansas ran into a team equally as willing to run and just as confident Saturday night at Sprint Center.
The result was the unexpected crash landing of a season that flew so high so often but never could get off the runway in the season finale. Oregon started hot, played looser and knocked down 51 percent of its shots, including 11 of 25 from 3-point range, en route to knocking off the top-seeded Jayhawks, 74-60, in the Elite Eight.
"Every team that makes a run in this tournament gets one crappy game where stuff just doesn't go well for them," said subdued KU freshman Josh Jackson in the locker room after the loss. "But you gotta win that game, no matter what. This was our one game, unfortunately, and we didn't win."
Photo Gallery
Kansas basketball v. Oregon (Elite Eight)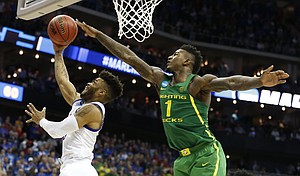 View a gallery of images from the Jayhawks' Elite Eight matchup against the Ducks on Saturday at Sprint Center.
The Jayhawks (31-5) led just once all game, at 3-2, and even that brief advantage carried with it an indication of what kind of night it was going to be for the Kansas offense. The Jayhawks did not score until the 16:14 mark when Lagerald Vick's 3-pointer from the wing put Kansas ahead 3-2. But that lead lasted just 32 seconds and KU spent the rest of the night in catch-up mode.
For a team that thrived in that role all season, playing from behind was nothing new. And, really, it did not even seem to bother the Jayhawks all that much. Having found ways to fight back nearly a dozen times during a thrilling season, Kansas expected the same to happen on Saturday night.
"We all did, throughout the whole game," Jackson said. "None of us ever thought we were gonna lose the game no matter what the scoreboard read, but the lid just wouldn't come off the rim for us. Shots that we normally make didn't fall."
Kansas ended what many thought was destined to be a run back to the Final Four with its worst shooting night of the season, finishing 21-of-60 for 35 percent. The most damaging spot on the floor for the Jayhawks in this one was not the free throw line, where KU finished 13-of-17, but, instead, behind the 3-point line, where KU connected on just five of 25 3-point attempts on the same floor where, two days earlier, the Jayhawks tied a season-best with 15 3-point makes.
"We were trying too hard," said KU coach Bill Self, whose team was just 1-of-15 from downtown in the second half and watched junior Devonte' Graham finish the night without making a single shot in seven tries. "That's a common theme with athletes. I kept saying, 'Hey, somebody's gonna make a shot, the lid's coming off, we're gonna be fine.' We never did."
By far the biggest development of the first half — and likely the game — was the two fouls called on Jackson in the first 2:37 of game time.
The first foul, a bump on a 50-50 rebound, came at the 17:40 mark of the first half and was hardly anything anyone could argue. Even Jackson said that was a foul after the game.
His second, though, a hand-check on a driving Dillon Brooks, came just 17 seconds later and was heavily disputed by Jackson and the KU bench.
"The second foul was complete bullcrap," Jackson said in the locker room. "It shouldn't have been called. Wasn't a foul. That's all I had to say about it."
Either way, KU coach Bill Self immediately asked Jackson to grab a seat next to him — in favor of sophomore Lagerald Vick — and Jackson stayed there for the next 8:38 of game action and returned to the floor at the 8:45 mark of the first half, with KU down 17-16.
Jackson's replacement, Lagerald Vick, the same player who filled in when Jackson was suspended during the opening game of the Big 12 tournament two weeks ago, immediately made his presence felt by draining a 3-pointer with 16:11 to play in the first half to put Kansas on the board. The fact that the Jayhawks and Ducks (33-5) had combined for just five points in the game's first four minutes, while a huge lift for the under-bettors in Las Vegas, no doubt came as a surprise to everybody watching.
""I thought I did all right," said Vick, fighting back tears. "I could've done better."
Vick's early contributions did not end with the jumper. He made good decisions throughout his first five minute on the floor, playing under control and finding the open man when available. First was Landen Lucas for a dunk that pulled KU within five and, on the next possession, he calmly flipped a pass (instead of forcing a shot) to a trailing Svi Mykhailiuk, who drilled a rhythm 3-pointer to cut Oregon's lead to 12-10.
After another KU stop, Vick crashed the offensive glass and was fouled, earning two free throws that temporarily tied the game at the 11:51 mark of the first half.
Regardless of how well Vick filled in, the absence of of the Jackson the Jayhawks had seen improve and grow more aggressive week after week, month after month, was a huge blow, both in the moment and throughout the rest of the game.
"I feel like it took me out of the game and made it really hard for me to come back in and get going again," Jackson said. "My teammates did a great job of staying in the game while I was out but it just took me out of the game."
While the Ducks found their rhythm offensively — shooting 60 percent overall and 58 percent from 3-point range during the first half — Mason, once again, kept the Jayhawks in it.
"It's really hurting me right now to see them going out like that. He was amazing the first half," said Vick of Mason who scored 17 first-half points and finished with 21 while playing all 40 minutes. "He carried us. Guys usually feed off of his energy, but tonight shots just didn't fall for us."
The All-American point guard, as he had done throughout the season, delivered all over the floor, scoring in transition, on drives in KU's half-court sets and from 3-point range. His missed three that left him undercut and landing on his side led to three free throws that cut the Oregon lead to 27-26 with 5:59 to play in the half.
But the Ducks outscored Kansas 17-7 the rest of the half, including an 8-0 run to close the half, that featured a banked-in 3-pointer from Tyler Dorsey (27 points on 9-of-13 shooting) at the halftime buzzer that gave Oregon a 44-33 lead at the break.
"It put some momentum in their locker room," Jackson said. "Two flukey 3s that Dorsey hit just fell. It was just one of those days, shots were falling for them and they weren't for us."
The Ducks emerged from the locker room determined to pick up where they left off and did just that. In building a lead of as many as 18 points (55-37) early in the second half, the Ducks continued to torch the nets, keeping their shooting hovering around 60 percent as many as eight minutes into the second half.
Kansas, as everyone surely expected it would, mounted a couple of monster charges, but the Jayhawks expended an awful lot of effort and energy in a suddenly wild and wide-open game without drawing much closer.
Kansas trailed 57-41 at the 11:57 mark and still trailed by 13 after another 3-pointer by Dorsey with 6:39 to play.
That was about the time the Jayhawks began their final charge, and, even without much luck on the offensive end, it almost was enough.
A huge 3-pointer in the corner from Svi Mykhailiuk at the 2:50 mark pulled Kansas within six and, after the Jayhawks forced another Oregon miss on the ensuing possession, it looked as if the Jayhawks were in business.
But instead of grabbing the rebound of a rare miss by Dorsey and looking to cut into the lead further, Jackson and Mason tipped the rebound away from each other and into the waiting hands of Oregon big man Jordan Bell. Thirteen seconds later, Dorsey redeemed himself and drilled a 3-pointer from the wing that essentially ended the game.
"That was a critical possession," said Mason of the flubbed rebound. "If we would have got the ball on that possession, gave us a chance to make it a one or two possession game. We just couldn't come up with the ball."
Added Jackson: "It was a pretty big play. Like I said, we couldn't catch a break. We get that rebound, we get some momentum going, crowd starts giving us a little bit of energy, maybe it's a whole different game. Maybe we go make a 3 or score a 2 and get them on their heels a little bit, but it just didn't happen."
Instead, it was the Jayhawks who were on their heels as the Ducks ran out the clock and celebrated with their small section of fans that, by game's end, were every bit as loud as the pro-KU crowd on hand.
The loss ends KU's season in the Elite Eight for the second year in a row and drops Self to 2-7 in regional finals, including a 2-5 mark at Kansas.
While last year's Elite Eight loss to Villanova stuck with the Jayhawks all offseason and fueled their run to get back to this point in 2017, it's hard to say what this loss will mean for the Jayhawks' uncertain future.
Mason and senior center Landen Lucas are gone. Jackson, though not showing his hand either way in the locker room after the loss, likely will join them in leaving Lawrence. And at least a couple of other Jayhawks figure to spend at least some time mulling over their future plans.
None of that mattered on Saturday night, though, when the Jayhawks sat stunned in the losing locker room, trying to make sense of what just happened and wondering how a season that went so well could end the way it did.
"Playing poorly or us not preparing 'em right or us not playing our best game shouldn't take away from the fact that we had a great year," Self said. "To have special years, you gotta perform well in the NCAA Tournament and we performed this year as well as we ever have in three games. Final Four would've made it special and we obviously fell short."
Added Mykhailiuk: "It's hard. We were really sure that we could do it this year, but we came up short."
— See what people were saying about the game during KUsports.com's live coverage.
---
More news and notes from Kansas vs. Oregon
---