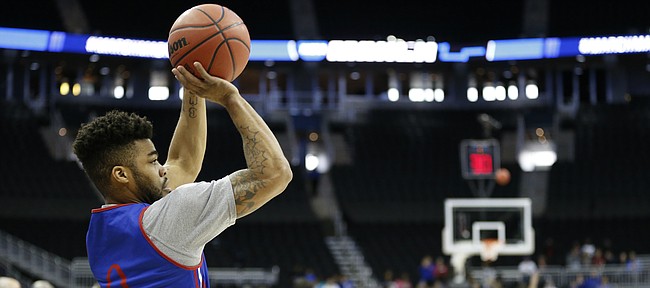 Kansas City, Mo. — One stands 6-foot-9, weighs 250 pounds and practices with a full sweat suit under his shorts and jersey. The other checks in at 5-foot-11, 190 pounds and doesn't look quite as imposing but plays that way.
Both are finalists for several national player of the year awards and each will play a huge role in determining which team wins tonight's Sweet 16 showdown between top-seeded Kansas (30-4) and fourth-seeded Purdue (27-7), set for approximately 8:39 p.m. at Sprint Center
While the two superstars won't spend much, if any, time guarding each other and probably won't even be in the same areas on the court all that often, the matchup between Purdue big man Caleb Swanigan and Kansas point guard Frank Mason III provides the perfect trailer for tonight's clash.
In a world of win-or-go-home basketball, one monster big man and one lights-out lead guard will look to navigate contrasting styles and opposite strengths through the Sweet 16 and into Saturday's Elite Eight.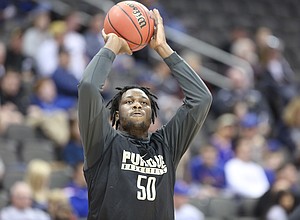 "As far as me and Swanigan, it's not about me and him," said Mason shortly before Wednesday's open practice at Sprint Center, which drew a couple thousand KU fans. "That's not a matchup. It's Kansas versus Purdue. So I'm just going to get out there and do whatever I can do to help my team be successful."
Asked if he could share his strategy for handling a Purdue team that features Swanigan and 7-foot-2 center Isaac Haas as formidable forces, Kansas coach Bill Self didn't blink but did offer one hint.
"I'm not gonna tell you that," said Self. "Geez. I'll tell you, Frank won't guard Haas. He may want to, but that's about the only thing I'll say."
While it seems obvious that KU's 5-11 heartbeat won't be asked to guard the biggest player in the game — Self on Tuesday likened Haas to Ivan Drago from the movie "Rocky IV" — there's a feeling in both locker rooms that a big performance from an unexpected place could prove to be huge in this one.
"It's definitely going to come down to that," said junior guard Devonté Graham. "Somebody off the bench that comes in like last game with Dwight (Coleby). We're definitely going to still need that this game. ... We've got plenty of guys that can do it, and we've got that confidence in everybody to come in and be ready to play."
While the Jayhawks have been led all season by their terrific trio of guards, their season would not have been what it was without these X-factor type of performances, which saved them in some games and enhanced others.
Photo Gallery
Kansas and Purdue NCAA practices and press conferences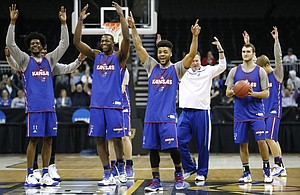 The Jayhawks and Boilermakers practiced on Wednesday at Sprint Center in preparation for Thursday's Sweet Sixteen matchup.
Josh Jackson, KU's second leading scorer who even went as far as to call himself an X-factor, described the term as a player who can do a number of different things on the court, but does not always execute all of them.
"I think every guy on our team is an X-factor," Jackson said. "We feel like we can always count on Frank and Devonté, but we look at a couple other guys on our team and we ask, 'What kind of game are they going to have?'"
Sophomore guard Lagerald Vick, as good a candidate as any for X-factor status, agreed with Jackson.
"It depends on the game," Vick said. "You know, different guys step up different games. It might be me, it could be Svi (Mykahiliuk), it could be CB (Carlton Bragg Jr.), it could be Dwight or it could be a young guy. It just depends on how the game goes."
Asked if being dubbed an X-factor was an insult, Vick sat back, adjusted his furled brow and said, "No, not at all. If you're an X-factor, it means you're a factor."
Most of the talk Wednesday centered on the matchup of Purdue's big front line against Kansas' four-guard lineup, which would make Bragg, Coleby and senior forward Landen Lucas the leading candidates to become KU's unsung hero tonight. Self acknowledged that his team's success against Purdue's size — especially Swanigan — will be key.
"He's a challenge all the way around no matter how you choose to guard him," Self said. "If you double him, he's got over 100 assists. He's a great passer. If they isolate him one-on-one, he's probably (the best) low-post scorer in college basketball. So he's definitely worthy of all his postseason recognition. He's had a great year."
Both the Boilermakers and Jayhawks will tell you, though, that this Purdue team, which has lost to just one team since Jan. 30 — Michigan on Feb. 25 and again in the Big Ten Tournament — is about much more than Swanigan and his 19 points, 13 rebounds and 3 assists per game averages.
"We've seen a team with bigs. We've seen a team with shooters. But I don't think we've seen a team with both at one time," said Jackson. "The thing about them is they're not just tall, they're pretty wide and strong, too. I think the biggest thing is to try to fight for early position and not let them get too deep in the post. I think we've got a better chance of guarding them 10 feet from the basket than we do at 5."
Regardless of what strategy they use or which style wins out, Jackson said the Jayhawks were happy riding their star into the biggest game of the season.
Inexplicably asked by one reporter which player he thought was better, Mason or Swanigan, Jackson, who knew Swanigan from their USA Basketball days, paused, sighed and said simply, "I'm going to say Frank. Yeah."
Later, he perfectly expressed why.
"Frank has meant everything to our team," Jackson said. "Night in and night out, we can count on him. He's having a tremendous season, obviously, and I feel like we all have a lot of trust in him. He's our leader and any time we see him out there fired up or just giving it his all, he's going to get our all, each and every one of us."
---
More news and notes previewing Kansas vs. Purdue
---