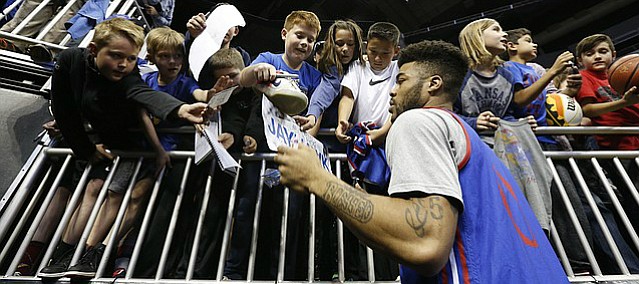 Kansas City, Mo. — Most of the ballots were returned and the majority of the votes will be counted by the time Frank Mason and Caleb Swanigan face off against each other Thursday night in the Sweet 16.
Among the most prestigious national college player of the year awards — Wooden, Naismith and Associated Press — only the Naismith college player of the year award still has ongoing voting for the second weekend of the NCAA Tournament.
Kansas point guard Mason and Purdue forward Swanigan, two of the finalists for every major award, will tip off around 8:40 p.m. Thursday at Sprint Center.
Mason is averaging 20.8 points, 5.2 assists and 4.1 rebounds for top-seeded Kansas. Swanigan has produced 18.5 points and 12.6 rebounds per game.
"That is rare. It is awesome that they'll get to compete for it," Purdue point guard P.J. Thompson said of national player of the year finalists meeting in the tournament. "They both really deserve the award. Obviously I'm biased, my guy 'Biggie' (Swanigan) has had a heck of a year. Frank Mason is a great player, too."
Photo Gallery
Kansas and Purdue NCAA practices and press conferences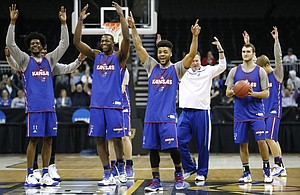 The Jayhawks and Boilermakers practiced on Wednesday at Sprint Center in preparation for Thursday's Sweet Sixteen matchup.
The Atlanta Tipoff Club announced Mason and Swanigan among its four finalists for the Naismith Trophy on Sunday, along with UCLA's Lonzo Ball and Villanova's Josh Hart. The fan vote is ongoing, which accounts for five percent of the overall vote, along with the voting academy that includes media, coaches and administrators. The voting concludes on March 31.
"Frank is getting the attention he deserves," Kansas junior guard Devonte' Graham said. "I think he's the National Player of the Year."
The Wooden Award announced 15 players on its national ballot at the beginning of March, which included Mason, Swanigan and KU freshman Josh Jackson. Nearly 1,000 members of the national college basketball media weighed in, and the top-10 vote getters will be selected to the All-American teams. The player with the most votes will be named the player of the year. Voting concluded March 20.
In the Associated Press' player of the year voting, 65 members of the media vote on one player to win the award, which takes place prior to the NCAA Tournament. Last year, Michigan State's Denzel Valentine edged Oklahoma's Buddy Hield by only three votes.
Though the Sweet 16 matchup won't influence many of the postseason honors, KU coach Bill Self and Purdue coach Matt Painter were happy to see that their players are being recognized for their seasons.
"We got the steal of that draft class nationally. When you really play it out — national player of the year," Self said of Mason. "Which I don't know how many in that particular draft class have been national player of the year, but to think about what he's accomplished in four years is pretty remarkable and how he's matured in all areas."
---
More news and notes previewing Kansas vs. Purdue
---