Kansas City, Mo. — At a point in the season when most teams are looking for any extra edge they can get, the Kansas men's basketball team is just fine where it is.
"I don't really think we have to get more hyped up to play," said Kansas freshman Josh Jackson during Wednesday's media portion of preparations for Thursday's 8:39 p.m. Sweet 16 clash with Purdue. "I think everybody here in our locker room is pretty excited to play already. We've just got every reason to go out, give it our all and just try really hard. We're here in Kansas City, two-game tournament to go to the Final Four, at home basically. I don't see why we wouldn't go out and just give it all we've got."
That vibe, which is shared by Jackson's teammates, is the product of a close-knit team that all season has played to bring pride to a program with a rich tradition and ever-expanding legacy in the college game. With the Jayhawks (30-4) two wins away from reaching their first Final Four since 2012 — and most importantly one win away from advancing to the next round — that concept of family first is what is driving them.
"I don't think we need any motivation," said senior point guard Frank Mason III. "We know how much this game means to us, to our fans, our family and coaches and each other, so that's what we're playing for, so we're gonna leave it all on the court."
Added junior guard Devonte' Graham of added motivation: "We don't really need it. We're in the Sweet 16 in Kansas City and not too many teams get to be in a situation like this.... I'm excited already. I wish we could play already."
Photo Gallery
Kansas and Purdue NCAA practices and press conferences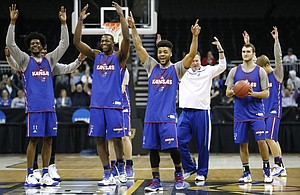 The Jayhawks and Boilermakers practiced on Wednesday at Sprint Center in preparation for Thursday's Sweet Sixteen matchup.
Support group
One of the biggest reasons the Jayhawks wanted to land in Kansas City, Mo., for the second weekend of this year's NCAA Tournament was the enormous support they're likely to receive from nearby fans.
Those fans showed up in droves on Wednesday, with a couple thousand KU supporters packing Sprint Center for KU's 50-minute open practice.
While the Jayhawks did not do or show much during Wednesday's Sprint Center session — earlier in the day they practiced at nearby Bishop Miege High — the fans were treated to a show, complete with autographs, high-fives, half-court heaves (Devonte' Graham was the only one to make one) and even an alley-oop dunk off the glass by Udoka Azubuike on a pass from Frank Mason.
After the team broke at mid-court and made its way to the locker room, KU senior Landen Lucas and Bill Self looked to the crowd and applauded with two hands high above their heads.
"You guys saw it in Tulsa," Jackson said. "There were tons of Kansas fans there, and there's gonna be even more here. That's always a plus."
Comfortable in KC
Beyond the fan support the Jayhawks expect to receive is the advantage of feeling familiar with their Sweet 16 surroundings.
"I think we're all very comfortable," senior forward Landen Lucas said. "Even just walking into the locker room right now, we're familiar with everything. We've been here so many times. We're happy to be here in front of our fans and it's definitely an advantage."
Taking on the towers
Never one to shy away from contact or attacking the rim no matter who is standing in front of it, Kansas point guard Frank Mason III explained Wednesday how Purdue's size — most notably 6-foot-9 forward Caleb Swanigan and 7-2 center Isaac Haas — likely would require him to be more calculated near the rim.
"You just have to be in control and not really out of control," Mason said. "They have two huge guys in Haas and Swanigan, and you just have to go in there a little cautious and make the right read and right decisions."
One other aspect of KU's game plan that could be impacted by Purdue's size is the decision whether to double team Swanigan when he catches the ball down low. Self explained the thought process that goes into that decision.
"When you play two bigs, sometimes it's easier to double," he said. "Sometimes when you spread four shooteres around one (big man) it's harder, so you're coming from different places. There's a lot of things that go into it. So, without giving away anything, I think that a lot of how we guard will depend on who is in the game."
Let them play
Kansas big man Landen Lucas said last weekend that he was not worried about getting into foul trouble against the Boilermakers because he thought the whistles could impact both sides.
Because of that, Lucas said Wednesday that he hoped the officials would let the players play through some physicality and keep the calls to a minimum.
"It really just depends on how the refs want to call the game," Lucas said. "I'm hoping that they kind of let us play just because we will be battling down there. I'm sure it will be equal on both sides, but if they're calling it tight, I've got to make sure I adjust early on. I want to go out there not thinking about it too much."
First big off the bench?
KU coach Bill Self on Wednesday was asked if Dwight Coleby's performance last weekend against Michigan State had moved him up in KU's rotation.
"I don't know," Self said. "A lot of times that just happens to be by feel and also maybe what transpired most recently, which, obviously, Dwight was really good against Michigan State. I thought a lot about it, but it could be based totally on who is in the game at that time. It may be who plays better together. So a lot depends on who is in the game when we make our (substitution)."
---
More news and notes previewing Kansas vs. Purdue
---