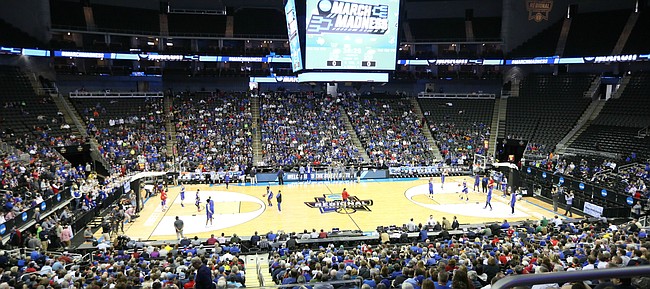 Kansas City, Mo. — When the Midwest Region's fourth-seeded Purdue Boilermakers took the floor at Sprint Center Wednesday afternoon for practice, they received what freshman guard Carsen Edwards deemed a nice reception. No discernible boos. Just some cheers from a small contingent of Purdue supporters.
Edwards and his teammates know not to expect the same when they return to the arena Thursday night for their Sweet 16 matchup with top-seeded Kansas.
On a weekday afternoon for an open practice, the presence of numerous fans clad in KU blue didn't get by Purdue junior forward Vincent Edwards.
"It's gonna be a hostile environment," Edwards predicted of the next time the Boilermakers appear in front of Kansas supporters. "They're only about 40 minutes away from their gym, so they're gonna come packed."
Photo Gallery
Kansas and Purdue NCAA practices and press conferences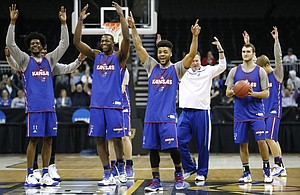 The Jayhawks and Boilermakers practiced on Wednesday at Sprint Center in preparation for Thursday's Sweet Sixteen matchup.
Purdue head coach Matt Painter didn't have any complaints about his Boilermakers' current postseason predicament.
"I think it's the right thing," Painter said of KU (30-4) playing roughly 42 miles from Allen Fieldhouse. "Any time that you've had the season that Kansas has had, you've earned the right to be as close to home as possible. I think that you need to reward the people that have the best seasons. They had to go on the road this year and play. They had to go to neutral sites and play, and look at their record. Look what they have been able to accomplish. So they've earned the right to do that, and that's part of the NCAA Tournament. But I think it's justifiable."
Likewise, Purdue star big man Caleb Swanigan said running into a Kansas team playing in front of its vocal fans didn't bother him.
"No, we've been in a lot of hostile environments playing in the Big Ten," said Swanigan, who helped the Boilermakers go 6-4 in road venues and 6-1 on neutral courts. "It's not an easy place to play on the road. We've been to Indiana, to Maryland, to Michigan State, so I think that prepped us really well for this."
Purdue's players say they're thinking more about keys to their performance, such as taking care of the basketball and trying to keep Kansas out of transition opportunities, instead of worrying about the noise coming from the arena's seats.
Junior guard P.J. Thompson said the Boilermakers (27-7) plan to stick to what got them to this stage in the first place.
"We're playing to go to the Elite Eight. That's a huge deal," Thompson said. "A lot of people are going to be watching the game, but you can't focus on that. Just focus on yourself, win the game."
His team has to be considered an underdog against Kansas, and Thompson said the Boilermakers should feel comfortable in that role.
"We feel like Kansas is a great program. They have a great coach, great players and to beat a team like that to advance to the Elite Eight, I think that's awesome," Thompson said. "That's our goal, that's what we want to do. Just keep winning, keep advancing."
KU, undoubtedly, will win the crowd-support battle. But Carsen Edwards and his teammates insist that's one facet of the Sweet 16 clash that gives them no worries.
"I know the crowd and momentum is a big thing in this game," Edwards said, "but we're just kind of focusing on the game and just what's happening on the court."
---
More news and notes previewing Kansas vs. Purdue
---