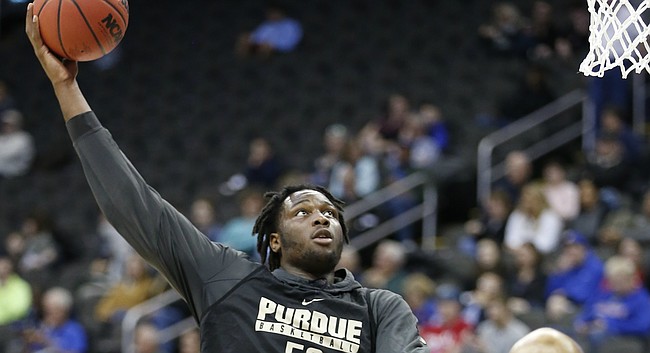 Kansas City, Mo. — When Purdue sophomore forward Caleb Swanigan steps onto a basketball court, his individual production has become a foregone conclusion.
The 6-foot-9, 250-pound Big Ten Player of the Year goes by his lifelong alias of "Biggie," but one could accurately also call him Mr. Double-Double.
Swanigan, who flirted with the NBA Draft a year ago before returning to Purdue, averages 18.5 points and 12.6 rebounds for the Boilermakers (27-7). So his surname or nickname could be heard on a near-constant loop inside locker rooms at Sprint Center Wednesday as he, his teammates and Purdue's upcoming opponents, the Kansas Jayhawks, spoke at length about their Sweet 16 showdown.
On 28 occasions during a season that has him in the same conversation as KU's Frank Mason III for national player of the year honors, Swanigan had posted a double-double. That's more than the 27 former Kansas standout Thomas Robinson produced en route to a national title game appearance in 2012.
Photo Gallery
Kansas and Purdue NCAA practices and press conferences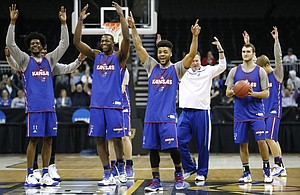 The Jayhawks and Boilermakers practiced on Wednesday at Sprint Center in preparation for Thursday's Sweet Sixteen matchup.
Ahead of Thursday night's NCAA Tournament battle with the top-seeded Jayhawks (30-4), Swanigan is tied for third all-time for double-doubles in a season with another name familiar to KU, Kansas State's Michael Beasley (28 in 2007-08). The only two players ahead of Purdue's star on that list became No. 1 NBA Draft picks: Wake Forest's Tim Duncan (29 in 1996-97) and Oklahoma's Blake Griffin (30 in 2008-09).
"It's just trying to be consistent for my team," Swanigan said, when asked about his prolific production, "to win games and trying to help as much as possible."
Consistency and Swanigan also have become synonymous this season, and it's a word often cited by teammates and Purdue coach Matt Painter when they describe their all-American candidate.
The Jayhawk who will spend much of his Thursday night trying to keep "Biggie" off the glass and away from easy shots, KU senior pivot Landen Lucas, too, referenced his opponent's unchanging production after laughing out loud upon hearing Swanigan already has 28 outings with 10-plus points and 10-plus boards. A 6-foot-10 fifth-year senior, Lucas has 10 double-doubles in his career (six this season). The Jayhawks' center has 12 10-point games and 13 10-rebound showings this year, and marveled at Swanigan's reliability.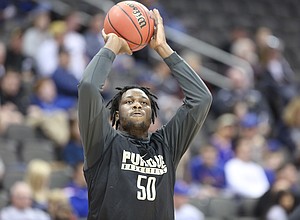 "They're not just normal double-doubles. They're pretty good stats that he's putting up," Lucas said of Swanigan, who four times this season has reached at least 20 points and 20 rebounds in the same game. "He's doing something right, and I'm just looking forward to playing against him."
Swanigan's transformation into a college basketball behemoth began almost a year ago, according to his coach.
"You know, he's really kind of the poster child for today's player, in terms of going in the draft, listening to what NBA people say and then improving on the things that NBA people told him he needs to improve on," Painter said of his star entering his name in the 2016 pool without hiring an agent. "He was not this good of a shooter last year. He wasn't in this kind of shape last year, his rebounds per minute, his decision-making, everything that they told him he needed to work on he did. And he got better and his team has won."
Since Purdue freshman guard Carsen Edwards arrived in West Lafayette, Ind., he has seen nothing but relentlessness out of Swanigan. Edwards remembers leaving Mackey Arena one night after a game stunned at what he saw on the way back to his room.
"And we see Biggie downstairs in the weight room lifting weights," Edwards said, adding the big man shoots every morning as part of his training routine. "It's not surprising that he's putting up the numbers and doing the things he's doing."
Outsiders might not think of Swanigan as this year's version of a college basketball great, but junior guard P.J. Thompson said they should.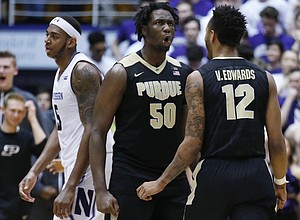 "Biggie's awesome. And he's such an unselfish player," Thompson said of the big who averages 3.0 assists and has passed out five or more seven times as a sophomore. "I think that's why I enjoy being around him so much, and he's so cool off the court. If he was mean and didn't really care to hang out with his teammates and was worried about, 'Oh, I've got to get to the league,' you would enjoy him on the court because he's your teammate, but you probably wouldn't off (the court). But that's not the case with him."
As if his size, rebounding and passing didn't make him difficult enough to stop, Swanigan also has proven teams must respect his shooting touch. He's hitting .527 from the field, .432 on 3-pointers (35-for-81) and .785 at the free-throw line.
If the Boilermakers' star has any weaknesses, junior Purdue forward Vincent Edwards hasn't seen them.
"I don't think people realize what he's doing and some of the elite groups that he's a part of now. He's closing in on most double-doubles in college history, which is pretty impressive. You look at the names that are in there, that's unbelievable," Edwards said. "I don't feel like people are giving him that amount of respect, I don't know if it's us as a program or what it is."
Swanigan's dominant numbers aren't a topic he finds much interest in, nor is playing on the same floor as Mason.
"I'm just trying to make sure I'm making the right plays, is the biggest thing," Swanigan said. "Make the right plays, take them in rhythm and they're going to fall if you take them in rhythm."
It's an approach that has the quiet, focused center doubling as one of the most feared and respected players in college basketball.
---
More news and notes previewing Kansas vs. Purdue
---