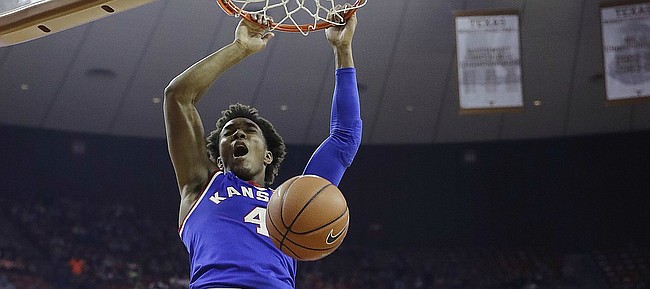 Austin, Texas — Kansas forward Dwight Coleby has had moments during his short KU career when his play positively impacted a game.
But none of them were like this.
In 13 minutes off the bench for a Kansas team that followed Wednesday's Big 12 title-sharing clincher by taking the outright hardware on Saturday in Texas, the junior from the Bahamas delivered a career-high-tying 12 points on 5-of-6 shooting and added four rebounds to help lead the third-ranked Jayhawks past Texas, 77-67, at half-interested Erwin Center.
"I thought he was as good as anybody we had today in the time that he got," said KU coach Bill Self of the effort the Jayhawks got from Coleby. "Terrific. He looks a lot more athletic than he did two months ago. Hopefully we're gonna see that player moving forward."
Photo Gallery
Kansas basketball v. Texas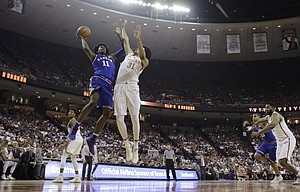 View a gallery of images from Saturday night's game between the Jayhawks and Longhorns at Frank Erwin Center.
Coleby checked into Saturday's victory for the first time with 9:40 to play in the first half. Within a minute, he delivered his first contribution of the day, a back-to-the-basket jump hook from the post. The quick, decisive and confident move proved to be a sign of things to come, but even Coleby admitted that he did not expect it.
"I had no idea it was gonna happen this game," said Coleby with the smile that rarely seems to leave his face. "I just had to be ready."
Ready he was, time and time again.
Less than two minutes after checking in, following a vicious alley-oop dunk by Lagerald Vick from Devonte' Graham, Coleby found himself on the receiving end of a similar Graham pass. Although the two finishes looked slightly different from a come-fly-with-me perspective, Graham said all that mattered was that they went down.
"Dwight almost got hung on (his)," joked Graham with Coleby seated next to him. "But he finished it for me, so I think they were both pretty good dunks."
Podcast episode
Kansas basketball coach Bill Self fields questions from the media following a big night from backup big man Dwight Coleby in a 77-67 Kansas victory that wrapped up an outright Big 12 championship for the Jayhawks.
The high-flying flush was one of three first-half dunks for the KU big fella. His second came off of a sweet pass from freshman Josh Jackson (18 points, five assists, five rebounds in 38 minutes) and his third off of a rebound of a missed layup by senior point guard Frank Mason III. That one came just 27 seconds after Coleby checked back in for the final 2:27 of his highlight half.
The 6-foot-9, 240-pound Ole Miss transfer said playing extended minutes in Saturday's first half made his performance feel different, perhaps even more important, than any he had experienced in his KU career thus far. Different than his 20 minutes in a win over Georgia in November. Different than the 10 minutes against Bam Adebayo and Kentucky in January. Different because he delivered.
"(I have) more confidence in playing and in the system and everything," Coleby said. "Just keep playing and hopefully I'll keep getting better."
More confidence. More comfort on the court. But what about more explosion?
"Oh, yeah," Coleby joked. "Didn't you see it?"
Coleby's teammates did. And, as much as they were thrilled that the reserve forward who allowed starter Landen Lucas to play just 27 minutes came through when they needed him, they hardly were shocked.
"I don't think it was a surprise," Graham said. "We see it every day in practice. He's always playing hard, going at Landen, Carlton (Bragg, 3 minutes) and Mitch (Lightfoot, did not play). We see it in practice and today he got to show it."
Added Mason, who had an off day shooting (5-of-15) but still chipped in 16 points in 39 minutes: "He got out there today and proved that he should be out there more."
If that is the way things play out from here, if Coleby truly is able to provide meaningful minutes off the bench, it would be a much-needed boost for KU's overall depth.
That fact was not lost on the Jayhawks after Saturday's victory.
"The timing is perfect," Graham said. "At this time of the season, a lot of the scouting report for other teams is gonna be focused on me, Frank, Josh, Landen, Svi (Mykhailiuk) and then we get guys like Dwight and Mitch to come off the bench with Lagerald (Vick) and give us sparks, it'll help us and keep us moving forward in the tournament."
After a red-hot start by Kansas during Saturday's victory, the ball started to bounce Texas' way more and more with each passing minute.
Never was that more evident than when Jarrett Allen (20 points, 11 rebounds in 35 minutes) got a wide-open dunk that gave the Longhorns their first lead (20-19, 10:53 first half) after Jackson deflected an entry pass intended for Allen but watched it bounce right off of Lucas and into Allen's waiting hands for the uncontested dunk.
Unfazed, Kansas quickly grabbed the lead back on a hard drive by Mason 40 seconds later and, from there, the Jayhawks (26-3 overall, 14-2 Big 12) used a 17-3 run over the next 6:27 that extended KU's lead back to 13 points and paved the way for a 40-31 halftime lead.
The Longhorns (10-19, 4-12) crawled as close as five points — 56-51 at 10:35 — in the second half but also trailed by 15 with 2:45 to play during a second half that did not overly impress either head coach.
"It was pretty workmanlike," Self said of the victory. "It was a nice win, but I don't think that either team played with unbelievable energy, but I thought both teams played hard.... (We) had just enough juice to get to the finish line."
Next up, the Jayhawks return home for Senior Night on Monday at 8 p.m. against Oklahoma in Allen Fieldhouse.
— See what people were saying about the game during KUsports.com's live coverage.
---
More news and notes from Kansas vs. Texas
---