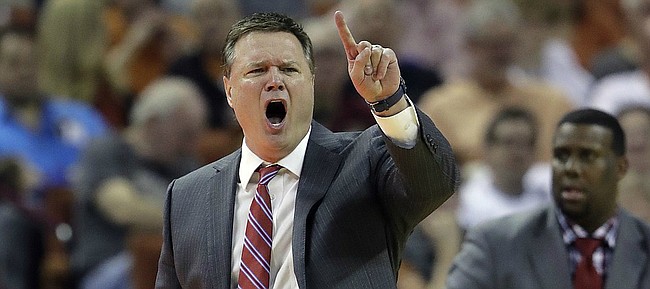 Austin, Texas — Bill Self's Kansas Jayhawks have experienced more hostile environments and found ways to slow down more dynamic lineups, while tangling with some of the nation's top teams over the course of this season. Still, Self figured, Saturday night's game against a Texas team with a losing record could be the most challenging of the season for KU from one specific perspective.
The coach knew Kansas had more talented and experienced players to put on the floor, but that didn't mean they would bring the energy level necessary to avoid a letdown at Frank Erwin Center, three days removed from bringing the program its 13th-consecutive Big 12 title.
"These guys have been on such an emotional roller-coaster for a couple months," Self explained, "and you just think sooner or later they're gonna crash. We talked about that and they came out and they didn't crash."
Photo Gallery
Kansas basketball v. Texas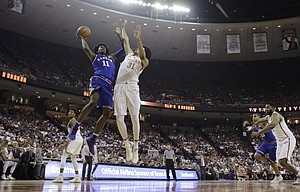 View a gallery of images from Saturday night's game between the Jayhawks and Longhorns at Frank Erwin Center.
No, the No. 3 Jayhawks didn't sputter or rest on past successes in a 77-67 road victory that gave them an outright regular-season championship. Nor did they look lethargic — though Self said he wouldn't have gotten too upset if they had, given the circumstances.
The 14th-year KU coach didn't have to furnish his dauntless players with a pass, because he got out in front of it earlier this week. Self knows the exact talking points to trigger the best responses out of his Jayhawks (26-3 overall, 14-2 Big 12), who played with the free minds of a group that already had secured a conference championship — the KU standard for Self's teams.
He planted those seeds three days earlier, in the minutes following an on-court conference championship celebration, complete with commemorative T-shirts and hats, a video board tribute to the Jayhawks' Big 12 supremacy and trophies as far as the eye could see. In the locker room, after Kansas handled TCU in Allen Fieldhouse Wednesday night, Self hit his players with a concept they embraced versus the Longhorns (10-19, 4-12): the championship was theirs; now they could just play pressure-free basketball.
After KU junior guard Devonte' Graham (12 points) joined freshman Josh Jackson (18), senior Frank Mason III (16 points) and junior backup big Dwight Coleby (12 points) in double figures at UT, Graham described how Self steadfastly finds ways to build confidence with his players.
"At practice, he don't want nobody passing up open shots. He gets mad at us when we don't shoot the ball," Graham said. "It's just that free mind you want when you catch the ball: if you're open, just shoot the ball. Just simple things like that."
Podcast episode
Kansas basketball coach Bill Self fields questions from the media following a big night from backup big man Dwight Coleby in a 77-67 Kansas victory that wrapped up an outright Big 12 championship for the Jayhawks.
It shouldn't surprise anyone that the idea of offensive liberty would inspire college players. The country's preeminent coaches reach that level because they aren't only tacticians and motivators. To an extent, these leaders of young men have to minor in sports psychology, too. Self has mastered that part of his job description — particularly this season.
So what's the secret to tapping into their brains and pushing the precise buttons to get the desired responses? On this occasion, Self said KU avoided going backward with the help of two of the team's leaders.
"I got on Frank and Devonte'," Self shared. "I said, 'Hey, this is all on you today.' I just think they responded. I also think (all of KU's players) like to play and like playing with each other."
The coach wouldn't claim his team did so with zip at UT. On the other hand, he didn't have to worry about explaining an anticlimactic night, either.
The Jayhawks have had plenty going on — off the court, too — and Self said he challenged them by letting them know this is the time of year when good teams, really good teams and great teams all separate themselves.
"And what separates good players from really good players is basically kind of rallying around each other," Self said, adding doing so at a time when it would be easier to let up comes with even more credit.
At ninth place in the Big 12 entering the evening, the Longhorns had as little to lose as any underdog in a power conference. But it was Self's Jayhawks who embraced playing without a care in the heart of Texas.
— See what people were saying about the game during KUsports.com's live coverage.
---
More news and notes from Kansas vs. Texas
---