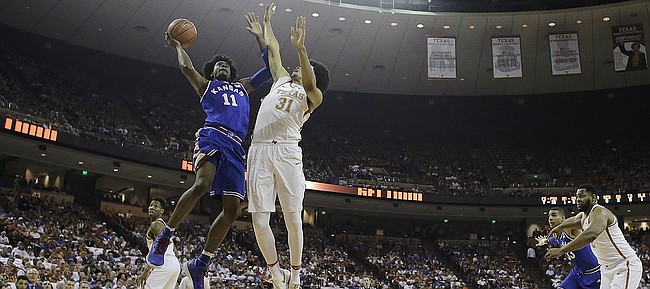 Austin, Texas — There were no trophies, no hugs and smiles, no celebratory video and, really, no hubbub at all.
Instead, KU coach Bill Self, following Saturday's 77-67 victory over Texas by third-ranked Kansas, merely offered his team congratulations and reminded them of one thing as it pertained to the Big 12 Conference title the Jayhawks won outright with the victory.
"We really didn't even talk about it much," Self said. "Afterwards, we said, 'Congratulations. We don't have to share.' So, it's nice, without question. But I think the euphoria of winning the league took place on Wednesday."
Photo Gallery
Kansas basketball v. Texas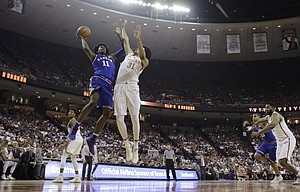 View a gallery of images from Saturday night's game between the Jayhawks and Longhorns at Frank Erwin Center.
Regardless of what came after Saturday's clincher, what came before it played a huge role in the Jayhawks jumping out to leads of 9-2 and 14-6 during a first half in which Self said his team played solid basketball for 15 minutes.
"That was just our main focus," junior guard Devonte' Graham explained. "Don't come out flat just because we got a share of the Big 12 title. We wanted to come in here and win it outright."
Near the end of his postgame meeting with the media, Self was asked by a Texas-based reporter what it was going to take for a team other than Kansas (26-3 overall, 14-2 Big 12) to win the Big 12.
"Oh, it's gonna happen," Self responded. "We've had good players and we've been so fortunate, injury-wise, things like that, where a lot of programs have setbacks. I hope we can extend it as long as we possibly can. But the league's so good and we've got a lot of breaks and there'll be a time where those breaks don't go our way and somebody else will get 'em all. But I hope we can delay it as long as we can."
Podcast episode
Kansas basketball coach Bill Self fields questions from the media following a big night from backup big man Dwight Coleby in a 77-67 Kansas victory that wrapped up an outright Big 12 championship for the Jayhawks.
Freshman vs. Freshman
After torching the Jayhawks for 22 points and 19 rebounds — seven offensive — in a Texas loss in Lawrence, UT freshman Jarrett Allen was limited to 20 points and 11 rebounds in the rematch, leading Self to seem incredulous in saying that Kansas improved its defense on the Texas big man.
Kansas freshman Josh Jackson handled the bulk of the defensive duties on Texas' 6-foot-11, 235-pound freshman forward.
"Well, he didn't get 22 and 19, he only got 20 and 11," Self said. "So, yeah, I guess we were better. I actually thought Josh did a good job on him, but if he can turn to that left shoulder it's pretty much money."
Asked what it was about the Jayhawks that brought out the best in Allen, Self lamented losing out on him in the recruiting battle.
"We should be the one that's mad at him since he picked Texas over us," Self joked. "He shouldn't be mad at us. We didn't do anything.... I love his game and I know other people do, as well. Whenever he comes out, this kid's a lottery pick."
Self on Jackson
One day after learning that a misdemeanor charge of criminal damage to property had been filed against him, Jackson responded by scoring eight of KU's first 17 points — including the first five — and finished with a team-high 18 points in 38 minutes.
"He's getting ready to play his best ball right now," Self noted after the game.
As for whether the off-the-court issues were now behind him, Self said both he and Jackson were ready to move forward.
"What transpired we knew transpired back in December and it was handled then," said Self reiterating similar thoughts from his Friday statement. "He's felt bad about it for a long time, but the way that it's all come to light here of late, obviously, is disappointing and embarrassing for him.... He had one night where he handled a situation very poorly, but anything other than that he's handled very, very well. Sometimes it's hard to make a wrong a right but it hasn't been from a lack of him handling his business right."
Self said he did not feel the need to punish Jackson further and added "that doesn't mean that there's still not some things that he's gotta do."
Walton on the call
Although KU fans groaned on Twitter throughout Saturday's game about Bill Walton's commentary on the television broadcast, the basketball cult hero provided plenty of entertainment for those inside the Erwin Center.
Shortly after a presentation of a tie-dyed T-Shirt from new Texas football coach Tom Herman to Walton during a first-half timeout, the former UCLA and Portland Trailblazers star stripped down to his bare chest and quickly changed into the "Keep Austin Weird" shirt Herman gifted him, all from his spot at mid-court.
Self said Walton spoke to the Jayhawks on Saturday and offered a memorable exchange.
"I asked Bill if he led the league in assists ever," Self joked. 'And, 20 minutes later, he was talking to our guys still.... His message was very good, though, and I thought our guys really enjoyed it."
Walton was not in the same kind of talkative mood following the game. Asked on his way out of the arena for his thoughts about Kansas tying his beloved UCLA Bruins with 13 consecutive conference titles, Walton said simply, "We said it all on the air."
This and that...
KU now leads the all-time series with Texas, 29-8, including a 9-6 mark in Austin.... The Jayhawks now have won 26 games in three consecutive seasons and 10 times in Self's 14 years in Lawrence.... KU is 9-1 in true road games this season and 13-2 in games played outside of Allen Fieldhouse.
— See what people were saying about the game during KUsports.com's live coverage.
---
More news and notes from Kansas vs. Texas
---