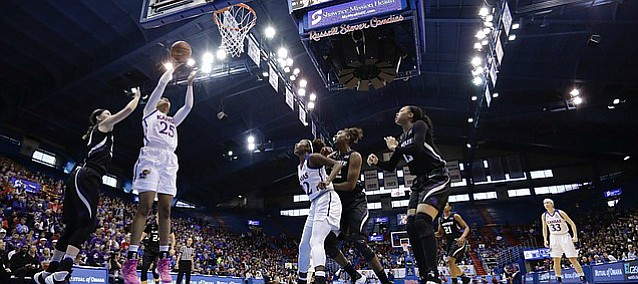 Kansas guard Jessica Washington could only put her hands on her hips as she shook her head in disbelief.
With 27 seconds to go, Washington got a near-perfect look at the rim from the top of the key on a designed play from the sideline. Had her 3-pointer found the bottom of the net, it would have evened the score and likely sent Allen Fieldhouse into a frenzy Saturday afternoon.
Instead, her triple missed everything and skidded out of bounds. Kansas State took advantage of the misfire, knocking down all eight of its free throw attempts down the stretch to ultimately hand the KU women's basketball team a 61-54 loss on Senior Day.
"I thought we played well enough to win, just didn't make enough of baskets especially in timely situations," KU coach Brandon Schneider said. "I couldn't be (more) proud of my seniors for their effort."
Just days after Washington scored a career-high 36 points in a loss to Iowa State, the Big 12 leading scorer was shutout on 0-of-7 shooting from the floor.
But the Jayhawks (8-20, 2-15 Big 12) still had a chance late in the Sunflower Showdown, thanks to key contributions from the supporting cast. Senior forward Caelynn Manning-Allen scored a career-high 21 points on 9-of-12 shooting in her final showing in front of the crimson and blue faithful.
"I feel like we work so hard and we always fall just a little bit short," Manning-Allen said. "Something we have been emphasizing, especially the last few games, is just playing for each other. We are such a special group of girls.… I'm blessed to say that I'm a Jayhawk."
The Wildcats (21-8, 11-6) started the afternoon with a box-and-one defense on Washington, who scored 31 points in Manhattan back on Jan. 11.
As a result, senior Timeka O'Neal (six points) and sophomore Kylee Kopatich (15 points) found themselves open at the perimeter. The duo knocked down a pair of triples to kelp KU jump out to a 16-12 advantage in the opening quarter.
"We did play (box-and-one) on Washington, they did on us as well," KSU coach Jeff Mittie said. "I think there were a lot of tough things for guards to get into rhythm today. Both teams did an excellent job of keeping each other out of rhythm today."
K-State abandoned the gimmick defense in the second period after holding Washington to just two misses. That's when KU's offense went stagnant, failing to score through the first six minutes of the second quarter.
But Manning-Allen was able to knock down a couple of buckets to salvage the team's efforts and keep them within striking distance. She scored seven more points in the third quarter on 3-of-3 shooting to reclaim the advantage for Kansas.
After trading buckets for much of the fourth quarter, Kansas State led, 51-50, with 37 seconds left. With nine seconds remaining on the shot clock, Washington committed an off-the-ball foul on a inbounds play. Kindred Wesemann bottomed both attempts from the free-throw line and Washington missed a chance to redeem herself on the following offensive possession on a 3-point attempt.
"We committed a foul and put them at the line, I thought that was a key play," Schneider said. "We had multiple options on that (offensive) play, but we got Jess open for the three and unfortunately it didn't go in."
The Jayhawks will conclude regular-season play when they travel to West Virginia at 6 p.m. Monday
Calvert sits
Schneider was asked about sophomore McKenzie Calvert's minutes in Saturday's post-game press conference. She did not play in the loss to the Wildcats, marking the fourth time she has not appeared in the last six outings.
In the last six games, Calvert — KU's second-leading scorer with 10.2 points per game — has logged a total of 21 minutes.
"I don't know that I would ever comment on any one individual's playing time," Schneider said. "I would say that we make our decisions on our lineup, which players we're going to play, based on who we think gives us the best chance to win. Obviously a lot factors go into those decisions. Some of those are effort, execution, production during games, performance and attitude during practice and the impact on team chemistry."