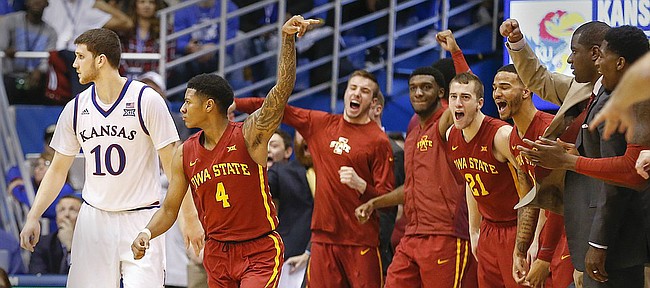 The longest active home-court winning streak in the country is now a thing of the past thanks to Iowa State's 92-89, overtime victory over No. 3 Kansas at Allen Fieldhouse on Saturday afternoon.
But there was a time, late in the game, when players and coaches on both sides, along with spectators in all four corners of the building, thought the Jayhawks would yet again find a way to grind out a victory.
That belief rested on the right hand of red-hot Kansas point guard Frank Mason III, who scored a career-high 32 points in Saturday's loss but came up just short with a chance to win it at the end of regulation.
Photo Gallery
Kansas basketball v. Iowa State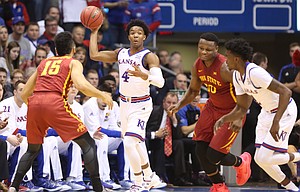 View a photo gallery from Saturday's game between the Kansas Jayhawks and Iowa State Cyclones at Allen Fieldhouse.
The Jayhawks had been in a similar position once before. Tie ball game. Inside 20 seconds to play. Everyone watching and wondering what would happen. Mason with the ball in his hands, dribbling it out while watching the seconds tick down.
With ISU's Naz Mitrou-Long crouched down in a wide and strong defensive stance, Mason began his attack with about six seconds remaining on the clock. After driving hard to his right, the KU senior pulled up near the free throw line and faded to take a jumper over Long's out-stretched arm. The shot missed, just long, and the two teams went to overtime.
"You know, he made that shot against Duke," emotionally overjoyed Iowa State coach Steve Prohm said, referencing Mason's game-winner at Madison Square Garden in November, after Saturday's win. "He's terrific. I love his game. He's an A to B guy. He doesn't mess around with the ball, he can really get downhill.... He's had an exceptional career here and our team, Monte, myself, everyone, has a lot of respect for him and what he's been able to do."
Podcast episode
Kansas basketball coach Bill Self met with the media and talked about his team's 92-89, overtime loss against Iowa State, turnovers on offense and the Cyclones' 3-point shooting.
But on Saturday, the Cyclones (14-8 overall, 6-4 Big 12) were more pleased with what Mason was unable to do, even if they didn't expect it.
Asked if part of him expected Mason to hit another game winner as he watched the KU senior attack Long in the final seconds of regulation, ISU point guard Monte' Morris said, "I mean, definitely. It was 50-50. Naz had good length on him and he was gonna contest, but, you know, Frank was hot. He missed two shots the whole game, and, luckily, he missed and gave us the opportunity to take it into OT and finish the job there."
Added KU junior Svi Mykhailiuk, whose deep 3-pointer to tie at the end of overtime misfired: "We always think Frank's gonna hit the shot. I think it was a good shot, he just didn't make it."
Podcast episode
Iowa State guards Monte Morris and Deonte Burton, along with coach Steve Prohm, discuss their 92-89 overtime victory over Kansas on Saturday at Allen Fieldhouse.
There's no way that Kansas (20-3, 8-2) would have even made it to overtime had it not been for Mason's monster day.
He missed just four shots all day — two field goals and two free throws — and did not miss a shot of any kind until coming up short on a free throw attempt with 7:30 to play and Kansas clinging to a 73-69 lead.
"He was fantastic," said senior Landen Lucas, who also set a career-high in rebounds, with 18. "He carried the team and that was big time. He kept us in the game and that's on us to make sure we help him out."
After trading baskets for the first 10 minutes, Kansas jumped out to a five-point lead on a sweet pass and finish from Devonte' Graham to Mason.
After swiping a steal on the defensive end, Graham immediately fired ahead to Mason, who caught the ball near mid-court, took a few hard dribbles to the rim and went over and under an ISU defender for the layup-and-foul.
From there, the Kansas lead ballooned to nine (29-20) after a 3-pointer from Svi Mykhailiuk (17 points in 43 minutes) and a tip-in of his own miss by Josh Jackson, who recorded a third consecutive double-double of 15 points and 10 rebounds but also was responsible for five of KU's season-worst 21 turnovers.
KU led 52-38 at halftime and the Jayhawks said they felt pretty good about their position. But Lucas said KU coach Bill Self warned the team about an inevitable Iowa State run and the Cyclones made Self's warning look good, outscoring KU 44-30 in the second half and 10-7 in overtime while cashing 10 of 18 3-pointers for a team-record 18 triples on the night.
"When you're playing against a team that's going out there shooting the ball and just having fun, and you let them get comfortable, then you're in for a game," Lucas said. "And that's what we let happen. Once we let them back in it, it was anybody's game."
After three straight 3-pointers from Deonte Burton (29 points) and Long (22 points), the Cyclones' led by as many as five with five minutes to play and forced Kansas to come from behind to force overtime.
KU did, rather quickly, tying game at 78 with 4:35 to play and setting up a sprint to the finish. Three days after making all the plays in a tie game down the stretch against Baylor, the Jayhawks missed a few in this one and Iowa State made them pay.
No moment was bigger than a corner 3-pointer from Donovan Jackson that followed KU's Jackson missing the second of two free throws that would've tied the game.
With Morris driving hard to the rim, ISU's Jackson faded to the corner, caught a pass in rhythm from his roommate and drained the dagger.
"I didn't think Monte would pass the ball to the 3-point line because he's always dropping to the big guys," said Mykhailiuk of Iowa State's 90th point, which came with 28 seconds remaining. "I was just ball-watching and didn't see him go to the corner. That was all my fault that he made the shot."
The win was Iowa State's first in Lawrence since 2005 (also in OT) and KU's first loss at Allen Fieldhouse since falling to San Diego State, 61-57, on Jan. 5, 2014.
It also marked KU's first Big 12 loss at home since Marcus Smart's Oklahoma State squad back-flipped their way to victory in February of 2013.
But the historical significance of Kansas snapping a 51-game winning streak at Allen Fieldhouse was not the part eating at Self after the loss.
"It sucks," Self said. "But it doesn't suck because it's the end of a winning streak. I could care less about that. I just care about our team and performing better."
KU travels to Kansas State on Monday night for a Big Monday rematch with the Wildcats at 8 p.m. on ESPN.
— See what people were saying about the game during KUsports.com's live coverage.
---
More news and notes from Kansas vs. Iowa State
---