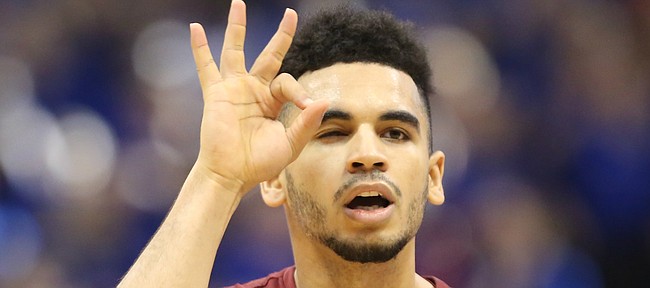 Opposing players and coaches so seldom get to leave Allen Fieldhouse with smiles on their faces, Iowa State head coach Steve Prohm had to take a deep breath and compose himself Saturday afternoon before getting into the finer details on his Cyclones' 92-89 overtime victory against Kansas.
The second-year ISU coach couldn't stop himself from repeating how happy he was for his players during his post-game session with the media. His pleasure didn't come specifically from snapping KU's 54-game home winning streak (51 at the fieldhouse), though. Prohm mostly embraced the joy of witnessing his veterans deliver a resume-building win after losing one-possession games to Gonzaga, Cincinnati and Baylor earlier this season.
"It's a tough business, man," Prohm responded, when asked what led to him getting emotional. "And also, man, we've come so close so many times this year. You do this because you want to see your kids be happy. For Monte' (Morris) and Naz (Mitrou-Long) and those guys," he said, before again inhaling deeply, "you just don't want to let them down. They've had a great run here."
Photo Gallery
Kansas basketball v. Iowa State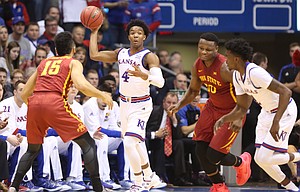 View a photo gallery from Saturday's game between the Kansas Jayhawks and Iowa State Cyclones at Allen Fieldhouse.
Indeed, senior point guard Morris knew as well as any player in college basketball how difficult it is to win at Kansas. He had visited Lawrence with even more talented ISU teams in tow over the previous three seasons and come up short every time before his 25 points and seven assists helped the Cyclones (14-8 overall, 6-4 Big 12) become the first conference team to win on KU's home floor since Marcus Smart backflipped in celebration of an Oklahoma State victory in 2013.
"It was amazing," Morris said of finally helping Iowa State topple KU. "We was just a fortunate team tonight. It was a great game. It could've went either way. They made a few shots. We missed some. Vice versa. But today was amazing. Very emotional day, you know, for myself and my seniors that's along the way, because we came up short every year."
Podcast episode
Iowa State guards Monte Morris and Deonte Burton, along with coach Steve Prohm, discuss their 92-89 overtime victory over Kansas on Saturday at Allen Fieldhouse.
Three seniors caught fire for ISU against No. 3 Kansas (20-3, 8-2). Burly 6-foot-5 guard Burton scored 29 points and buried a career-high seven 3-pointers, blowing away his previous best of three. Mitrou-Long made another six 3s for the underdogs, helping the Cyclones establish a new program record for downtown connections, with 18 as a team.
No 3-pointer proved as deadly as one from backup junior guard Donovan Jackson, in overtime. Left wide open in the corner, just in front of the ISU bench, Jackson put KU in a four-point hole with 28 seconds to play.
It reminded Morris of a similar look a year ago for his former teammate, Hallice Cooke, who missed a late 3 in a typical Kansas victory at the fieldhouse.
"This year we was blessed enough to be in the same opportunity and Donovan stepped up," Morris said.
The upset seemed highly unlikely earlier in the afternoon. KU shot a sizzling 70 percent from the floor in the first half, going 5-for-10 on 3-pointers, while adding six layups, a Josh Jackson tip-in and dunks by Lagerald Vick and Landen Lucas.
Frank Mason III's drive and dish for a two-handed Lucas slam just before halftime put a punctuation mark on KU's performance, and gave the home team a 52-38 cushion.
What's more, the Jayhawks put themselves in prime position for yet another home victory by whooping ISU on the glass in the first half.
Matt Thomas grabbed a defensive rebound 58 seconds into the Big 12 clash, but Iowa State didn't secure even one more rebound until 2:29 before halftime, when Nick Weiler-Babb converted a tip-in. KU led the battle of the boards 18-1 before that, and held an insane 19-3 advantage at the break. In the loss, KU out-rebounded ISU, 45-25.
Burton said Prohm made it clear at halftime the Cyclones hadn't played at a level worthy of emerging victorious.
"We weren't making those tough plays that we should," Burton said. "And we made those plays in the second half."
The ISU coach had a very different message after the conclusion of overtime, on what he deemed a "special day."
Added Burton: "We wanted to win. We've had very close games. We know we're always capable of wining. We just haven't been playing like that. We wanted to start today to be our stepping stone to keep going forward, keep playing the way we played today."
— See what people were saying about the game during KUsports.com's live coverage.
---
More news and notes from Kansas vs. Iowa State
---