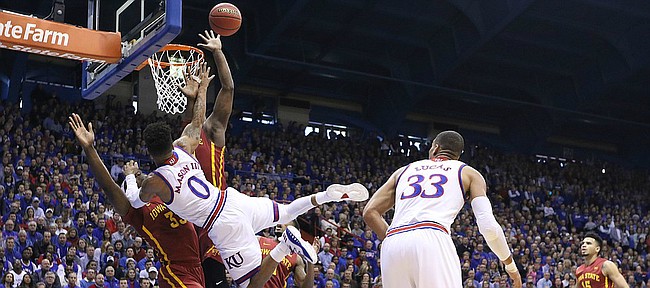 There isn't a non-Jayhawk soul on the planet that's going to feel too sorry for the Kansas men's basketball team following Saturday's 92-89, overtime, home loss to Iowa State.
After all, as overjoyed Iowa State coach Steve Prohm pointed out, "The way the league is, win or lose, you gotta move on to the next game because we've got a tough road game Tuesday."
But given the difficult stretch of games and tumultuous couple of weeks of off-the-court headlines the Jayhawks have had to endure, Kansas coach Bill Self said his team may have been a little drained, both physically and emotionally, following a four-game stretch that included games at No. 17 West Virginia, at No. 4 Kentucky and home vs. No. 2 Baylor when they walked off the floor after Saturday's loss to the Cyclones.
"I'll be honest," Self said. "I think we've done just about as good as we can do. But it's not easy. I mean, the kids are tired. I thought that we looked a little fatigued the second half and that's more mental than physical."
Photo Gallery
Kansas basketball v. Iowa State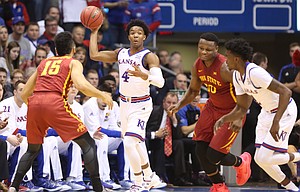 View a photo gallery from Saturday's game between the Kansas Jayhawks and Iowa State Cyclones at Allen Fieldhouse.
Senior forward Landen Lucas admitted that there is a level of mental fatigue that comes with every Big 12 season. But neither he nor senior point guard Frank Mason III said the past couple of weeks had a negative impact on KU's loss Saturday.
"Not at all," Mason said. "We're focused on basketball. That's our job. We don't focus on anything outside of that, besides school, so we just let coach deal with all of that. We're just here to play ball and go to school."
Home loss stings
To a man, the Kansas players made available to the media following Saturday's setback said the goal from this point on was to focus on not letting this one loss become two.
That's the mindset the Jayhawks take after every loss, but Lucas admitted on Saturday that trying to do that after dropping one at home was a little more challenging.
"Definitely," Lucas said while trying to find the right words to explain his emotions. "We don't, we don't.... we don't lose at home so that's something that's hard to digest. But at the same time, you have to look at the bigger picture. You are going to lose some, and you just have to learn from them. So, while it's tough, we just have to make sure we are a better team after this."
Turnover woes
KU's 21 turnovers — three more than the 18 times they coughed it up against the Cyclones in Ames, Iowa — were a season high and left many Jayhawks wondering what went wrong in that department on their home floor.
"I think a lot of it (was our) inability to handle the ball or getting stripped," KU coach Bill Self said of a day when ISU recorded a dozen steals. "I don't know how many times we got the ball under the basketball and they ripped it away and that leads to (fastbreaks)."
Added Mason of KU's troubling turnover total: "Most of our turnovers we didn't meet the ball with two hands like Coach Self tells us all the time. Don't catch the ball with one hand. Go meet it in the air with two. Get good position and things like that. Some of them were Iowa State being in the right spots and doing a good job on the defensive end."
Podcast episode
Kansas basketball coach Bill Self met with the media and talked about his team's 92-89, overtime loss against Iowa State, turnovers on offense and the Cyclones' 3-point shooting.
Short turnaround
Kansas will have just one full day to move past Saturday's loss to the Cyclones before jumping back into action at 8 p.m. Monday night against Kansas State in Manhattan.
Self would rather have more time.
"When you're playing six guys (in your rotation), I think short turnarounds are hard. So I can't say that it's good, but I'm not going to say that it's bad either. We will see how we react going over to Manhattan, which, I'm sure, will be a good atmosphere. But today we didn't handle it. We had control of the game and gave them confidence and then, down the stretch, they really, really performed well."
This and that...
KU's lead in the all-time series with Iowa State now sits at 179-64, including a 24-8 mark in games played in Lawrence.... Iowa State became the first team to record two wins in Allen Fieldhouse in the Bill Self era.... Self is now 217-10 all-time in Allen Fieldhouse.... Kansas' loss marked the first time this season that the Jayhawks have out-rebounded an opponent (45-25) and lost.... Iowa State's three first-half rebounds were the fewest in an opponent in KU's records, which date back to the 1988-89 season.... Allen Fieldhouse was sold out for the 255th consecutive game.
— See what people were saying about the game during KUsports.com's live coverage.
---
More news and notes from Kansas vs. Iowa State
---