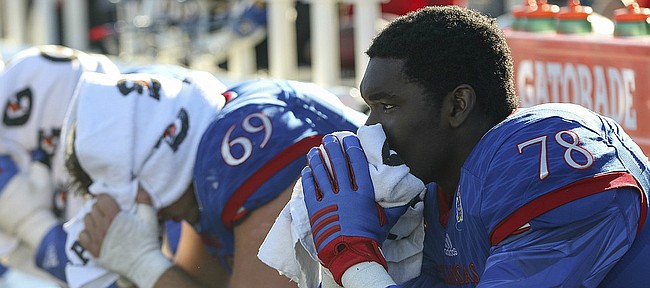 The pass down the west sideline of Memorial Stadium didn't figure to win the game, but the Kansas football team and new starting quarterback Carter Stanley needed it to connect in the final minutes in order to have a shot at an upset Saturday afternoon.
On second-and-eight at their own 24-yard line and trailing by seven, the Jayhawks searched for the kind of spark Stanley, a redshirt freshman, provided in relief a week earlier at West Virginia. So the QB heaved it deep for his go-to receiver Steven Sims Jr.
By the time Stanley's 38th pass of his first career start began its descent, though, Sims was nowhere to be found. Only a pair of Cyclones defensive backs tracked the toss to its destination — the arms of ISU senior corner Jomal Wiltz, who secured the decisive interception in a 31-24 KU loss in front of 23,757 fans.
Photo Gallery
KU football vs. Iowa State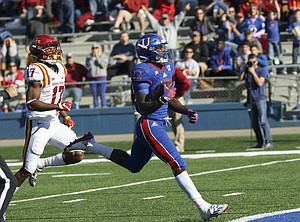 View a gallery of images from Saturday's game between the Jayhawks and Cyclones at Memorial Stadium.
Kansas head coach David Beaty had called an out-and-up route for Sims (nine catches, 37 yards, one touchdown) on what became the last offensive play of the program's 19th consecutive Big 12 loss. But ISU's press coverage forced Sims, a 5-foot-10 sophomore from Houston, out of bounds and ISU, which scored on every other possession of the second half took three knees to run out the clock.
"I didn't really see too much about what happened there," Beaty said afterward, "but I think Carter was just trying to make a play there. He kind of got flushed, and it was not a very good throw, and he got picked."
Sims, who praised Stanley (26-for-38 passing, 171 yards, one touchdown, one pick) for his performance, put the blame on himself.
"I got covered in a clutch-time situation, which I shouldn't have let happen," Sims said. "But it happened… We didn't win some of our one-on-one battles and I feel like I lost my one-on-one battle there."
KU's offense, led by senior running back Ke'aun Kinner's 152-yard rushing day, produced 415 total yards (244 on the ground). But the Jayhawks (1-9 overall, 0-7 Big 12) only finished two second-half drives with scores — a 37-yard Matt Wyman field goal and a Kinner touchdown run, both in the third quarter.
Uncharacteristically, the Kansas defense struggled in the second half, too, when the Cyclones (2-8, 1-6) went for 153 of their 238 rushing yards and 267 of their 458 total yards, converted five of seven third downs and scored touchdowns on each of their first three post-halftime possessions.
"Yeah, that wasn't fun to watch," Beaty said of the second half, when ISU turned a 10-point hole into a seven-point victory. "We've gotta get off the field. I thought we did some good things first half doing that, and then we didn't sustain our drives in the second half to go put points on the board. You can't kick field goals, man. You're not going to be able to kick field goals in this league and win. You can't do that. You've gotta go score touchdowns. We didn't do it."
Podcast episode
After a 31-24 loss against Iowa State on Saturday, David Beaty talks about Carter Stanley in his first career start, frustration with not scoring more points on offense and much more.
For all the varying levels of defeat they've experienced during a nine-game losing streak this season, the Jayhawks explained this one felt different, because the game — unlike so many others — was winnable. Senior safety Fish Smithson, who made six total tackles, broke up a pass and provided a momentum-boosting interception early, said frustration reigned in the locker room afterward, as players mostly took off their pads in silence and thought of how the game, which KU led 14-3 in the second quarter, could've gone much differently.
Five weeks ago at home, Kansas lost by one point to TCU, but senior corner Brandon Stewart said this defeat didn't qualify as a mirror image.
"We had more of a sense of belief that we were going to win and then we came up kind of short. It hurts," Stewart said. "… The offense was scoring points and the defense was getting a break and we were just feeding off each other (in the first half). I didn't think we did that in the past. It was just a new sense, a new feel out there, and it felt good."
That sensation, of course, scattered by the end of the loss. A failed fourth-and-four attempt by Kansas with more than eight minutes left in the game led to a 13-play, 5:33 ISU drive capped by a 37-yard Cole Netten field goal and a seven-point lead for the visitors. In context, it seemed like a bright spot after Iowa State running backs David Montgomery (169 rushing yards) and Mitchell Harger (58 rushing yards, TD) devoured yardage throughout the second half.
As Smithson put it, the Cyclones only called passing plays in the final 30 minutes "when they needed to," typically targeting standout receiver Allen Lazard (10 catches, 120 yards, TD). Mostly, they were "running downhill and kind of running down our throat in the second half."
After a more balanced ISU offense in the first two quarters, the halftime adjustment didn't necessarily catch Kansas off guard, Smithson said — "We just really didn't make the plays when we needed to attack."
Kinner averaged 8.4 yards a carry and added a 29-yard reception on a critical third-and-10 in the third quarter. But KU only had a chance to utilize the senior running back once in the fourth, after he suffered a rib injury and ISU dominated time of possession, 9:09 to 5:51.
"Yeah, he was banged up," Beaty said of Kinner, whose last touch came with more than 11 minutes left. "We're kind of at that point in the season where you're trying to keep 'em fresh. He got hit a few times there late. But I'll tell you what, he's a good back, man. We've gotta find a way to get him the ball even more."
Beaty can add that to do his long to-do list for the final two weeks of the season. On Saturday, he said KU had opportunities to win, but unlike the Cyclones, the Jayhawks couldn't deliver.
"They ran it a lot better than we did there at the end of the game," Beaty said, "which is what allowed them to win the football game. I thought they put a clamp on us offensively there late, and that was the difference in the game."
KU plays host to Texas (5-5, 3-4) in its home finale next week.
— See what people were saying about KU's matchup against Iowa State during KUsports.com's live coverage.
---
More news and notes from the loss against Iowa State
---