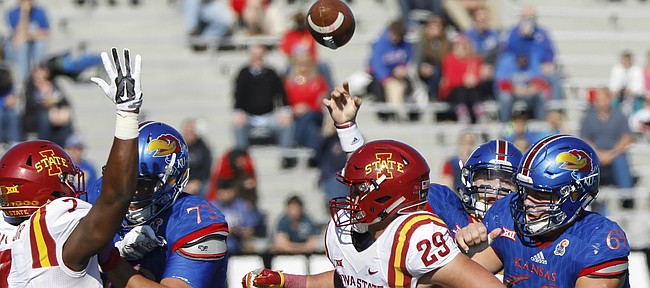 Kansas football head coach David Beaty asked a lot of his redshirt freshman quarterback, Carter Stanley, Saturday at Memorial Stadium, where the QB made his first career start against Iowa State. And though Stanley couldn't deliver his head coach that evasive first Big 12 victory, Beaty saw enough that pleased him and said the 6-foot-2 freshman from Vero Beach, Fla., will remain KU's starting quarterback next week against Texas.
"I thought the kids really responded well to him," Beaty said of Stanley after the QB set new personal career highs with 26 completions, 38 attempts and 171 passing yards in a 31-24 home loss. "He played by the rules, which is something we talk about a lot, which was really good. I thought that the guys, they did a good job of blocking on the perimeter early in the game, which was good, which allowed him to be successful. I thought he did some good things with his feet. He got out a couple times and extended plays, which was good, and it was good to see. It was good to see him have a pretty good start today."
Stanley gave KU its first lead of the game, 7-3, in the first quarter with a seven-yard touchdown pass to Steven Sims Jr.
"I know Carter's a great player," Sims said of the freshman, who by team rule is not available to speak with the media, "and I just want to see him elevate his game and keep getting better."
Photo Gallery
KU football vs. Iowa State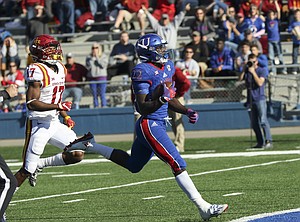 View a gallery of images from Saturday's game between the Jayhawks and Cyclones at Memorial Stadium.
Stanley threw one interception at inopportune moment, in the final minutes of the fourth quarter. But senior receiver Shakiem Barbel (six catches, 60 yards) said the good outweighed the bad for the team's new starter.
"I know for a fact he brought a poise out there that you don't usually see in a young quarterback in a big game for the first time," Barbel said.
Kinner sidelined late
After an afternoon full of highlight moves and runs, senior Kansas running back Ke'aun Kinner experienced an anticlimactic finish to his day.
Though Kinner's 152 rushing yards were the most by a Jayhawk against the Cyclones in the last 10 years, he watched the final 10 minutes from the sideline after suffering a rib injury — a bruise, as he described it — when tackled early in the fourth quarter.
"It was hard. Tried to overcome it. But I sat too long," Kinner said after the defeat, explaining he stiffened up while watching the final minutes unfold. "The defense was on the field making stops. I felt like if I would've gotten on the field afterwards I would've been good for the rest of the game, but I sat too long."
Beaty said the offensive game plan centered around Kinner. The powerful 5-foot-9 back from Little Elm, Texas, said it felt good to deliver — most of the game.
"I try to give it everything I got every time I touch foot on that field," he said. "I feel like I can make things happen. Like I said before, when we establish the run game at the beginning of the game it opens a lot of things up."
Podcast episode
After a 31-24 loss against Iowa State on Saturday, David Beaty talks about Carter Stanley in his first career start, frustration with not scoring more points on offense and much more.
With Kinner's help, KU finished with 244 rushing yards, the most for the program since the 2015 opener, when the Jayhawks had 285 against South Dakota State.
Personal bests
• True freshman safety Mike Lee led KU with 12 total tackles, a career high.
• A senior linebacker who played in KU's last Big 12 win, two years ago versus Iowa State, Courtney Arnick tied his career mark with 10 total tackles.
• Sophomore linebacker Keith Loneker Jr. added a personal-best eight total tackles in the loss.
— See what people were saying about KU's matchup against Iowa State during KUsports.com's live coverage.
---
More news and notes from the loss against Iowa State
---