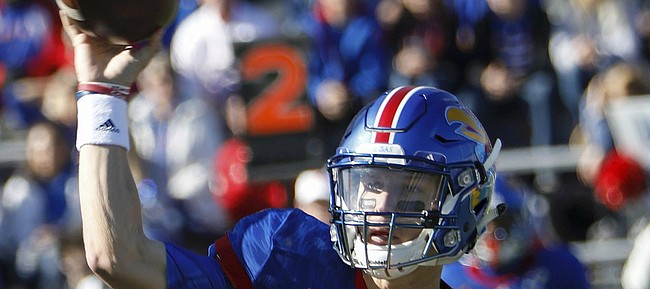 It all was following the script so perfectly.
Team seeking its first conference victory in two years and a few days feels a little extra juice with a freshman getting his first start at quarterback. The QB adds to the energy with a peppy approach, marches the squad down the field for a couple of touchdowns to take a big lead.
Timeout.
The second quarterback punt on fourth-and-2 in two weeks, this time from the 37, this time a touchback.
The energy never returned and Iowa State rallied to a 31-24 victory in front of 23,757 in Memorial Stadium.
Just a coincidence that that was the instant the momentum shifted? Bound to lose anyway? We'll never know. This much is certain, Kansas was leading 14-3 when debuting starter Carter Stanley was circling his hand furiously, wanting the play to come in more quickly. Then he circled it again, at which point head coach David Beaty showed him his palm, a stiff-arm of sorts, as if it to say, "Relax." Beaty never intended to send in a play. Instead, he used a timeout and decided to use the quarterback to punt. Stanley felt it, was certain Kansas would get the first down. Beaty didn't ride the wave.
"Just too far away, man," Beaty said of not going for it. "Fourth and two's a whole different animal. If we're out there in fourth and a half a foot, it's a little bit different deal, but we just didn't feel good about what we were seeing. We felt like we were stopping them and we wanted to pin them."
Photo Gallery
KU football vs. Iowa State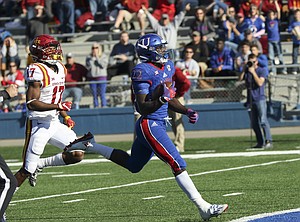 View a gallery of images from Saturday's game between the Jayhawks and Cyclones at Memorial Stadium.
Instead, the punt rolled into the end zone and Iowa State took over at the 20.
"We know that was the right decision because if not, we have the lead, we give them a huge momentum swing right there (at the 37)," Beaty said.
If the offense had cashed in on the fourth-and-2, its confidence would have soared. The players deserved that vote of confidence from the coach. Didn't get it. Two plays after the punt, Iowa State had the ball at the 37. The extra 17 yards didn't keep the momentum from flaming out, although Beaty disagreed.
"No, I think we came out and ran the football pretty good right in that first drive coming out," Beaty said. "I thought we did. I thought we went right down there and scored. I don't think that affected us."
Actually, the punt took place not quite five minutes into the second quarter with Kansas leading, 14-3, and the Jayhawks didn't score again until the third quarter. I point that out simply to lend credence to what it felt like when Stanley punted. It felt like it curbed the confidence of the offense. I'm not pointing it out to imply that it's a big deal that Beaty got the details jumbled after the fact. He was looking back on a game he couldn't do anything about at that point anyway. It's what he does looking forward that matters.
On that note, Beaty said red-shirt freshman Carter Stanley will make his second career start at home vs. Texas. Stanley earned it by showing a good feel for the offense, managing it well and rallying teammates.
"Carter's a confident guy," said blocking back Michael Zunica. "We had a lot of confidence in him coming into this game. You wouldn't know this was his first game starting. You could hear confidence in his voice. He's not hesitant."
Podcast episode
After a 31-24 loss against Iowa State on Saturday, David Beaty talks about Carter Stanley in his first career start, frustration with not scoring more points on offense and much more.
In completing 26 of 38 passes for 171 yards with one touchdown and one interception, Stanley showed enough to want to see more of him. He showed enough to know this is a quarterback you want on the depth chart, while continuing to shop for an upgrade. You want your second-string quarterback to look like he's a starter when needed and that's exactly what Stanley looked like.
His running ability made Iowa State account for an extra helmet and his arm-strength limitations also made the run-heavy approach the right way to go with him at quarterback.
The extra life to the offense was obvious from the outset.
"Carter definitely had a role in that," Zunica said. "People were excited for him to get his first start and just really wanted him to contribute, which he did."
The excitement generated by the home team faded and the Big 12 losing streak grew to 19 games.
— See what people were saying about KU's matchup against Iowa State during KUsports.com's live coverage.
---
More news and notes from the loss against Iowa State
---