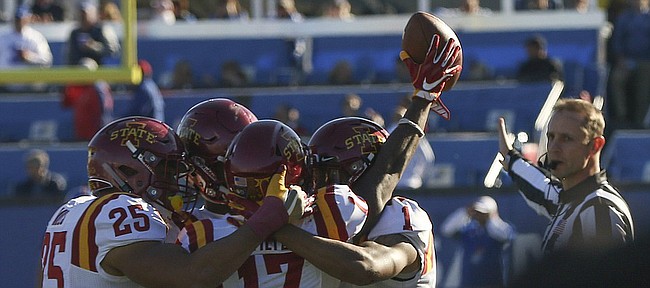 There was no stopping Iowa State running back Mitchell Harger during a drive at the end of the third quarter.
The fifth-year senior walk-on Harger carried the ball eight times for 58 yards, ending an 80-yard drive with a six-yard touchdown — the first score of his career.
Harger's longest runs of 17, 16, 7, 6, and 5 yards helped propel the Cyclones to a 31-24 victory over Kansas on Saturday at Memorial Stadium. Iowa State scored on its first four possessions of the second half.
"He was the difference today to be honest," first-year Iowa State coach Matt Campbell said of Harger. "I think if you felt our sidelines when he scored and our kids know that and our coaches know that, it was electric. That's when the tide turned for us."
Photo Gallery
KU football vs. Iowa State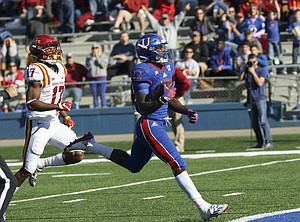 View a gallery of images from Saturday's game between the Jayhawks and Cyclones at Memorial Stadium.
Each football team has a player like Harger — or at least wishes it did. He's the senior leader who quietly puts in the extra work and gradually improves while helping out younger players.
When the plays were called for Harger on Saturday, he was more than ready to take advantage of the opportunities. He ran the ball on seven straight plays on his touchdown drive.
"I've pictured myself in that situation a million times over the past five years," Harger said. "To say it was a surprise, yeah, but I've been ready for it and I've been waiting on it."
Harger was one of the many highlights in Iowa State's rushing attack. Freshman David Montgomery ran for a career-high 169 yards on 24 attempts (seven yards per carry).
The Cyclones flipped a switch at the end of the first half — following a pooch punt by KU quarterback Carter Stanley. They marched down the field for an 80-yard, 14-play scoring drive and it led to touchdowns on four of their next five drives. The only drive they didn't score was when the clock ran out before halftime.
What was the big change?
"I think if we had the answer to that question we would bottle it up," Campbell said.
For a player like Harger, it was just a matter of making the most of his time on the field. He played through a torn labrum in Iowa State's spring game. He decided to return for one last season when he had a chance to take a post-graduate job in mechanical engineering, according to the Des Moines Register.
Finding a rhythm on offense, led mostly by their run game, the Cyclones won their first Big 12 road game since 2013.
"It isn't about me," Harger said. "It's about turning this team around and as soon as those guys saw a guy like me making those plays, then they think, 'Why can't anyone else? I've been working, getting put into the ground for the past five years and it's all paid off."
— See what people were saying about KU's matchup against Iowa State during KUsports.com's live coverage.
---
More news and notes from the loss against Iowa State
---