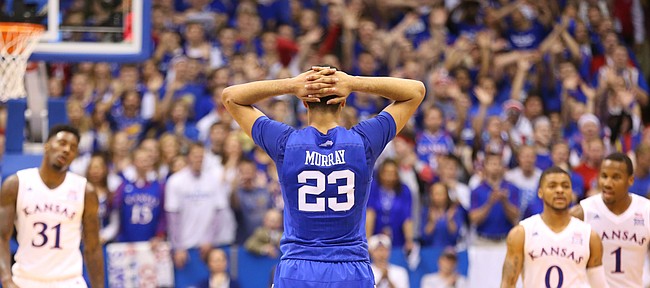 Saturday night, following his team's 90-84, overtime loss to Kansas during his first crack as a head coach inside Allen Fieldhouse, Kentucky coach John Calipari opened by dropping phrases like, "I'm sick to my stomach," and "I'm still hacked off that we lost," and then shared a story about a pre-game conversation that came eerily close to coming true.
"It was funny," Calipari began. "I talked to a friend of mine, who's a big Kansas fan, and he says, 'I wish you well and I hope you lose by one.' And I said, 'I hope we win on a half-court bank shot by one.' And that thing almost went in. I know he was up there saying, 'Oh my gosh. It almost happened.'"
That thing, of course, was Kansas guard Frank Mason III's half-court heave at the end of regulation, which hit off the back iron and nearly ended the game.
"I did," said Calipari when asked if he thought the shot was going in. "I looked and said, 'You gotta be kidding me.'"
Both Calipari and Kansas coach Bill Self said that given all of the hype, excitement, intensity and effort that accompanied Saturday's game, to end it that way would have been criminal.
Photo Gallery
Kansas basketball v. Kentucky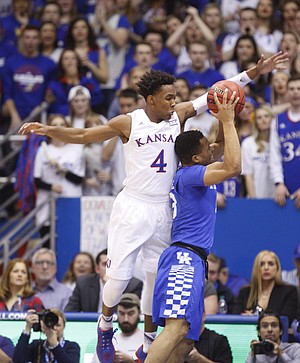 Images from Saturday's matchup between the Kansas Jayhawks and Kentucky Wildcats at Allen Fieldhouse.
KU (17-4) outscored UK (16-5) 14-8 in the extra five minutes, and, if nothing else, that gave Calipari a little more time to soak up his return to place for which he has great fondness.
"I love the place," he said. "I love the campus. If you're a college student and you're in the midwest, really anywhere, this is a college campus, a college life, a student life. And the pride they take in this basketball program; Bill's taken it to another level, but it's always been here."
Said Kentucky big man Alex Poythress: "Oh, it was crazy. Loudest atmosphere I've ever been in."
Calipari was happy to answer questions about KU's triangle-and-two defense frustrating his offense and find explanations for why his young Wildcats don't quite know how to win games like this yet. But he spent just as much time talking about the similarities between the two programs in a historical sense and clearly seemed thrilled to have been a part of a game like this, even if it was a loss.
There were half a dozen different reasons why Saturday's marquee showdown was less than stellar. KU missed free throws at an alarming rate. Kentucky turned it over at key times, unforced errors that cost them dearly. Both teams featured players who were ice cold and others who were red hot.
But none of that kept Calipari from calling Saturday's clash anything other than "a heck of a college game." And the former KU graduate assistant, who kick-started his career in this very venue more than 30 years ago, said the basketball environment around Lawrence, inside Allen Fieldhouse and across the KU campus was part of what makes college basketball so great.
"The programs are so similar," Calipari said of KU and UK. "At Kentucky, if we beat the (Los Angeles) Lakers at the buzzer, from half court, banked it, they would never (rush the court). These fans are the same.
"They treated all of our fans (with respect). I mean, you had some people, 'You bum,' you know. 'We're glad you're here, but you're gonna lose,' you know. But they were respectful. It's what this is about. It's just a great environment to coach in, to play in and Kentucky is very similar."
— See what people were saying about Kansas vs. Kentucky during KUsports.com's live coverage.
---
More news and notes from Kansas vs. Kentucky
---
---
---