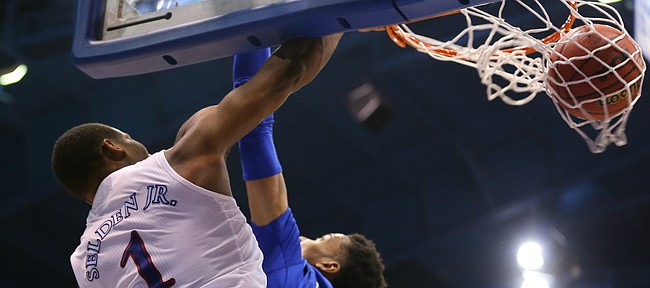 Wayne Selden, Jr.'s grandfather, who introduced the Kansas University junior guard to the sport of basketball when he was 5, hadn't seen Wayne play a game for the Jayhawks ... until Saturday night, that is.
"It was big incentive for me to play well tonight. I knew I was going to because he was here. That's my best friend growing up. We're really, really close," Selden said after scoring a career-high 33 points while playing 44 minutes in KU's 90-84 overtime victory over Kentucky in Allen Fieldhouse.
"He was a referee and I always went to basketball games with him. He's the reason I'm here today," added Selden, whose vicious drive down the lane and dunk with 3:10 left in OT put KU ahead to stay.
Selden figured he owed it to his grandpa, Anthony Pitts, Sr., to play well, considering the lengths it took Pitts get to the Big 12/SEC Challenge game.
Photo Gallery
Kansas basketball v. Kentucky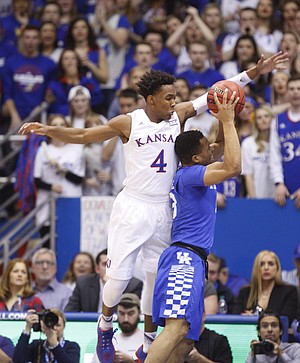 Images from Saturday's matchup between the Kansas Jayhawks and Kentucky Wildcats at Allen Fieldhouse.
A native of Boston who doesn't like to fly, Pitts convinced a buddy to hop in the car with him at 7 p.m., Thursday, to make the long drive to Lawrence. The two arrived at 9 p.m., Friday, well in advance of Saturday's 6 p.m. tip.
"He told me today Wayne better play well. He drove a long way to watch this," KU coach Bill Self said.
Selden, who like his teammates hadn't played particularly well the past five league games (in which KU won just two), had a heart-to-heart talk with Anthony before Saturday's contest.
"Right when I came down I had a talk with him. It kind of helped his motivation. He felt so good me being here. He felt comfortable," Pitts said. "I told him, 'Have confidence. I know what you can do. Play like you played in high school and middle school and dominate. Right now you are settling. You shouldn't settle. You should play hard and go to the basket.' He went to the basket tonight, then he settled for three points. It (strong driving) opened it up."
Roxbury, Mass., native Selden hit a huge three from the corner in regulation that erased a 74-72 deficit with 49 seconds left. However, Jamal Murray hit a short shot in the lane and Perry Ellis one of two free throws, sending the game to overtime at 76.
Selden took off down the lane and rifled home a slam dunk, busting a 78-78 tie in the extra session. It wound up being the game winner as the Jayhawks did not trail again, outscoring UK, 14-8, in an OT in which Selden also hit two free throws at 2:11 (to up the lead to 83-78) and one of two at :39 to give KU an 86-79 advantage.
Podcast episode
Kansas basketball coach Bill Self rehashes the Jayhawks' overtime victory against fellow blue blood Kentucky, and says while KU labored offensively much of the night, the players got KU the needed result.
"It was an unbelievable dunk. I kind of jumped out of my seat with that dunk," grandfather Pitts said. "When he got that head of steam I knew he was going to dunk it. That dunk was great (but) I thought that three prior to it was more important at the time," Pitts added.
Of the dunk, KU coach Self said: "I thought there was a chance to do it. It was a real aggressive play. Skal (Labissiere) would have probably blocked the shot if he didn't go strong."
That's what Selden was thinking as he put home the dunk that helped KU improve to 17-4 and dropped Kentucky to 16-5.
Podcast episode
Kansas guards Wayne Selden Jr., Frank Mason III and Devonté Graham describe how the Jayhawks battled back to defeat Kentucky in overtime at Allen Fieldhouse.
"I knew I had to (dunk). I went in a few times and it didn't work out. They were punching at shots. They kept blocking shots (six to KU's one)," Selden said. "I knew I had to do something different. I wasn't getting there and not getting fouls called. I knew I had to take off."
The dunk certainly inspired Selden's teammates.
"It was a big momentum swing," sophomore guard Devonté Graham said. "He was going in a couple times and getting it blocked. He decided to go and turn it over on somebody's head that time. It brought energy in the building and helped us out."
Selden, who hit 12 of 20 shots (3-5 from three and six of eight from the foul line on a night KU hit 30 free throws and bricked 17) pretty much saved the day, scoring 10 points in a 14-7 run that turned a 57-49 deficit with 13:57 left into a 64-63 deficit at 8:11.
"When it got to the teeth of the game, Wayne took over," Self said. "Wayne today was as smart offensively as he's maybe been all year because he didn't settle. He drove it. What won the game was timely threes he made. Him driving it and being a factor getting to the rim early was huge for us.
"It's as well as he's played or as good a game as he's played since he's been here," Self added.
And it was timed perfectly, being grandpa's first chance to see his beloved grandson in action in college.
"It was 1,400 miles," Pitts said of the drive. "I might have to come back Wednesday (for 8 p.m., game against Kansas State). No, I can't do that," he added, smiling.
The bottom line is gramps is "really proud of him without a doubt, not only as a basketball player but young man. He's grown so much since he's come to Kansas. He has a great attitude and is a great human being."
— See what people were saying about Kansas vs. Kentucky during KUsports.com's live coverage.
---
More news and notes from Kansas vs. Kentucky
---
---
---