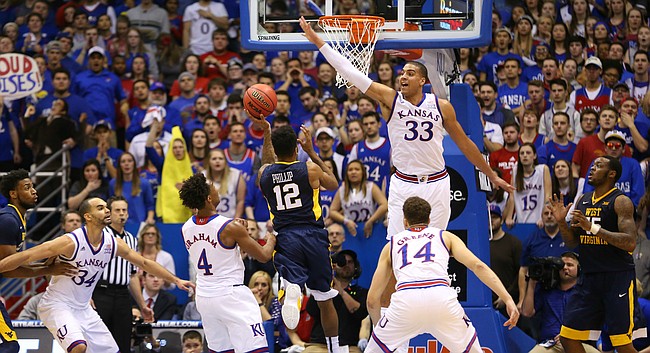 While Donald Trump and Bernie Sanders were busy winning the New Hampshire Primaries, Kansas University junior Landen Lucas was dominating the game for the Jayhawks against West Virginia.
What kind of a bizarro world is this?
Known mostly as a role player filling a defensive niche at KU's 5 spot, Lucas made his presence felt on that end of the floor, finishing with 16 rebounds and 4 blocks in 29 minutes, but also contributed on offense more than he normally does, adding 9 points on 4-of-5 shooting, to help No. 6 Kansas knocked off No. 10 WVU, 75-65.
There were possessions, stretches even, particularly in the second half, when Lucas' size and presence inside dominated the game.
Photo Gallery
Kansas basketball v. West Virginia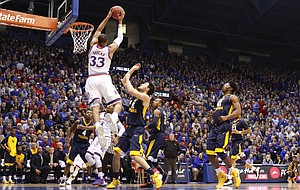 See a gallery of images from the Jayhawks' Tuesday night game against the Mountaineers at Allen Fieldhouse
Each time KU jumped out to a comfortable lead, West Virginia crawled back in into it. But Kansas (20-4 overall, 8-3 Big 12) had an answer every time and pulled into a tie with the Mountaineers (19-5, 8-3) and Oklahoma (20-3, 8-3) atop the Big 12 standings.
The victory, which was physical and flagrant like so many West Virginia games this season, also proved to be redemption for the Jayhawks who were blitzed by the Mountaineers in Morgantown in mid-January.
The game was an all-out battle from start to finish and featured all kinds of trash talk, extra shoving and stern warnings from the officials. For the most part, both teams escaped without any kind of serious incident and this one can be looked at as a hard-fought, February conference clash.
Offensively, Perry Ellis led the Jayhawks with 21 points in 38 minutes and also added a couple of highlight-reel lob finishes.
Four other Jayhawks reached double figures in scoring for Kansas.
Here's a quick look back at some of the action:
• The game turned when: Kansas responded to a strong start to the second half from West Virginia with a 15-5 run that turned a 38-35 lead into a 53-40 lead with 12 minutes to play. Devonté Graham and Brannen Greene combined for three three-pointers during the run.
• Offensive highlight: This one could go down as one of the top plays in Allen Fieldhouse this season. Early in the game, with KU pushing in transition at every opportunity, Graham raced up the middle of the floor and attacked the paint. As he got past the free throw line, with a couple of nearby Mountaineers retreating, he wound up and lofted a perfect lob to a charging Lucas, who went up off of two feet and hammered home the lob.
• Defensive highlight: Early in the game, KU's Frank Mason III chased down a rebound after a missed three-pointer by Graham. It would've been easy to let the ball go but Mason showed a lot of heart to chase it down and the hustle led to a bucket by Ellis. Later in the half, West Virginia threw it in to Devin Williams, who had great position but found trouble when he went to the rim. Ellis slammed the ball off the glass to not only block the shot, but also pick up foul No. 2 on Williams on the ensuing rebound.
• Key stat: KU won the battle on the boards 33-28, but did its real damage on the glass on the offensive end, where KU owned a 14-6 advantage. Lucas led the way for the Jayhawks with 4 offensive boards.
• Up next: After knocking West Virginia out of sole possession of the top spot in the Big 12 standings, KU will head to Norman, Oklahoma, this weekend, looking to knock the Sooners out of the top spot, as well. In a rematch of that thrilling, triple-overtime KU victory from earlier this season, KU and OU will tip-off at 1:30 p.m. Saturday with ESPN's College Gameday on hand. 
— See what people were saying about No. 6 KU vs. No. 10 WVU during KUsports.com's live coverage
---
More news and notes from KU's home win over West Virginia
---
---
---