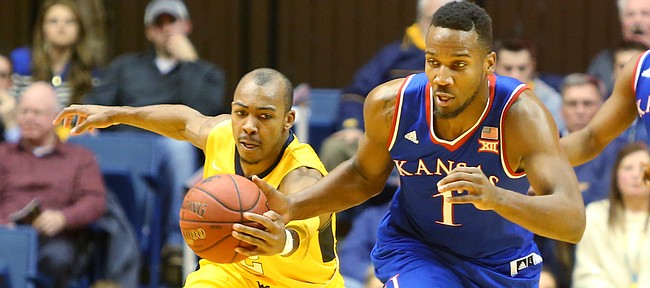 West Virginia's basketball team, which has been referred to as "Press Virginia" this season and last because of the Mountaineers' effective full-court defense, harassed Kansas University into a season-high 22 turnovers in the Jayhawks' 74-63 loss on Jan. 12 in WVU Coliseum.
That's six more turnovers than the Jayhawks' next worst ball-handling outings — at Iowa State and at home against Kansas State.
"Mentally, they get in your head a little bit," KU junior forward Landen Lucas said of the No. 10-ranked Mountaineers (19-4, 8-2), who enter today's 6 p.m. game in Allen Fieldhouse a full game ahead of No. 6-ranked KU (19-4, 7-3) in the Big 12 race.
"Even at practice (against six, seven defenders at a time), we say, 'OK now we're going to work on them trapping,' and as soon as that is said, everybody is looking for the trap instead of running your own stuff," Lucas added.
Podcast episode
Kansas junior forward Landen Lucas discusses some of West Virginia's strengths the day before the Jayhawks' rematch with the Mountaineers. Lucas says WVU sends a lot of guards to the glass, which makes it more difficult for opponents to rebound. Lucas also thinks West Virginia's pressure defense can "get into ...
"All the plays you work on, you get out there, you'll be in the middle of a play looking for somebody to come trap you. They might not even be near you or about to trap you. Because of all the hype that gets put out there, you are expecting one to come. Sometimes that will throw you off your game. If we play our own game, play tough and the way we should play, then we'll be just fine."
Frank Mason III had seven turnovers, Wayne Selden Jr. six and Devonté Graham just one in the first KU-WVU meeting.
"They played pretty good 'D.' They always do. They were pressing. They got a lot of turnovers," said KU sophomore guard Svi Mykhailiuk, who went 0-for-4 from the field with one turnover and one assist in Morgantown. "We are working on breaking their press. We try to simulate what they are going to do on defense (at practice). They have a pretty good press. It's hard to break," Mykhailiuk added.
Podcast episode
With games coming up against No. 10 West Virginia and No. 3 Oklahoma this week, Kansas sophomore guard Svi Mykhailiuk says the Jayhawks are about to play two of their most important Big 12 games. KU struggled in a road loss at WVU in January, and Mykhailiuk says the Jayhawks ...
The key, coach Bill Self said, "is not so much just beating their press, but making them pay for pressing. We didn't do that at all the first time. We got numbers a few times and didn't make them pay at all. We didn't convert. We'd get three-on-one and try to throw a lob and come up empty or drive in there and they'd rotate and take a charge. They made several plays like that especially early that allowed them to take control of the game," Self added.
The Jayhawks are in a position they either win tonight and move into a tie with the Mountaineers or drop two back in the standings.
"We put ourselves in pretty good position, but we still have to handle business this week. We all know that. We know how important it is and what's on the line," Lucas said. The Jayhawks also will meet Oklahoma at 1:30 p.m. Saturday in Norman.
"It's exciting," Lucas added, "because every year I feel like there's been a time it's kind of like a gut-check time. This is what separates those teams that do win the championship and teams that don't. So we really need to make sure we focus in this week and do what we need to do to win."
KU, which is looking for a 12th straight league title, is 5-0 at home and 2-3 on the road in league action. West Virginia is 4-1 on the road and 4-1 at home.
"They've got some tough games left, but put themselves in great position. If they are able to come in here and leave happy tomorrow, they'd be without question the front-runner to win the league," Self said of WVU. "They'd have won five road games, the equivalent of four because they lost one at home. That'd be pretty impressive at this juncture."
Holton update: West Virginia is 2-1 without forward Jonathan Holton, who recently was suspended. Coach Bob Huggins said Monday that Holton "probably won't" play versus KU.
"I think Huggs does the best job of anybody in our league, regardless of what pieces he has, they all fill the role. To me, he has about 10 guys he can put out there," Self said. "Of course you want Paige (Jaysean, 26 points vs. KU) out there. Of course you want Williams (Devin, 17 points, 12 rebounds vs. KU) out there and others out there, but I think whoever is playing well that day he plays. They are all athletic. They have interchangeable parts. I know he (Holton) is point of the press and has given us fits with his activity. They've done fine since he's been suspended, too."
Selden OK: Self said Selden apparently is over his bout with the flu. He said Mason was not injured when he appeared to tweak his ankle late in Saturday's win at TCU. And he said Hunter Mickelson (high ankle sprain) should be available tonight but is not 100 percent.
KU-Nebraska series in works: The Lincoln (Neb.) Journal-Star reports KU and Nebraska have agreed to play a home-and-home series starting next season, with the first game to be played at Allen Fieldhouse.
KU officials would not confirm the report to the Journal-World, as they do not comment on future basketball series until contracts have been signed. The Journal-Star reported the contract had not yet been signed. If the Huskers of the Big Ten do play in Allen next season, it would mean the return of former KU guard Andrew White III, who is currently a junior at NU following his transfer from Kansas.
Kansas leads the all-time series 170-71 with a 31-3 advantage in the Big 12.