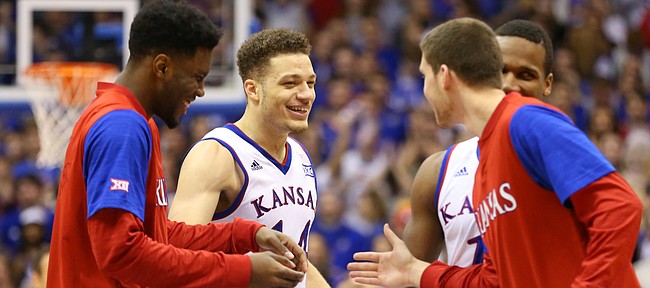 Brannen Greene looked as if he enjoyed the view Tuesday night from 20-plus feet outside the rim in Allen Fieldhouse so much better than the vantage point from the coach's doghouse, where he has been sent multiple times in his career.
On a night Landen Lucas led Kansas University to a 75-65 victory vs. West Virginia with brains and brawn, 16 rebounds and four blocked shots, the Jayhawks still needed a little scoring punch off the bench to keep the relentless Mountaineers from taking a lead, which they never did.
Greene supplied it, scoring all 10 of KU's bench points (West Virginia had 31) by making 2 of 3 three-point shots and all four free throws. The crowd welcomed him back from the darkness of the doghouse to the bright lights of the fieldhouse with a roar that accompanied each score.
A 6-foot-7 junior from the principal's office, I mean from Juliette, Ga., please pardon that slip, Greene has as beautiful a jumper as any Kansas basketball player since Brandon Rush.
Photo Gallery
Kansas basketball v. West Virginia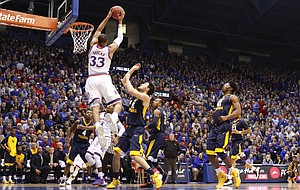 See a gallery of images from the Jayhawks' Tuesday night game against the Mountaineers at Allen Fieldhouse
When Greene's head is on straight and he squares his broad shoulders to the basket and then elevates higher than most, the mood of the crowd instantly improves, readying for an explosion.
Greene gave the crowd two of them and increased the decibels when he punched the air to punctuate the second. It's natural for any basketball fan to want to see more of him, because he has such a beautiful game.
If coaches thought like the rest of us, they would have to pay to see basketball games, instead of getting paid so handsomely to coach them. Greene's focus can wander defensively and then there was the issue of him dunking with two seconds left against Kansas State. That led to the most entertaining Bill Self post-game interview session ever, but the coach wasn't laughing during it. Fuming, seething, steaming, yes. Laughing, no.
Greene followed that up with two stints on the floor in Fort Worth that added up to one minute, the first one ending because of a defensive brain cramp.
The timing was right for a big night for Greene, because just when you think he's never going to get it, he shows off that soft shooting touch and rugged rebounding edge in traffic, teasing the imagination of a fan base that so badly wants to shower him with love. Greene, who plays without fear, had three defensive boards in 16 minutes. You don't do that against the nation's most relentless offensive rebounding team if you're worried about pain. He has a great deal of physical toughness. If he can train his focusing powers to the extent he does his body, he'll put it all together and become quite the scoring force.
"I mean, he's such a great shooter, you know," teammate Perry Ellis said. "It helps space out of the floor for us."
It has to frustrate teammates that Greene isn't always available, such as when he incurred a six-game suspension during the non-conference portion of the schedule. 
Podcast episode
Kansas basketball coach Bill Self meets media members after the Jayhawks' home win over West Virginia and discusses, among many other topics, KU tying West Virginia and Oklahoma for first place in the Big 12, and the need to win road games going forward.
"Sometimes he makes bad decisions, but all in all he's our teammate," Ellis said. "We support him and we try to help him as much as we can. He's a great guy. He just sometimes doesn't make the smartest decisions."
Greene, who was requested but not made available for a post-game interview, had never shown West Virginia what they saw from him Tuesday night. In the five previous games vs. the Mountaineers, Greene had totaled just seven points, none coming in the 11 minutes he played in Morgantown last month.
The starters can't do it all, not against a team as relentlessly aggressive as West Virginia, so his bounce-back effort was well-timed.
Podcast episode
Kansas basketball players Landen Lucas, Perry Ellis and Frank Mason III discuss the Jayhawks' home victory over West Virginia, the impact of junior forward Lucas (16 rebounds) and the tight Big 12 race.
"It's huge for us," Frank Mason III said of Greene being in the mix. "He's a great shooter. He came in and gave us great energy off of the bench and we will really need that from him moving forward."
Greene was tuned in throughout his stretches on the floor.
"I thought he played smart and got in there and Wayne (Selden Jr.) didn't have his best game obviously and he played through fouls in the first half, so we needed B.G. to bail us out, and he did," Self said.
It likely will take quite a few points to outscore Oklahoma in Norman on Saturday, so another appearance from Greene's scoring punch won't hurt the Jayhawks' chances of winning and re-establishing themselves as the team to beat in the Big 12 race.
— See what people were saying about No. 6 KU vs. No. 10 WVU during KUsports.com's live coverage
---
More news and notes from KU's home win over West Virginia
---
---
---