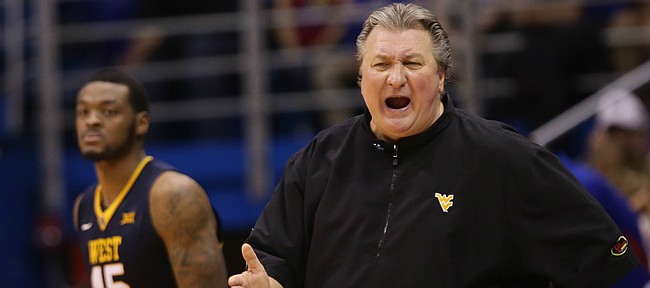 Known mostly as a role player who fills a defensive niche at Kansas University's revolving door of a 5 spot, Landen Lucas helped KU hold off West Virginia, 75-65, Tuesday night at Allen Fieldhouse by making his sixth consecutive start and delivering 16 rebounds and 4 blocks in 29 minutes while also adding nine points on 4-of-5 shooting.
Asked if he was surprised by Lucas' ability to control things inside against his team and its band of bruisers, West Virginia coach Bob Huggins answered with a single word.
"No," he said.
As for Bill Self, the KU coach said he did not know whether Lucas' reputation as a blue collar, do-whatever-it-takes type of player had made its way around the conference yet, but added that Lucas' strong showing against the Mountaineers (19-5 overall, 8-3 Big 12) was no shock.
Photo Gallery
Kansas basketball v. West Virginia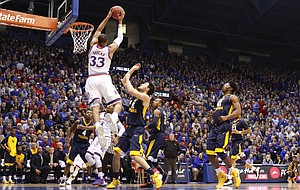 See a gallery of images from the Jayhawks' Tuesday night game against the Mountaineers at Allen Fieldhouse
"When we played 'em last year (at home), I don't know if you remember, but Landen made the play that put the game into overtime," Self said. "So he's made some plays against West Virginia."
So, too, has KU senior Perry Ellis. And the Wichita native was at it again on Tuesday night, leading KU with 21 points on 7-of-9 shooting.
Asked about Ellis' strong night, which also could not have come as a surprise, Huggins chose to elaborate a little.
"He's a great player," Huggins said. "I don't know if his number will get retired. I don't think there's any room up there, is there? My God. I looked up there today. Man, there's a lot of (jersey numbers) hanging up there. He deserves to be up there, for sure."
Despite falling behind by double digits multiple times during both halves on Tuesday night, West Virginia kept firing back and forcing Kansas to respond. The Jayhawks (20-4, 8-3) did every time, leaving Huggins and company to lament the missed opportunity to take a two-game lead over Kansas in the Big 12 Conference standings. Instead, KU, WVU and Oklahoma — which KU will face at 1:30 p.m. Saturday — now sit tied at the top at 8-3.
"We kind of helped with those answers, didn't we?" Huggins asked. "We probably helped their cause. It wasn't all them. You gotta give us credit for screwing it up."
Said WVU guard Jaysean Paige, who hit KU for a career-high 26 points in January but was limited to 14 on 5-of-16 shooting Tuesday night: "They play tough here. They have great fans and a good environment to play in. When they go on runs, it's hard to stop them sometimes. The crowd gets into it and it is just a tough place to play."
With his annual trip to Lawrence now out of the way, Huggins did not sound like a guy who would spend much more time this season worrying about the Jayhawks or where they are in the standings.
"All due respect to Kansas, I don't think anybody in this league sits around and thinks about Kansas all the time," Huggins said. "...I mean, do we think about Kansas? We do right before we get ready to play 'em. Other than that, why would ya?" 
— See what people were saying about No. 6 KU vs. No. 10 WVU during KUsports.com's live coverage
---
More news and notes from KU's home win over West Virginia
---
---
---