Landen Lucas' career-high 16 rebounds helped Kansas University beat West Virginia, 75-65, and grab a share of first place in the Big 12 Conference standings with the Mountaineers and Oklahoma Sooners on Tuesday night.
The 6-foot-10, 240-pound Portland junior's performance on the glass — which was KU's best since Andrew Wiggins pulled down 19 boards on Jan. 13, 2014 at Iowa State — also earned him an audience with ESPN's Dick Vitale on press row after KU's 20th win in 24 tries and eighth league victory in 11 outings.
"It was awesome. You grow up watching him. There I am taking a selfie with him at the end of the interview. He's all into selfies now," said Lucas, who also chipped in nine points and had four blocked shots while helping slow down West Virginia's Devin Williams (14 points, 4-of-10 shooting, nine boards).
"It's something as a kid you dream of, so that's pretty cool," Lucas added of being summoned to a star-of-the-game interview with Vitale.
Photo Gallery
Kansas basketball v. West Virginia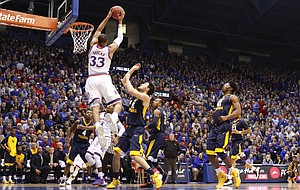 See a gallery of images from the Jayhawks' Tuesday night game against the Mountaineers at Allen Fieldhouse
Another thing "cool" for Lucas was the fact his coach, Bill Self, made sure to shake Lucas' hand before sending him over to the ESPN crew.
"He said, 'Good job.' He's happy for me, which is nice," Lucas said after his 29-minute effort.
Lucas helped KU to a 33-28 advantage on the boards against a (19-5, 8-3) Mountaineer team that whipped KU, 74-63, on Jan. 12 in Morgantown.
"If you told me before the game Landen and Perry (Ellis, 21 points, three assists) would combine for 17 rebounds, I'd say that would be a heck of an effort. I didn't think one of them would get 16 of 'em though," Self said jokingly. "He (Lucas) was the best player in the game. He did a great job on Devin. He has five blocks on the year and got four tonight and nine points and 16 rebounds and played just fabulous. I know one possession early in the game he caught the ball under the basket, he hesitated and they blocked his shot. That's about the only faux pas he made. He played to scouting report and really was a primary reason we won the game," Self added.
Lucas barely missed his second double-double of the season. He had 13 points and 12 boards against Chaminade in the Maui Invitational.
"It was the free throw (he made one of two). I did it to myself. That's on me," Lucas said. "My dad will probably give me some crap about that. I'll work on it. Hopefully I'll get one down at Oklahoma (1:30 p.m., Saturday)."
Lucas' four blocks kind of came out of nowhere, considering he entered with just the five all season.
"He (Self) challenged me to go after more shots. He doesn't want to say, 'Get more blocks,' because then you might go for stuff you can't get," Lucas said. "Just to challenge shots. It's something Cheick (Diallo) ... I watch him do in practice all the time. He's great. Every time a shot was going up I wanted to at least go jump and challenge it. I got my hand on a couple. I'll continue to do that. I know it's something he's looking for from us."
Podcast episode
Kansas basketball coach Bill Self meets media members after the Jayhawks' home win over West Virginia and discusses, among many other topics, KU tying West Virginia and Oklahoma for first place in the Big 12, and the need to win road games going forward.
Self said, simply: "We have been trying to create more activity defensively."
Lucas' effort — he also had 10 boards and no points in a win over Texas — in such a big game made some reminisce about his recruitment. 
Remember, Lucas was not ranked in the Class of 2012 by Rivals.com.
"When we recruited Landen," Self said, "we recruited him as a backup. We recruited him as a program guy. I remember talking to his dad (Richard, former Oregon player). He asked, 'Do you think he's going to be good enough to play here?' I said, 'Not as a freshman. Maybe some as a sophomore. By the time he's a junior, he's going to be a major contributor.' Everybody wants it to be immediate," Self added.
Podcast episode
Kansas basketball players Landen Lucas, Perry Ellis and Frank Mason III discuss the Jayhawks' home victory over West Virginia, the impact of junior forward Lucas (16 rebounds) and the tight Big 12 race.
"Cheick and Carlton (Bragg) are better prospects coming in here. You guys saw tonight that (Lucas) is a kid that's been through the wars, been in the weight room four years (including red-shirt year). He was going against a man (in Williams). He knows how to help you win a game. Those other kids will, too," Self said. "They're just a little young."
Of forwards Diallo and Bragg, who played two and one minute Tuesday, Lucas said: "They deserve it (publicity). They had great high school careers and were highly recruited. They are going to come in and do their thing and it's just our job as older guys to help them get prepared for times we will need them."
As far as specifics of Tuesday's victory ... KU used a 14-6 run to up a narrow 56-52 lead with 7:22 left to 70-58. Ellis had seven points in that surge. KU had five players finish in double figures. Ellis had 21, Frank Mason III 14, Wayne Selden, Jr., 11, Devonté Graham and Brannen Greene 10.
"It's nice being at home. The home crowd always helps," Lucas assessed. "We knew we had to win this game. Every time they went on a little run and cut it down, we'd get together, talk amongst each other, just say, 'Come out and get a stop.' It was a good win, especially after what happened there."
Indeed ... "we got punked in Morgantown," Self said. "Tonight I thought we were much more competitive. We made many, many more competitive plays. We played more like men than when we went to Morgantown."
— See what people were saying about No. 6 KU vs. No. 10 WVU during KUsports.com's live coverage
---
More news and notes from KU's home win over West Virginia
---
---
---