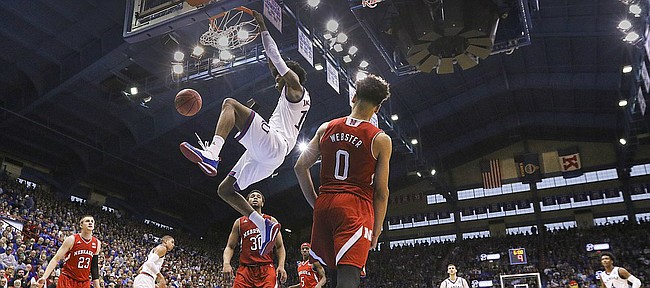 A casual look at Saturday's box score shows an easy, 89-72 victory by No. 3 Kansas over visiting Nebraska at Allen Fieldhouse.
But looking at that same game through the always-intense eyes of KU coach Bill Self shows a different picture.
Despite his team racing out to a 54-34 halftime lead after shooting 65 percent in the first half, the Jayhawks (9-1) labored in the second half, let Nebraska hang around and even allowed the Cornhuskers (5-5) to dictate the way the game was played at times.
"I thought the first half we were really good," Self said. "Second half we weren't. We had a chance (to put the game away) and took the foot off the gas a little bit."
Photo Gallery
Kansas basketball v. Nebraska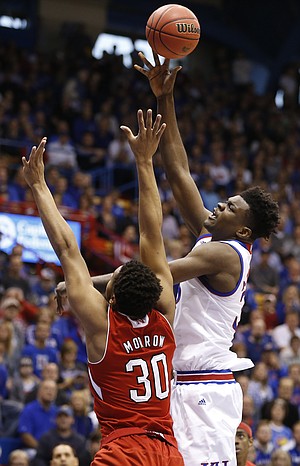 See a photo gallery from Saturday's matchup between the Jayhawks and Cornhuskers at Allen Fieldhouse.
A funny exchange that had both coaches chuckling before the start of the second half and again in the postgame meeting with the media, covered that exact point.
"Yeah, he was complaining," Nebraska coach Tim Miles said with a laugh when recalling the moment. "I'm like, 'What does he have to complain about? They just scored 54 and we're a good defensive team, I think, and he's out there bitchin.' I'm like, 'Come on. What do you have to complain about? Nothing. This is your home. Sorry. You've got it tough."
All kidding aside, there were plenty of things for Self to be both happy and discouraged about during the Jayhawks' ninth consecutive victory on Saturday.
KU's backcourt was terrific yet again, with four of KU's five perimeter players scoring in double figures. The Jayhawks shot .467 from three-point range, .596 from the floor for the game and Self's squad played with incredible effort and focus during the game's first 20 minutes, a noteworthy feat given the distraction of the arrest of sophomore Carlton Bragg Jr., who did not play Saturday but was on the bench in street clothes.
"I think maybe one reason why we were a little more focused in the first half was because of it," Self said of the Bragg distraction. "Maybe. I don't know. It was a distraction, but with teams and throughout seasons there's going to be things that come up. Not necessarily like this, but there's going to be things that come up that the public may not know about that can definitely create distractions."
Podcast episode
After an 89-72 victory over Nebraska on Saturday, Kansas basketball coach Bill Self discussed Landen Lucas' strong play, Carlton Bragg sitting out after Friday's arrest and much more.
Kansas let down a little in the second half and actually was outscored by Nebraska by three. That put Self in the position to criticize nearly every aspect of his team's second-half performance, starting with the lack of a killer instinct and including everything from missed free throws (14-of-25 for the game) and mismanaged alley-oop attempts.
Despite their sluggish second half, the Jayhawks never saw their lead dip below 15 points, as Nebraska, though playing with great effort, just could not overcome the size, speed and athleticism deficit it faced from start to finish.
So what's it like to hear your coach critiquing your every move despite holding a comfortable lead in a game that was never in doubt? Kansas freshman Josh Jackson, who turned in another solidly spectacular game — 17 points, six rebounds, five blocks, two steals and a partridge in a pear tree — tried his best to explain.
"Well, he's right all the time," said Jackson, clearly passing the first test. "We do tend to get a little bit lax when we go by up 15 to 20 points. And he knows that there's gonna be times during the season where teams are not gonna lay down, they're gonna fight and come back and make it a game so we've just gotta keep our foot on the pedal."
Having gone through similar situations many times before, senior forward Landen Lucas agreed with the rookie.
"We've gotta get better at really putting our foot on their throat," said Lucas, who finished 5-of-5 from the floor for 12 points and seven rebounds in 19 minutes. "But that's something that a team develops throughout a season and we'll get better at that."
Asked who he thought the onus for improvement in that area fell on most, Self pointed his own way first.
"The coach takes responsibility for everything, so I guess it's on me," he said. "But you would think those two little guards would make sure everybody else follows."
Those two little guards — senior Frank Mason III and junior Devonte' Graham — combined for 32 points, eight assists and seven rebounds on 11-of-20 shooting on Saturday.
Included in what Miles referred to as "an unbelievable collection of guards," was a 30-foot, buzzer-beating three by Graham that ended the first half.
"We just gave him a little bit of space," Miles lamented. "And he'll make you pay."
While there remain aspects of the game that the Jayhawks still can work on, the things they do well already were more than enough to carry them through this one.
KU outscored Nebraska 17-4 in transition, blocked 12 shots compared to just three for the 'Huskers and got 30 points off the bench, including 15 from "back breaker" Sviatoslav Mykhailiuk.
"Coach Self's got a great team," Miles said. "That's a fast team, a skilled team, a powerful team, they can get you a lot of ways.... They've got just an unbelievable collection of guards and then they've got enough inside to hurt you. It's just hard to get 'em under control. They're clearly a cut above anybody we've seen."
— See what people were saying about the game during KUsports.com's live coverage.
---
More news and notes from Kansas vs. Nebraska
---