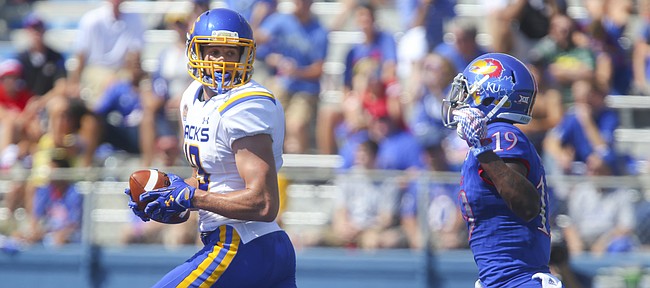 After several close calls, FCS program South Dakota State has finally defeated a bigger Football Bowl Subdivision school.
The Jackrabbits, who lost to Minnesota by three points in 2009, Nebraska and Kansas by 14 points in 2010 and 2012, and Missouri by 20 tallies last season, improved to 1-7 all-time as a Division I program against the FBS by outlasting KU, 41-38, on Saturday in steamy Memorial Stadium.
"I think it's a feather in South Dakota State football's hat. It's a first," 19th-year Jackrabbits coach John Stiegelmeier said after S.D. State's first win against a Big 12 team in eight tries. 
"There's more to come. I'm not taking anything away from Kansas at all. I'd feel the same way had we beaten Nebraska four or five years ago. It's a big win, but we have lofty goals and our players have lofty goals. That's to go 1-0 every week. For these guys, this moment, it's a really special feeling and it should be," Stiegelmeier added.
Photo Gallery
Kansas football v South Dakota State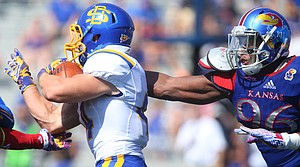 Images from Saturday's game between the Jayhawks and Jackrabbits at Memorial Stadium.
Stiegelmeier's squad raced to a 31-7 lead, then had enough left in the tank to survive on a day several Jackrabbits needed I.V. fluids because of cramps and dehydration.
"They (Jayhawks) really turned it around in the second half and put some pressure on us," Stiegelmeier said. "That sounds kind of funny as an FCS school but it wasn't like that the first half. We did rise up. We handled the pressure well. We were worn out. We were spent. It was a team win definitely."
Quarterback Zach Lujan completed 17 of 33 passes for 293 yards and three touchdowns with no interceptions. Receiver Jake Wieneke had eight catches for 160 yards and two touchdowns. Running back Isaac Wallace gained 118 yards off 24 carries and one TD.
Podcast episode
After a fumbled snap kept Kansas football from running a play in the final seconds of a 41-38 loss to South Dakota State Sept. 5, 2015, at Memorial Stadium, new KU coach David Beaty addresses the issues on that play and other parts of the game with the media.
"It means a lot — first FBS win in school history. I think that says a lot about our program, how far we've come," Lujan, a 6-2 junior from Anchorage, Alaska, said. "Individually I'm ecstatic. My grandmother passed away about a week ago. This one's for her."
South Dakota State scored on its first five possessions.
"The offensive line was doing a great job. We were running the ball, passing the ball. It seemed like we did pretty much everything we wanted to do," said Wieneke, a 6-4 sophomore from Maple Grove, Minnesota. "It's what we were definitely expecting and hoping for."
The Jackrabbits were out-gained by KU 577 yards to 463, but had just three penalties to KU's seven and no turnovers to KU's two.
"I'm proud of our guys, especially in the heat of the game and the heat — the temperature of the game — that's being mentally tough," Stiegelmeier said. "We did everything we could (to combat heat). The fact is it is hotter here. It is more humid than we thought it was going to be. Thank God for the wind or it would have been really tough conditions. We had some hot days up there (in Brookings). We practice in the heat. Our administration doesn't let us turn on the air conditioning," Stiegelmeier added, laughing.
He was gracious in victory.
"It was so neat to meet coach Beaty (David, KU first-year coach). He's a special guy," Stiegelmeier said. "I'm certain to whatever degree you can take Kansas football, I believe (in) visiting with him, he will take them there. Everybody has some hurdles. He seems like a guy that will battle through them. I look forward to getting to know him better and visiting with him about his program and what he's learned. That was a treat for me to visit with him."
South Dakota State, which was picked to finish fifth in the 10-team Missouri Valley Conference, will meet Southern Utah at home next Saturday to begin a four-game homestand.
— See what people were saying about KU football during our live coverage.
---
More news and notes from KU football vs. South Dakota State
---