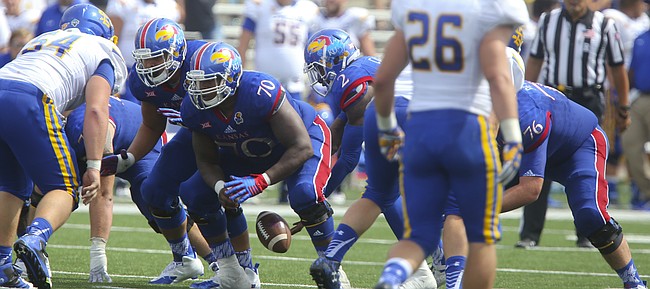 They say sometimes you have to hit rock bottom before you can start to climb back up.
And even by Kansas University football standards, Saturday's 41-38 loss to South Dakota State in front of a crowd of 30,144 at Memorial Stadium was a stop at the bottom floor.
Down 31-7 with 12:38 still to play in the first half, the Jayhawks battled all the way back and positioned themselves for what looked like a golden opportunity to trot junior kicker Matthew Wyman onto the field for an attempt at tying the game.
But after hitting sophomore Derrick Neal for a 20-yard gain to put the Jayhawks at the South Dakota State 33-yard line with seven seconds remaining, quarterback Montell Cozart fumbled the ensuing snap with five seconds to play and then attempted to spike it to stop the clock while lying on the turf. The referee, who was right on the spot watching the unusual play unfold, ruled Cozart down on first down and the junior's attempt to line back up and snap it to kill the clock on second down came up one second short.
Photo Gallery
Kansas football v South Dakota State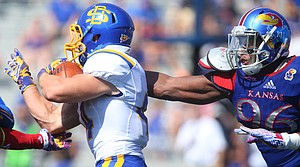 Images from Saturday's game between the Jayhawks and Jackrabbits at Memorial Stadium.
The official waved his arms to signify the end of the game. The Jackrabbits' sideline exploded onto the field in celebration. And Cozart chucked the ball, under-handed, toward the Kansas sideline in disgust.
"I feel like I got too lax and when the ball hit me I just never really got a good grasp on it and I fumbled it," Cozart said after the crazy ending. "You never think about stuff like that until it happens to you, and it felt like someone just uppercut me right in the gut."
KU coach David Beaty, who now has the distinction of being the eighth Kansas coach in the past 10 hires to lose his debut (only Charlie Weis and Terry Allen came away winners), said he had never been part of an ending quite like that and added he felt horrible for Cozart and his entire team.
Podcast episode
After a fumbled snap kept Kansas football from running a play in the final seconds of a 41-38 loss to South Dakota State Sept. 5, 2015, at Memorial Stadium, new KU coach David Beaty addresses the issues on that play and other parts of the game with the media.
"It's obviously unbelievably disappointing right now," Beaty said. "That was a very tough locker room to look into for my first day as a head football coach in Division I football."
The fact that the Jayhawks (0-1) were even in position to tie the game was a testament to the career day turned in by their junior quarterback. Looking more poised than in past seasons, Cozart was accurate and effective with his arm and decisive and dangerous with his legs. He finished 25-of-38 passing for 291 yards and a touchdown and added another 94 yards on 17 carries on the ground while leading the Jayhawks to 576 yards of total offense. Cozart finished with career bests in completions (25), attempts (38), passing yards (291) and rushing yards (94).
All of that after being responsible for two early turnovers — an interception on KU's first series and a fumble on its third — that helped the visitors from South Dakota build an improbable 24-point lead.
"Getting those early turnovers just settled me down," Cozart said. "I took a deep breath on the sideline and said, 'Here we go. It's time to play ball.'"
Added Beaty: "Without Montell Cozart, we wouldn't have been in that game.... I was proud of that guy coming back and being resilient. He came back and continued to help us move the ball down the field with his arm, which is not something I'm sure we knew he could do going into it."
The Jayhawks responded to the Mount Rushmore-sized hole by ripping off 21 straight points from the end of the second quarter to the beginning of the third. Senior receiver Tre' Parmalee (3 catches for 82 yards) scored on a 19-yard run off of a reverse to make the score 31-14 with 7:14 to play in the first half. And junior running back Ke'aun Kinner (157 yards and 2 TDs on 27 carries) scored back-to-back touchdowns to kick off the second half.
As it turned out, though, a costly decision late in the first half nearly had as much of an impact on Kansas losing the game as anything.
Facing a fourth-and-three on the SDSU 25 with 1:20 to play in the second quarter, Beaty elected to go for it instead of attempting a 42-yard field goal.
"Pretty hard," said Beaty when asked how strongly he considered trying the field goal in that spot. "I was thinking about it, but we were a ways away and I wasn't sure that we didn't need that momentum going into halftime.
"Do I wish I had it back now? Absolutely. Rearview mirror, you look back at it and you're like, 'I'd love that opportunity.' But you know what, I'd love that opportunity that happened at the very end, too, but you don't get to guess like that."
Despite all of the positive statistics and small steps forward that came during the first game of the Beaty era, Saturday's loss undoubtedly always will be remembered for the wild ending and "hard-to-swallow" loss to yet another FCS school from the Dakotas.
In 2010, then-head coach Turner Gill lost his debut, 6-3, to North Dakota State in the same stadium. That loss was marked by futility on offense. And this one was more on the defense, which continually missed tackles and gave up far too many big plays down the field early in the game.
South Dakota State wide receiver Jake Wieneke, who finished with 160 yards and two touchdowns on eight receptions, had 109 yards and a touchdown on four catches after a single quarter.
The Kansas defense did a better job on Wieneke over the next three quarters, but, as was the story with the game as a whole, the better effort turned out to be too little too late.
"We did just enough to stay close, and we didn't do enough to win the game," Beaty said. "I think everybody in the stands, at least on our side, would have loved to have seen what happened (at the end of the game). But we've got to earn that, and we didn't earn it by taking care of the details."
Kansas returns to Memorial Stadium next weekend to play host to Memphis in a 6 p.m. kickoff. 
— See what people were saying about KU football during our live coverage.
---
More news and notes from KU football vs. South Dakota State
---