A pair of punting problems played a huge role in Kansas University's 45-14 loss to Kansas State on Saturday at Memorial Stadium, and Kansas punter Matthew Wyman took full blame for both of them.
The first hiccup, which came on the end of KU's game-opening three-and-out possession, featured Wyman dropping the snap and getting rocked by the K-State rush as he tried to recover.
Two possessions later, with the bobbled snap still in his mind, Wyman made sure to look the ball all the way into his hands and that gave the Wildcats the extra time they needed to block the punt and pick up an easy touchdown.
"It just wasn't my day punting, I guess," Wyman said. "I don't know if I wasn't focused mentally or what. I'm gonna take the blame for it."
Photo Gallery
Kansas football vs. Kansas State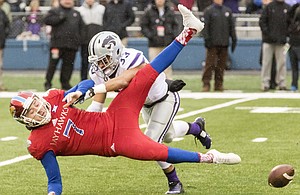 Images from the Sunflower Showdown game between Kansas and Kansas State on Saturday, Nov. 28, 2015 at Memorial Stadium in Lawrence.
Added KU coach David Beaty of the momentum-changing special teams miscues: "We haven't had a punt blocked all year. That's disappointing to end of the year with the punt being blocked in a game, as much time as we put into it. That might be one of the most disappointing things that I've experienced as a coach this year. I know our staff feels the same way and the kids do, as well. I don't think I saw that one coming."
Botched punts aside, Wyman had a rough day even when he did get a foot on the ball. The place-kicker-turned-punter averaged a season-low 31.4 yards on five attempts.
"It's definitely hard to get back in your rhythm after two things go bad," he said. "I was fighting myself the rest of the game to try and get my mind back in it."
— See what people were saying about the Sunflower Showdown during KUsports.com's live coverage
---
More news and notes from the 2015 Sunflower Showdown
---