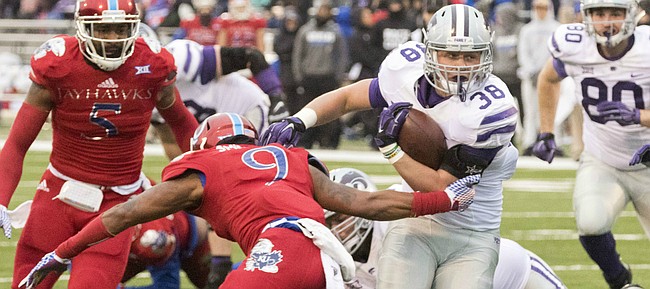 One of the worst Bill Snyder teams since the turn of the century walked into Memorial Stadium on a cold, dreary Saturday afternoon needing a victory against its Sunflower State rival to keep its bowl hopes alive.
There waiting on the other sideline was a familiar, old friend — mistake-prone and overmatched Kansas.
As has become customary in this one-sided rivalry, Kansas State jumped all over the Jayhawks early and barely even had to break a sweat en route to a 45-14, run-away victory in front of an announced crowd of 23,842, half of which was wearing purple. 
The win pulled the Wildcats (5-6 overall, 2-6 Big 12) to within a game of becoming bowl eligible and proved to be the final stamp on one of the most forgettable KU seasons in the 115-year history of the program.
Photo Gallery
Kansas football vs. Kansas State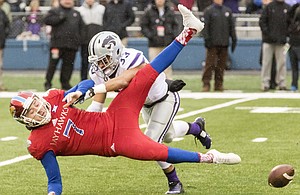 Images from the Sunflower Showdown game between Kansas and Kansas State on Saturday, Nov. 28, 2015 at Memorial Stadium in Lawrence.
Kansas finished 0-12 overall and 0-9 in the Big 12, becoming just the second team in school history to finish a season winless (1954) and the first Big 12 team to fail to win a game since the inception of the conference in 1996.
"I'm certainly not proud of it," first-year KU coach David Beaty said after Saturday's loss. "It isn't something you think about. But we don't have time to dwell on it. It is what it is. We had our opportunities. We had 12 opportunities to go out there and put a team on the field that could win the game. We had plenty in that locker room to get it done. And for whatever reason we weren't able to coach them good enough or maybe they weren't able to play good enough."
Podcast episode
First-year Kansas football coach David Beaty speaks with media members following the Jayhawks' 12th and final loss of the 2015 season, against Kansas State. KU went winless in Beaty's first year, and the coach said he was both embarrassed and motivated by those results.
These Jayhawks, who lost their dirty dozen by an average of 31 points, dropped all but two games this season by double digits and suffered through seven losses of 31 points or more.
The latest loss to Kansas State — Bill Snyder's 20th victory in 24 tries against the Jayhawks — served as a microcosm for most of the season's setbacks. The individual plays and small statistics meant very little compared to the big picture.
Looked at under a microscope, Saturday's loss was not as lopsided as the final score suggests. K-State out-gained Kansas 363-315, recorded just five more first downs and actually had a worse conversion percentage on third down, 47 percent to 41 percent.
But, as has been the case for years in this rivalry, the Wildcats committed fewer penalties (5-1), limited their mistakes and did nothing to leave the door open for KU to come crashing through.
"They're a really well-coached team and they don't beat themselves," junior safety Fish Smithson said of K-State. "They play smart football."
Kansas struggled to do that on Saturday and it cost them big-time.
Before the Jayhawks could so much as entertain the idea of competing with — let alone upsetting — their in-state rival, a pair of huge miscues in the punting game put Kansas in a 28-7 first-quarter hole and the home team never really threatened after that.
The first came when punter Matthew Wyman flat-out dropped the snap after Kansas started the game with a three-and-out. Wyman was rocked by the KSU punt rush and the Wildcats took over at the KU 12. One Winston Dimel run later, K-State led 7-0.
Kansas tied the game at 7 on what was really their only impressive drive of the game, when quarterback Ryan Willis hit senior Tre' Parmalee with a 27-yard TD with 11:15 to play in the first quarter. That was where KU's ability to keep up with Snyder and company ended. Dimel scored on a 1-yard run to cap K-State's second offensive series, and Sam Sizelove's block of a second Wyman punt attempt ended with Morgan Burns recovering the loose ball for a touchdown in the end zone.
Just like that, KSU led 21-7 and the lead ballooned to 35-7 by halftime.
"It absolutely affected (us)," Beaty said of the early punting problems. "But we had a lot of football left to go. That's not an excuse, but realistically, did it? Absolutely. I think it played a big role in that game early."
And so ended a season in which Kansas and Beaty were forced to deal with some of the most damning and detrimental obstacles thrown at a KU team in recent memory.
The Jayhawks played with just over 60 scholarship players, nearly a full recruiting class short of the allowed limit of 85. Injuries knocked KU's top three quarterbacks from the lineup, forcing Beaty and offensive coordinator Rob Likens to turn to true freshman Willis much earlier than anyone would have liked. And players who arrived in Lawrence as walk-ons just happy to get a chance to suit up at the Big 12 level became starters and valuable members of the rotation.
There were close calls, spirited efforts and impressive quarters. But they were few and far between. Whether you were talking Saturday's sad showing against a sub-.500 team or previous losses to top-10 teams with College Football Playoff aspirations, the Jayhawks were heavy underdogs week in and week out and often played like it.
All of those highs and lows led to the perfect completion of the imperfect season and, finally, on Saturday, a series of questions about the goose egg in the win column.
"I think it just speaks for itself," said senior tailback Taylor Cox. "There's nothing you can really say. We'd love to get some of those games back that were close, but you can't. You just have to learn from it."
Added Smithson, who was asked if he saw a season like this coming: "No. Never in a million years. It's frustrating, because we put all that work in and we don't have any wins to show for it." 
— See what people were saying about the Sunflower Showdown during KUsports.com's live coverage
---
More news and notes from the 2015 Sunflower Showdown
---