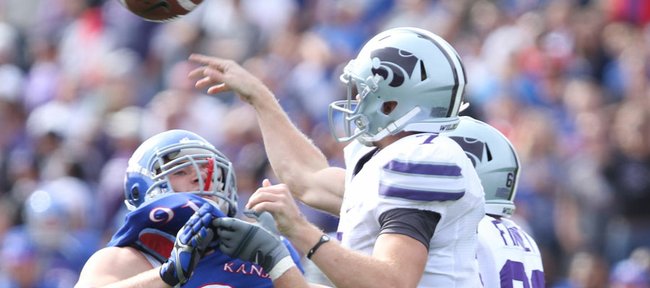 Podcast episode
Kansas coach Turner Gill talks to reporters following the Jayhawks' 59-21 loss to Kansas State on Oct. 22, 2011.
KU vs. Kansas State
It was only a single play, but it might have been the one that shifted the momentum to Kansas State for good in its 59-21 victory over Kansas on Saturday.
With 9 seconds left in the first half and the ball on the KSU 43, KSU quarterback Collin Klein completed a 48-yard pass down the middle to Tyler Lockett, who caught it without a defender close to him.
"We just had a guy that didn't do what he was supposed to do," KU coach Turner Gill said. "He went onto another receiver instead of staying back in his quarter of the field, as we call it. They threw the ball right where he left, and we made a mistake there."
The miscue ended up costing KU three points, as Anthony Cantele put through a 26-yard field goal on the last play of the half to make it 31-14 KSU.
Though coaches and players didn't want to name the guilty person, all pointed to it being a single player's fault.
KU defensive coordinator Vic Shealy called for a Cover Four zone, with four defenders in charge of covering their deep "quarters" of the field.
"You can't be too soft, because 20 yards gives you a field goal," Shealy said. "So you can't go to a last-play type call before half."
KU sophomore cornerback Tyler Patmon attributed the blown coverage to a bad read.
"Just guys not doing their jobs. That's what it comes down to," Patmon said. "Everybody does their job and one guy doesn't do it, then they're bound to find it. Quarterbacks in the Big 12, they're bound to find the mistake."
Video replays showed that senior cornerback Isiah Barfield appeared to be the closest player in the area when Lockett made the catch.
KU junior safety Bradley McDougald said Shealy dialed up a "great, safe call."
"Mental lapse," McDougald said, "Guys ... their mind was at halftime before the clock was at halftime, basically. A guy was supposed to be in coverage wasn't there, and they flipped the field on us."
When asked what might have caused the misread by the unnamed player, McDougald said he wasn't sure.
"We just kind of said we were going to move on," McDougald said. "I don't know. It's just unacceptable. Guys just have got to make that play.
"I'm not going to make any excuses for him. I'm pretty sure he's not going to make an excuse for himself. He's just got to make that play."
McDougald also was quick to defend Gill.
"Coach can't control that. It's a player. As a player, you've got to know your role," McDougald said. "As simple as the play was, it's just unexcusable.
"And to know our coach is going to get blamed for something so small as a check that we do every day at practice — that he covers every day at practice — is just unexcusable. It's not right, but that's how it goes."
• A previous version of this story has been updated.