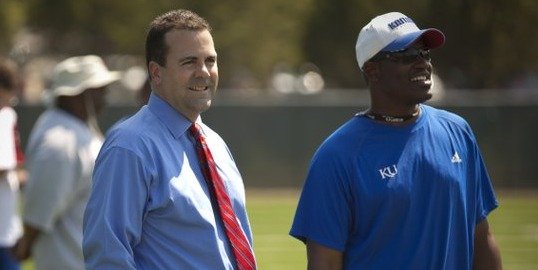 Podcast episode
Kansas coach Turner Gill talks to reporters following the Jayhawks' 59-21 loss to Kansas State on Oct. 22, 2011.
KU vs. Kansas State
Discouraged by yet another lopsided loss by the Kansas University football team, Kansas University athletic director Sheahon Zenger spoke briefly after Saturday's 59-21 loss to in-state rival Kansas State at Memorial Stadium.
"I don't expect any player, coach, administrator, fan or alum to accept today's performance or the performances in recent weeks," Zenger said. "We will get this thing fixed."
Asked when that fix might come, Zenger expanded his statement and indicated that second-year coach Turner Gill at least would be allowed to finish out the season.
"We continue to evaluate the program on a week-by-week basis at the University of Kansas," Zenger continued. "We will never make a complete evaluation until the season is over and the body of work is in."
Asked after the game if he was concerned about his future at KU, Gill continued to push his slogan.
"I'm here to coach and teach," he said. "I still believe in my ability to coach. I still believe in my ability to develop. I believe in this staff's ability to teach and develop. I feel good about it. It's just taken a little bit longer time to get things done."
The Jayhawks (2-5 overall and 0-4 Big 12) play at Texas next week.