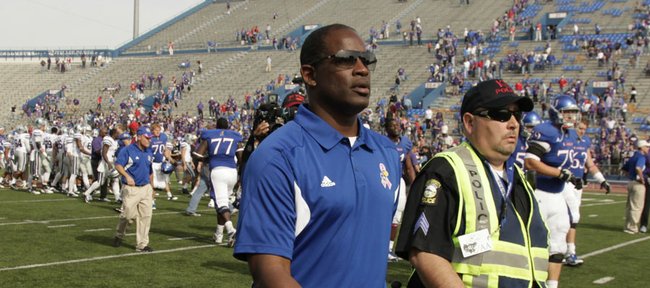 Podcast episode
Kansas coach Turner Gill talks to reporters following the Jayhawks' 59-21 loss to Kansas State on Oct. 22, 2011.
KU vs. Kansas State
Sheahon Zenger, this is your mission: Find a way to get the Kansas University athletic department out of the financial pressure your predecessor, Lew Perkins, put it in, in part because he believed in giving coaches everything they needed to succeed with little regard for how much it cost.
Perkins brought KU's fundraising into the 21st century, upgraded facilities and signed many coaches to one-sided contracts that paid them far too much money.
Turner Gill was earning $450,000 per year at University at Buffalo, where he raised a national embarrassment of a football program to respectability. Perkins didn't raise Gill's salary to $1 million. He gave him $2 million per year and guaranteed all five years.
Ask yourself this question: Have you ever known anybody in any industry who said no to an offer that more than doubles his or her salary? Didn't think so. Gill, no doubt, would have taken $1 million a year.
Perkins put too much emphasis on image, believing that if he paid a coach $2 million, the coach would be perceived as a $2 million coach, which would help in raising money, landing recruits and generating a national buzz.
In the wake of the latest embarrassment for a football program that had been raised to respectability by Gill's predecessor, Saturday's 59-21 loss to undefeated Kansas State left many wondering: So how does Zenger get out of this pickle?
Irony of all ironies, hated rival Missouri could help out the Kansas football program in its moment of desperate need.
Should Missouri, as expected, bolt the Big 12 along with Texas A&M;, the two SEC-bound schools will pay exit fees that will be split among the eight remaining conference members. A combined fee of $32 million is as good a guess as any. That's $4 million per member. Gill has $6 million left on his contract after this season.
A pool of donors will be counted on to come up with the rest. If they do, that's a sign they won't make Zenger pay for Perkins' excesses.
But when? Nothing will happen during the season because mid-season moves, especially with classy coaches, lack class.
Zenger made it clear in a postgame statement that this mess will be fixed, and the only logical way to interpret that is that if Gill doesn't fix it himself in the remaining five weeks of the season, the AD will by replacing the football coach.
The scripts in four of the past five weeks (Georgia Tech, Texas Tech, Oklahoma and Kansas State) varied little: Decent first half. The door viciously slammed on KU's fingers in the third quarter. Oklahoma State varied, dominating the Jayhawks immediately and mercifully slamming on the brakes before halftime.
The third-quarter score the past five weeks: Opponents 80, Kansas 7. That sort of a statistic happens in big-time sports about as often as a school helps its most hated rival to dig itself out of a crater.
With each third-quarter disappearing act, more and more embarrassed boosters have vowed to stop donating to the athletic department if either a drastic change in performance or in the coach himself doesn't take place.
Behind the scenes, a prominent, highly respected alum has tried to calculate the cost of not replacing the coach (withheld donations, projected decline in ticket sales, etc.) to compare it to the cost of replacing him. Clearly, the wheels are in motion for a change.
If Gill's team doesn't right itself and a change is made, nobody expects a complete overhaul in the coaching staff, as happened when Mark Mangino was bounced for being an ornery football coach. (Remember when ornery football coach was considered a redundancy? I do.)
Running backs coach Reggie Mitchell is among the nation's best recruiters. Receivers coach David Beaty demands attention to detail from his players and recruits the heck out of the Dallas Metroplex. Offensive coordinator Chuck Long has a personality and knowledge well-suited for developing young quarterbacks. Just about everywhere he goes, offensive line coach J.B. Grimes upgrades the program's running game.
Bill Snyder, in the midst of his second resurrection act, has his Wildcats welcoming unbeaten Oklahoma into Manhattan. Clearly, Snyder sees football as few ever have. He even knows how to look into the future. His complimentary words had a ring of sincerity to them, so it should come as no surprise that he was not talking about KU's defense or special teams.
"The University of Kansas is a very fine offensive football team," Snyder said. "They have good balance in their offense and they can throw it and run it. They have good offensive linemen. I like those backs and I think that quarterback (Jordan Webb) is a poised young guy. They are going to get better and better because they have some talent on that side, but right now they are a young football team."
Inexperience isn't an excuse for a quick barrage of defensive and special teams blunders: allowing a 48-yard pass play on the final play from scrimmage of the first half, a 97-yard kick return for a touchdown on the first play of the second half, and committing three penalties before the first snap of the second half.
It's difficult to fathom a football team that can cram that much undisciplined slop into 32 seconds of game clock can right itself in five weeks.