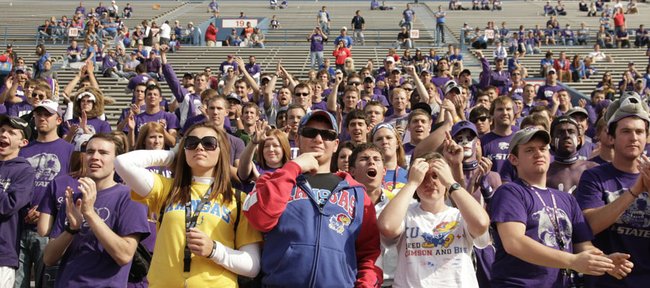 Podcast episode
Kansas coach Turner Gill talks to reporters following the Jayhawks' 59-21 loss to Kansas State on Oct. 22, 2011.
KU vs. Kansas State
Members of Kansas State's marching band — and several thousand purple-clad fans standing in the southeast stands of Memorial Stadium — chanted "Just like last year" on Saturday afternoon as the clock expired in the Wildcats' 59-21 football victory over rival Kansas University.
The win was, indeed, eerily similar to KSU's 59-7 pounding of the Jayhawks 373 days ago, also in Lawrence.
"For me, a win feels good, whether it's by one point or 100 points," KSU junior quarterback Collin Klein said after rushing for 92 yards off 13 carries, scoring four touchdowns and completing 12 of 19 passes for a career-high 195 yards and one score.
"My hat is off to KU. They are a tough team. Obviously they are struggling right now. They looked better than people sometimes give them credit for," Klein added.
The Wildcats (7-0, 4-0) resembled a team in a different dimension than KU (2-5, 0-4), which has been buried, 118-28, by the 'Cats the past two years.
"We never approach it that it's about the other team," said Kansas State coach Bill Snyder, who improved to 16-4 lifetime versus KU. "For us, it's all about us, about playing as well as we possibly can."
Snyder was asked how he kept his team — which outgained KU 466 yards to 288 — so focused with a huge game against Oklahoma looming Saturday in Manhattan.
"We whip up on them (players) if they don't stay that way. We have a hickory switch that I use," Snyder joked.
"No ... they are just good young guys, and they want to succeed. They have had some success and believe in the process. You can make anything happen if you believe in what you are doing and prepare yourself. That's the key for them ... to prepare yourself so you can play with that kind of belief and confidence.
"It's truly one thing at a time. We've not talked about who we are playing next week. We didn't even after the ballgame. We are not good enough to be looking five weeks ahead, two weeks ahead or even one week ahead."
Snyder credited several thousand KSU's fans and the Wildcat band for their support.
"They helped us like they always do — at home and on the road," he said.
By the start of the fourth quarter, several hundred KSU students occupied KU's student section on the east side of the stadium.
KU's fans had fled from the premises with the Wildcats up, 52-14, after three quarters. The KSU players sprinted over and greeted those fans, as well as those seated near the band, following the final gun.
"By and large, we played well," Snyder said.
None of the 'Cats were gloating after the beatdown.
"They held together pretty well," senior defensive end Jordan Voelker said. "We were hoping they would throw in the towel if we jumped on them early. They did a good job staying with us the whole game."
"It feels great to go out a senior beating your rival," senior offensive tackle Clyde Aufner said. "It's real special. Our guys take extreme pride in this game. To say we won is great. The way we've won is great. The guys from Kansas ... this is for them," added the Raymore, Mo., native.
For the Wildcats, it's now all about Saturday and the OU game.
"It's another step," QB Klein said. "It's all about coming to practice Monday ready to work."