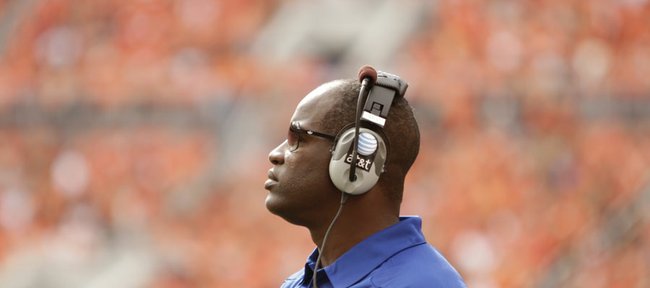 Somewhere, two large men had to be experiencing unspoken, non-stop "told-you-so" moments Saturday as score updates crawled across the bottom of their TV screens or iPhones, or however they get their information.
The men weren't in attendance at T. Boone Pickens Stadium to see Oklahoma State's merciful, 70-28 beating of Kansas University, but could have predicted it.
One is Mark Mangino, forced out of his job as Kansas football coach by former athletic director Lew Perkins, just two years after a 12-1 Orange Bowl season. At some level, it must be comforting to him to know that everybody now knows what he always knew: He was the right man for the job.
The other is columnist Jason Whitlock, now working for Fox Sports and living in Los Angeles. Writing in Kansas City at the time of Turner Gill's hiring by KU, the insightful Whitlock shared with his audience that he had seen Gill's University at Buffalo teams play many times and not once had been impressed. (A former lineman at Ball State, Whitlock watches MAC football regularly.) Although Whitlock said he would wait two years to form a strong opinion, it was clear which way he strongly leaned, especially when he talked about the new KU coach on the radio.
Well, it hasn't been two years, and it's not too early to form a strong opinion. It looks as if Perkins didn't hire the right man for an extremely difficult job. Gill was the right man to raise Buffalo's program from the ashes and give it some national visibility, but nothing suggests he's the right man to follow a coach who had such a different approach to one of the three or four toughest jobs in the Big 12.
It's not Gill's 5-12 record in one season and five games that makes that clear. It's not as if he and his staff inherited impressive talent. Mangino and his assistants, led by current Northern Illinois head coach Dave Doeren, recruited phenomenally well early. In retrospect, the 2004 recruiting class ranked second to no other school in the nation. After Doeren left to become an assistant at Wisconsin, the recruiting never quite recovered and slipped quite a bit in the final two seasons.
That might explain a losing record, but it doesn't excuse the uninspired play, the ridiculously one-sided outcomes and the shoddy fundamentals, most loudly evident in poor tackling.
Poor performances that come with a litany of all-time worst figures for the KU defense, and school records for the opposing offenses mount.
Perkins, who believed in paying for what he deemed the position to be worth, instead of negotiating as good a deal as possible for the athletic department, guaranteed Gill $10 million for five seasons, even though the Buffalo coach made just $450,000 per season. In so doing, Perkins handcuffed his successor, Sheahon Zenger.
Most believe Zenger will take a hard look at Gill's performance after the 2012 season, but if the Jayhawks stay on such a sharp decline, and if the AD is approached by an angry pack of wealthy boosters willing to pool resources to buy out the head coach, what then?
If that doesn't happen, Zenger has no choice but to let Gill stay through next season and hope that he and his coaches score as many standout defensive recruits as they already have offensive players in such a short time.
If Gill stays on the job through next season and hasn't made significant strides, Zenger will be forced to execute an extremely difficult firing in that Gill's such an easy man to like, and in many ways admire. At his two most important jobs in life, father and husband, it's clear Gill's a natural, a straight-A performer. He consistently practices his strong religious beliefs more than he preaches them. He's no showoff, no hypocrite. In terms of caring about the lives of his players, more good grades. They find the experience of playing for him an enjoyable one, except on Saturdays, when the losses too often are so lopsided.
Gill measures up admirably as a man, but he's getting paid $2 million a year to coach football and that's the job for which he must be evaluated by his boss.
Gill's first chance to establish a foundation for winning came in selecting his coaching staff and in that regard, it looks as if he's batting .500. Offensive coordinator Chuck Long has done an excellent job of instructing quarterback Jordan Webb and in calling plays. Running backs coach Reggie Mitchell ranks as an elite recruiter and the backs he coaches make up the best unit on the team. Line coach J.B. Grimes knows how to build a running game. Bringing back receivers coach David Beaty made perfect sense.
Gill decided against keeping anybody from Mangino's defensive staff, even though linebackers coach Bill Miller would have brought with him the top recruit in the state of Kansas, Geneo Grissom of Hutchinson. When MIller wasn't retained, Grissom, a defensive end, committed to Oklahoma.
In seven of his 10 Big 12 games, Gill's defense has allowed 45 points or more.
The score could have been so much worse Saturday. Oklahoma State coach Mike Gundy pulled starting quarterback Brandon Weeden before the half to slow down the rate of KU's bleeding. Had Gundy felt like it, he could have coached his Cowboys to 100 points.
In the first half, all eight OSU offensive possessions ended with a touchdown. The Cowboys had 35 points by the end of the first quarter, 56 at the half.
Three weeks after surrendering 66 points to Georgia Tech, the defense proved it has gotten worse, not better since then.
I asked Gill if the lack of improvement indicated that the players aren't listening to what they're being told, aren't being told the right things or are physically overmatched.
"Probably a little of all of the above," Gill said.
You have to admit it's getting worse, a little worse all the time. No easy way out presents itself.