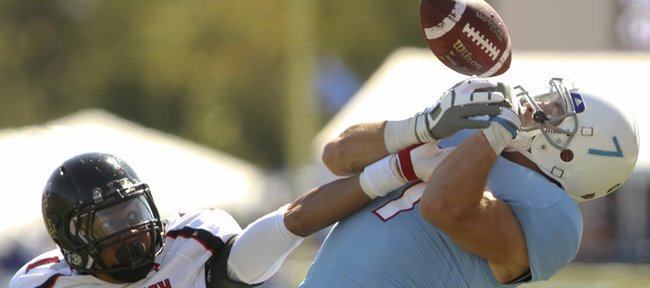 Podcast episode
Kansas coach Turner Gill talks to reporters following his team's 45-34 loss to Texas Tech on Oct. 1, 2011, at Memorial Stadium.
KU vs. Texas Tech
You've heard coaches talk about total team victories?
Saturday, the Kansas University football team suffered a total team loss.
Despite opening their 45-34 loss to Texas Tech on a gorgeous day at Memorial Stadium with a 20-0 lead, the Jayhawks, once again, saw their defense struggle. This time, the offense matched it.
In front of a crowd of 39,621 fans, Kansas coughed up four turnovers and gave up 530 yards of total offense while falling to 2-2 on the season. Texas Tech improved to 4-0.
"Turnovers. That's the big deciding factor," KU coach Turner Gill said after the game. "You can't turn the ball over three or four times against a good football team and win. You just can't do it."
Had they not, the Jayhawks may have cruised in this one. After winning the coin toss and electing to receive the opening kickoff for the fourth straight game, the Jayhawks marched down the field in four plays and 1:50 to take a 6-0 lead. Junior returner D.J. Beshears kick-started things with a 56-yard run-back on the opening kickoff and a 25-yard pass from quarterback Jordan Webb to freshman tailback Darrian Miller paved the way for James Sims' 11-yard touchdown run.
After holding Tech on its first drive, KU struck again, this time on a 51-yard TD run by freshman tailback Brandon Bourbon. Just like that, the Jayhawks led by two touchdowns. Two drives later, they made it three, when junior receiver Kale Pick alertly fell on a fumble in the end zone after Webb hit tight end Tim Biere on a 20-yard pass that came loose at the 1-yard line.
"We had an awesome start," said Webb, who finished the first quarter 5-for-5 for 131 yards. "We just couldn't sustain it. But if we can start like that every game, we're gonna give ourselves a good chance to win."
Added Gill: "I think the first quarter is probably as good of a quarter as we've had."
While it led to elation at the time, the Pick touchdown was the beginning of the end for the Jayhawks. Up to that point, just about everything went KU's way. Flags were thrown on Texas Tech. Balls bounced the Jayhawks' way. Even when they didn't, like when Beshears muffed a punt and gave Texas Tech the ball at the KU 25, somebody found a way to make a play and put the momentum back on KU's side. In this instance, it was red-shirt freshman safety Keeston Terry, whose early interception was the first for KU this season.
"In the first quarter, we, as a defense, were dictating to them," senior co-captain Steven Johnson said. "But when they make big plays, then it gets a little difficult to go out there because they speed up the tempo."
After gaining 218 yards in the first quarter, KU managed just 85 in the second. The Red Raiders, meanwhile, turned their fortunes the other way, more than doubling their first-quarter total yardage mark of 82 and finishing the half with 257 yards of total offense.
That was just the first warning sign for Kansas, which, for the second straight game, saw a disastrous third quarter turn a competitive ballgame into a blowout.
Behind two TD runs from Eric Stephens (25 carries for 126 yards) and an incredible TD catch by Eric Ward, Tech outscored KU 21-0 and outgained the Jayhawks 224-73 in the third quarter.
"I didn't think tackling was an issue in the first half," KU defensive coordinator Vic Shealy said. "But in the third quarter, on the three touchdowns we gave up, we had some issues where the tackling was not at its best."
Some of that was because of poor technique. Some of it was because the Jayhawks simply did not deliver when they were supposed to.
"We didn't come in with a real complicated scheme," Terry said. "Against Georgia Tech, at halftime, we tried to make a whole bunch of adjustments and that kind of hurt us. This second half, we didn't really make a lot of adjustments. We went out and did the same things. We just have to execute better."
While the defense reverted to the form that led to it being ranked dead last in the FBS in total defense, the offense killed its own progress with costly turnovers.
Two of the three interceptions thrown by Webb came as a result of tipped balls. But, even with the miscues, the offense racked up 478 total yards, including 239 on the ground.
Despite giving up the early lead and more than 500 yards of total offense, several members of the KU defense said the unit took a step forward on Saturday.
"I know it's easy to shoot the horse and shoot the horses," Shealy said. "But that's a really good offense, and they do some things that are very, very difficult and our kids handled some situations. I'm optimistic because we played better today. It may not show, but we played better."
Better, but not well enough to win and not well enough to walk away feeling good about the effort.
"It was big," said Johnson of the missed opportunity. "But we can't get it back now. It's in the past. I'm looking forward to turning this around and getting this sick feeling out of our stomachs."