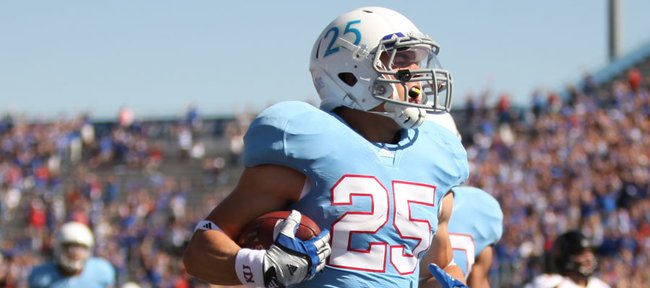 Podcast episode
Kansas coach Turner Gill talks to reporters following his team's 45-34 loss to Texas Tech on Oct. 1, 2011, at Memorial Stadium.
KU vs. Texas Tech
On the second play from scrimmage of Saturday's 45-34 loss to Texas Tech, Kansas University freshman Darrian Miller caught a quick pass, danced around a few defenders and raced 25 yards to set up KU's first touchdown.
The play proved to be the last of the day for Miller, who, according to KU coach Turner Gill, tweaked a hamstring and was held out of action the rest of the afternoon.
Gill said Miller originally injured his hamstring earlier in the week in practice. Although Miller was held out more to prevent further damage, his status for next week's game at Oklahoma State was not immediately known.
Through four games, Miller has gained 173 yards on 34 carries with three touchdowns and added 32 yards on two receptions.
Ground game rolls along
For the third time in four games, the Kansas rushing attack topped 230 yards. With Miller sidelined, most of the work fell to freshmen Brandon Bourbon and Tony Pierson along with sophomore James Sims.
Sims rushed 24 times for 85 yards and a touchdown. Pierson picked up nine carries and delivered 46 yards. And Bourbon, whose 51-yard TD run in the first quarter was the longest of the season for the KU offense, added 101 yards on 10 carries.
Bourbon became the first KU back other than Sims to rush for more than 100 yards since Toben Opurum ran for 109 against Southern Miss in 2009. Bourbon became the fifth different Jayhawk to score a rushing touchdown this year and also the fifth first-year player to cross the goal line.
Senior running back Rell Lewis also scored the first TD of his career on a 19-yard pass from Webb in the second quarter.
Terry moves to free safety
During the off week, the KU coaching staff moved red-shirt freshman Keeston Terry from strong safety to free safety, switching him with junior Bradley McDougald.
It seemed to work. Not only did Terry pick up KU's first interception of the season — and the first of his career — but he also added 12 tackles, tying him with senior linebacker Steven Johnson for tops on the team.
"(We're) working more toward my strengths with some things," Terry said. "And I wasn't thinking a whole lot out there. I was reacting and playing fast."
Asked to identify the biggest change with his new position, Terry said: "It's more coming downhill now. That helps me out a lot."
A question of conditioning?
Asked after the game if the struggle to stop Texas Tech's up-tempo offense was a result of poor conditioning, several Jayhawks defended the shape of the team.
"I think we're a pretty good conditioned team," defensive coordinator Vic Shealy said. "Coach runs them well and our kids get through practice well. ... With the fatigue factor, we just don't have the depth that we need right now. It's a problem. It's a big problem."
This and that ...
For the fourth game in a row, the Jayhawks won the opening coin toss and elected to receive. ... Temperature at kickoff was 62 degrees under sunny skies with winds of 6 miles per hour out of the east. ... Sophomore defensive end Keba Agostinho recorded his first career sack. ... The Jayhawks donned the powder blue throwback jerseys worn by the 1961 Bluebonnet Bowl team for the first time since 1983. The uniforms featured blue tops with white numbers trimmed in red and also included white helmets with blue numbers on the sides.