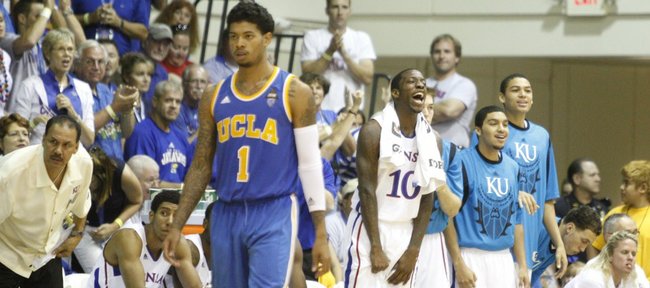 Podcast episode
KU coach Bill Self, Tyshawn Taylor, Elijah Johnson and Thomas Robinson talk to reporters following the Jayhawks' 72-56 victory over UCLA on Nov. 22, 2011.
KU vs. UCLA
Lahaina, Hawaii — An overflow crowd in a gymnasium that seats 2,800 and a global television audience will watch two of the top-four-winningest college basketball programs duke it out Wednesday for the Maui Invitational title.
The game features the game's winningest coach, Duke's Mike Krzyzewski, and a decided underdog, Kansas, not accustomed to the role. Duke has more skill, is better offensively. Kansas, even more explosive, leads with defense when playing well.
November basketball doesn't get any better than this. NBA lockout? Please, who cares? It's so stale compared to the college game anyway.
Tuesday's results delivered the best possible title match-up.
Duke looked hard to guard in its 82-75 victory against relentless Michigan. For a half, Kansas looked tough to score on and held on for a 72-56 victory against UCLA in the final game of the night at the Lahaina Civic and Recreational Center.
In an island known for buzzes, an especially loud one is mounting for Wednesday's clash of basketball giants.
"I would bet the atmosphere for the final game could be as good any atmosphere as there has ever been in this building," Kansas coach Bill Self said.
Added KU senior guard Tyshawn Taylor: "This is one of those games you sign up for when you come to Kansas. This is a game we're going to remember forever, playing against Duke in the final in Maui."
The Blue Devils (6-0) are favored for a reason. They have five McDonald's All-Americans. Leading scorer Seth Curry, a .583 three-point shooter, isn't one of them. Kansas has none, but junior guard Elijah Johnson (23 points, four rebounds) played like one Tuesday.
Johnson put on a quite a show for his godfather, Milwaukee Brewers hard-throwing relief pitcher LaTroy Hawkins.
Curry and fellow starting guard Austin Rivers, the nation's top-ranked freshman recruit, impressed their in-attendance fathers, former NBA stars Del Curry and Doc Rivers, coach of the Boston Celtics. The second-generation star guards look as if they have been playing together for years, which their coach traced to an August trip.
"You don't develop a really good relationship on the court until you're in real good competition," Krzyzewski said. "So that's one of the reasons we went to China and Dubai, to give these guys a chance to get to know each other. And it's why we've scheduled such a difficult schedule these first seven, eight games."
Kansas hasn't loaded up with stiffs either. Today will mark KU's fourth game in nine days, and the opponents have been traditional college basketball heavyweights Kentucky, Georgetown, UCLA and now Duke. The Hoyas and Bruins have had stronger teams, but Wednesday's opponent has the qualities of a typical hot-shooting (.463 on three-pointers), steady Coach K team, although a younger version than most.
One strong half of defense and one poor one won't cut it against Duke, 14-0 in the Maui Invitational.
"If we defend like we did for five possessions in a row, we could be down 15-0," Self said.
And if the Jayhawks bring it all night, they could make Maui history.