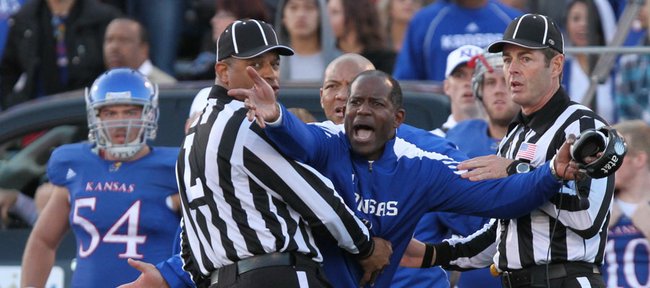 Videos
Turner Gill weekly press conference: Nov. 22, 2011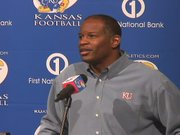 Kansas head football coach Turner Gill addressed the media during his weekly press conference Tuesday, Nov. 22, 2011 at the Anderson Family Football Complex.
Coaches in all sports have emphasized for years the importance of staying in the moment and focusing only on the game in front of them.
For Kansas University's football team, that could be a difficult task this week, as talk about several aspects of the Jayhawks' future dominated Tuesday's media session at the Anderson Family Football Complex.
For starters, there seems to be quite a bit of speculation that Saturday's match-up with Missouri — 2:30 p.m. at Arrowhead Stadium in Kansas City, Mo. — could be head coach Turner Gill's last game at Kansas.
Gill, who owns a 5-18 record in two years at KU, twice before stayed away from the topic this week, saying only that he was not worried about "all that other stuff" and that his focus was on preparing for the Tigers.
Asked Tuesday if it would surprise him if Saturday's game proved to be his swan song at Kansas, Gill barely flinched.
"I expect to be here a long time," he said.
Although Gill's confidence in his ability to coach and develop the program never has wavered, a few of his players talked Tuesday about the unfortunate circumstances surrounding Gill's first two years at Kansas. For some, just talking about what might become of Gill was too much.
"Any time someone wants to talk about that, you just have to stop it right there," sophomore quarterback Jordan Webb said. "That's something we can't really be thinking about."
For others, such as senior linebacker Steven Johnson, the fact that Gill may be on the hot seat creates confusion.
"It's a little hard," Johnson said. "Because you've got somebody who's done nothing wrong. He believes in this whole program, and he's a guy that wants to win and wants to succeed and is not getting results right away."
Still, Johnson said all he could do was continue to work hard and fight for his head coach on the field.
"Society's harsh, and life isn't fair," Johnson said. "If anybody wants to put themselves in the shoes of a coach, you can always go buy 'NCAA 2012' (the video game) and play dynasty mode. To try to recruit people and do that against all these other schools. It is difficult. That's why I just try to lay it on the line for him every week."
Most of the players made available to the media agreed: Gill has not let his future become a distraction.
"Definitely not," Webb said. "He just wants to get us ready to play this game."
Added senior A.J. Steward: "He's doing the best he can. If he wasn't coming in here every day and putting his heart into it, I would question it. I've never seen any person, let alone a coach, get up after taking punches the way he does. He takes a lot of heat in the media, and, just with the passion he brings to work every day, you can tell he's never fazed by anything that happens."
Zenger talks Border War future
With Saturday's game potentially marking the end of what's widely known as the oldest rivalry west of the Mississippi River, the future of the Border War series also has been a hot topic this week.
Although he's currently in Hawaii with the men's basketball team, KU athletic director Sheahon Zenger took time out Tuesday to re-emphasize his school's stance on Missouri leaving the Big 12 Conference to join the SEC.
"They divorced our family, and we're loyal to our family," Zenger said.
Zenger, Gill and men's basketball coach Bill Self have said in the past that the Jayhawks no longer would play the Tigers once they left the Big 12. Although the possibility exists that MU could be in a holding pattern for one more season and, therefore, would compete in the Big 12 next season to fulfill scheduling obligations, Zenger said MU's desire to break away has soured thousands of KU supporters.

"The coaches and the administration at the University of Kansas and the major stakeholders, as well as large portion of the KU fan base, don't have an appetite to continue this game or other competition in the wake of what's transpired over the last couple of years," Zenger said of Mizzou's flirtation with other conferences. "It's our perspective that the instability in the Big 12 Conference began in Columbia, Mo., and then was prolonged here in the last several months when they really had a chance to bring things together."
Injury update
Like most teams this time of year, the Jayhawks enter their finale a little banged up. Gill said only one injury was serious enough to threaten playing time this weekend.
Tight end Tim Biere, who missed last week's game because of a lower leg injury, is questionable for the final game of his KU career. Biere, a senior from Omaha, Neb., ranks third on this year's team in both receptions (27) and receiving yards (322) and is tied for second on the team with two touchdown receptions.
Center Jeremiah Hatch, who missed the second half of last week's loss at Texas A&M;, is probable for Saturday, and Webb, who was sacked six times last week and momentarily left the game after one particularly vicious hit, is also prepared to play.
"I'm perfectly fine," Webb said. "We've got the best training staff in America, so I'll be ready to go on Saturday."
What to wear?
In years past, the Jayhawks have chosen the season finale against Missouri to break out a new uniform combination. But that won't be the case Saturday. Gill said the Jayhawks — the designated home team — would wear their normal home uniforms.
Asked why, Gill pointed to the fact the team wore light blue throwback jerseys for this year's homecoming game, a 45-34 loss to Texas Tech on Oct. 1.
In last year's Border War game, KU donned all white uniforms, complete with white helmets, for the 35-7 loss to the Tigers, who also mixed up their look with throwback helmets.
This day in history...
On this day in 1991, former KU running back "Touchdown" Tony Sands, set two NCAA records and scored four touchdowns during KU's 53-29 trouncing of Missouri at Memorial Stadium.
Sands' 396 yards and 58 carries in his final game as a Jayhawk broke the NCAA single-game rushing record (386) set earlier that season by San Diego State's Marshall Faulk. Although Sands' NCAA yardage record since has been broken, both still stand as school records. Sands, who played at KU from 1988-91, ranks second on KU's career rushing list with 3,788 yards.
'Prince Hal' passes
Harold "Prince Hal" Patterson, a three-sport letter-winner at KU in the early 1950s, passed away Monday at 79 in Kinsley.
Patterson, a member of the KU football (1952-53), basketball (1953-54) and baseball (1953) teams, was drafted by the NFL's Philadelphia Eagles, but chose to head to Canada, where he had a 14-year career and was inducted into the CFL Hall of Fame in 1971. As a Jayhawk basketball player and starter on the 1952-53 team that advanced to the national championship game, Patterson participated in 46 games and averaged 10.3 points during his two seasons.
A native of Rozel, Patterson also is enshrined in the Kansas Sports Hall of Fame and the KU Athletic Hall of Fame.
Patterson's funeral will take place at 2 p.m. Saturday at Morell Funeral Home in Larned. A visitation is scheduled from 9 a.m. until 8 p.m. Friday at the funeral home, and memorials may be sent to American Diabetes Foundation in care of Morell Funeral Home, P.O. Box 124, Larned, Kan., 67550-0124.