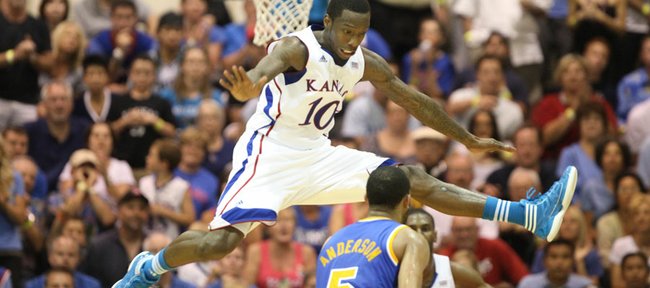 Podcast episode
KU coach Bill Self, Tyshawn Taylor, Elijah Johnson and Thomas Robinson talk to reporters following the Jayhawks' 72-56 victory over UCLA on Nov. 22, 2011.
KU vs. UCLA
Lahaina, Hawaii — Kansas Univeristy guards Tyshawn Taylor and Elijah Johnson combined for 36 points with seven assists on Tuesday, but it wasn't enough to get overwhelming praise from the guys they went against.
"I think they're just — they're just polished guards," UCLA guard Jerime Anderson said following his team's 72-56 loss to KU. "They play solid. I'm not saying that I'm overly impressed by their games. I've seen them play for a long time. And I think that it's nothing that we couldn't handle."
Anderson went on to say that he thought that Johnson played "really well," but he was quick to point out that the Bruins could have played better defensively.
"I think for us and our team, it's really never the other team and guys being that much more talented than us," Anderson said. "It's really about us. And we have to look into ourselves and figure that out quickly."
Asked about KU's guards, sophomore Tyler Lamb said: "They played a great game today and yesterday. The whole tournament. I take nothing away from them."
Lamb and Anderson weren't bad themselves, combining for 29 points on 9-for-15 shooting. They also went 5-for-7 from three-point range.
UCLA, though, went just 8-for-30 on two-pointers.
"We've got to get more of a presence inside," UCLA coach Ben Howland said. "We've got to get someone to score in there for us and do a better job there."
The Bruins were haunted by a slow start, falling behind 14-2 after six minutes. Their first field goal came on a three-pointer by Reeves Nelson at the 13:36 mark of the first half.
"We allowed their defense to take us out of any good shot selection in the first six, seven minutes," Howland said.
The UCLA coach noted that KU's top three players — Taylor, Johnson and Thomas Robinson — all played well.
"They're a very good team. This is a very good Kansas team," Howland said. "They execute. Robinson's a very good player. Elijah Johnson really took it to us."