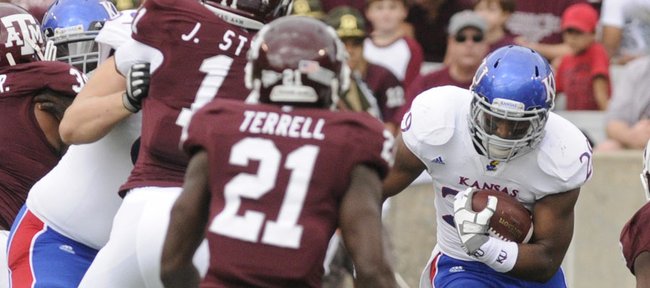 Podcast episode
Kansas coach Turner Gill talks to reporters following the Jayhawks' 61-7 loss to Texas A&M; on Nov. 19, 2011.
KU vs. Texas A&M
Texas A&M; coach Mike Sherman was especially proud of his team's near-shutout following the Aggies' 61-7 triumph over Kansas on Saturday.
"I thought other than a few things," Sherman said, "we played pretty flawless defense."
The Aggies held the Jayhawks to 197 yards of total offense and only 108 yards of offense in the first half.
A&M; also shut down KU's running game, limiting the Jayhawks to 64 yards on 55 carries (1.2 yards per rush).
"It was big for our team," A&M; senior defensive lineman Tony Jerod-Eddie said of the victory. "I don't think we were lacking any confidence — we knew we were good going into this season — but it felt good to go out and dominate for a full four quarters."
A&M;'s offense also was impressive.
The 61 points scored was the third-most for the Aggies in a Big 12 game, while the 54-point margin of victory was the second-most in a Big 12 game, trailing only a 73-10 win over Baylor in 2003.
"I told the kids before the game, 'It doesn't look like we will win a championship this year, but that doesn't mean you can't play like champions today. Show people what you're made of,'" Sherman said. "And we played at a high level for most of the game."
A&M;'s 23 first-quarter points and 44 halftime points also were the most for the team since a 1997 game against Louisiana-Lafayette.
The Aggies led 61-0 after three quarters despite only possessing the ball for 14 minutes, 18 seconds (compared to KU's 30 minutes, 42 seconds).
"I've never had that little time of possession with that many points," Sherman said.
A&M;'s special teams thrived as well, with Dustin Harris returning a punt 72 yards for a touchdown in the third quarter.
"We talked about it before the game, and I got with the group and said, 'If we can get some blocks in, we'll take one to the house,'" Harris said. "They worked with me, and we got the touchdown."
Harris finished with three punt returns for 162 yards — breaking the previous school record of 131 punt return yards (on three returns) set by Aaron Glenn against Missouri in 1993.
"I thought we blocked pretty well for him and there was a lot of separation between him and the coverage units," Sherman said. "But he made some great moves. He's a heck of an athlete."
The victory snapped a three-game losing streak while also making the Aggies bowl eligible.