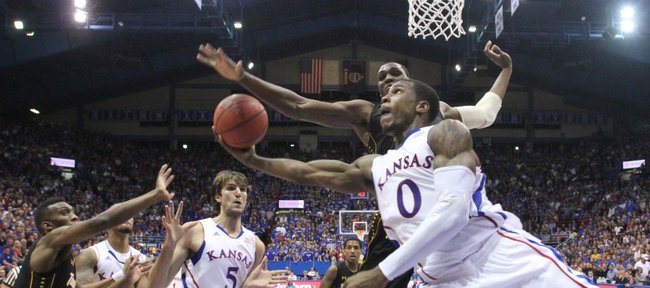 Podcast episode
Kansas coach Bill Self talks to reporters following the Jayhawks' 100-54 victory over Towson on Nov. 11, 2011.
KU vs. Towson
Thomas Robinson's 18 points and 11 rebounds stood out on the postgame stat sheet Friday night.
Yet in actuality. ...
"He got numbers, but those numbers aren't real," Kansas University basketball coach Bill Self said after his Jayhawks' 100-54 season-opening rout of Towson in Allen Fieldhouse. "Thomas didn't play tonight like he's capable of playing. He played his man after he caught it. A good player is going to foul his butt out fast."
Just like his coach, All-America candidate Robinson — who finished with those All-America numbers — was alarmed that he picked up his second foul just four minutes into the game.
Sitting for a prolonged period explains KU's getting outrebounded by Towson, 17-10, the first half and 35-32 for the game.
"I'm disappointed in this game, actually," the 6-foot-10 Robinson said. "I think I waited too long to start playing. I picked up two dumb fouls. It wasn't a good game for me at all. I allowed my team to get outrebounded. I wasn't able to be out there to get to the boards."
Robinson finished the first half with one rebound and nine points in 13 minutes. He rallied for 10 points and nine boards in 12 minutes the second half.
"Our two guys (Jeff Withey, Robinson) only combined for one rebound in the first half in 22 minutes — give me a break — when their big guys combined for nine," Self said. "We have to do a much better job. Travis (Releford) isn't on the glass at all. That's something we can emphasize and do a better job with."
Junior center Withey, who had no points, no rebounds and two fouls the first half (KU still led, 53-29 at the break), did finish with 10 points, four boards and three blocks. Junior forward Releford, who hit four of six shots for 12 points with one board the first half, finished with 14 points and the one rebound.
"I take full accountability," Robinson said of the glass-work. "That's why the stats don't matter. It was a bad game for me."
Considering the negatives, how did KU manage such a lopsided victory?
Well, the Jayhawks, who did receive seven rebounds and 13 points from junior forward Kevin Young, totaled 30 assists (most in the Bill Self era) against five turnovers.
KU's five turnovers were the fewest since a five-bobble game against North Dakota State in the first round of the 2009 NCAA Tournament. The 30 assists were most since 32 versus UNC Asheville on Jan. 2, 2003.
KU had zero turnovers the second half.
Last time the team pitched a turnover shutout was against Oklahoma on Feb. 27, 2010, in Allen.
"I do think our team historically has moved the ball well," said Self, whose team ran the floor fast and furious all evening with several rim-rattling dunks by Withey, Robinson, Young and others.
Noted Robinson: "We've been an athletic team the last couple years. Now it's nothing but athletes on this team. As long as I've been here, we've been an unselfish team. The credit for that goes to coach Self. We get the ball to the third side, and whoever is open will take the shot. That's coach Self right there."
Self has no complaints about the athleticism on his roster.
"We have to be quicker to the ball and react quicker," he said, "because we can put a pretty athletic team out there. We can probably be more athletic with this team than any team we've had, maybe even the '08 team in a lot of spots."
He also liked the production off the bench. Young had 13 points, Conner Teahan 11, Naadir Tharpe six and Justin Wesley six.
"Maybe we found we are not as thin depth-wise as we thought," Self said. "You look down here (at stats) and see nine guys contributed well."
KU will meet Kentucky at 8 p.m. (Central time) Tuesday in Madison Square Garden in New York.