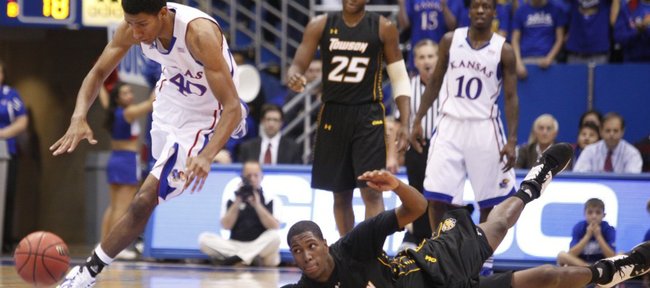 Podcast episode
Kansas coach Bill Self talks to reporters following the Jayhawks' 100-54 victory over Towson on Nov. 11, 2011.
KU vs. Towson
In the Kansas University basketball team's two exhibition games against in-state Div. II schools, Loyola Marymount transfer Kevin Young looked like the new kid in class who moved in mid-year.
Tentative, self-conscious, wondering how to fit in instead of just being himself and doing what he did that earned him a scholarship at a perennial powerhouse.
When the curtain came up on the season Friday night in Allen Fieldhouse, Young's uncertainty vanished. He looked like he belonged.
Thomas Robinson picked up two quick fouls, creating an opportunity for Young, who cashed in on it with 13 points, seven rebounds, two assists, two steals and two blocked shots in 14 minutes. Oh, and three dunks.
"I like to dunk," Young said, then corrected himself. "I love to dunk. It's my favorite part of the game. It gets everybody into it, the crowd, all the players on the team, and it rattles the opposite team as well."
His second dunk, coming after he stole the ball and went the distance for a furious flush, triggered a huge roar and was one of the most impressive among KU's 12 dunks in a 100-54 rout of Towson.
"Maybe the light came on," KU coach Bill Self said of the junior from Perris, Calif. "He was aggressive. He got his hands on balls. Thomas (Robinson) got 11 rebounds, but Kevin was our best rebounder. I thought in 14 minutes, he maximized his time out there, without question."
At 6-foot-8, 190 pounds, Young will have trouble establishing position against the wide-bodies. Not much he can do to change his frame significantly at this point, but he can help a thinner-than-usual bench overachieve the way it did Friday.
Asked to define his role, Young said, "Rebound, extra-possession guy, just do as much as I can to contribute to the team when I'm out there. Go hard and give energy."
Young has plenty of it stored up after spending a year away from competitive basketball. He attended San Bernardino Valley College, helped to coach at Barstow CC and committed to transfer to San Diego State but changed his mind.
He faces much stiffer competition daily in practice than he confronted Friday.
"Makes me tougher," he said of playing against Robinson. "Just going at him every day, it's tough. He's a big kid. And me, 190, I can barely make a dent in him, but I try. I try as much as I can."
After his big night, Young talked about where the team needs to improve, another sign he's blending into the culture.
"Our rebounds," he said. "The big guys — like Thomas said — we kind of slacked off and didn't box out as much as we should have. We should have got a lot more rebounds than we did. We need to box out more, go look to hit a guy before we just turn and run to the rim."
Critiquing himself, he said, "Defense. I need to still be a lot more aggressive on defense. Stop making careless mistakes like reaching for the ball and playing out of position."
Young doesn't claim to have it all figured out.
"I'm still not sure how to react after a dunk because when I was at Loyola, I had an Afro, and I would pat my Afro after a dunk," he said.
Here's an idea: Do what your position coach, Danny Manning, did. Beat your man down the court and prevent the guards from feeding him the ball.