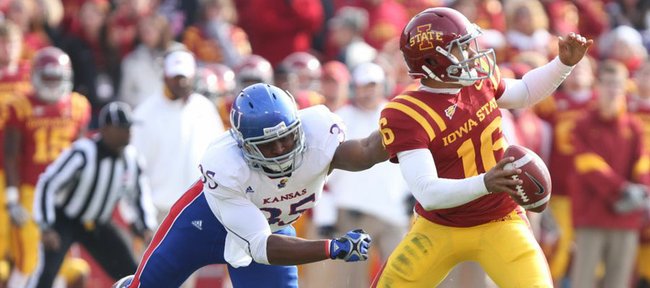 Podcast episode
Kansas coach Turner Gill talks to reporters following the Jayhawks' 13-10 loss to Iowa State on Nov. 5, 2011.
KU vs. Iowa State
Ames, Iowa — Iowa State coach Paul Rhoads wasn't about to apologize for his team's 13-10 close-call victory over Kansas on Saturday afternoon.
"We've won two games in a row," Rhoads said. "The Texas Tech game was the most complete victory we've had since we've been here. Today was a beautiful victory."
The Cyclones, for the second straight year, defeated the Jayhawks at home to move to within a game of bowl eligibility at 5-4 (ISU beat KU, 28-16, in 2010).
This game was tougher than a year ago, as Iowa State needed a Zach Guyer 42-yard field goal with 4:30 left to secure the win.
"(The Jayhawks) came in here and played the game we expected them to play," Rhoads said. "They lost six straight under great adversity, they regrouped, they had a great plan, and they came in here and played their tails off."
Quarterback Jared Barnett led Iowa State's offense, rushing 22 times for 125 yards. It was the most yards by an ISU QB since Sage Rosenfels rushed for 140 yards on Nov. 11, 2000.
Barnett admitted after the game that only about half of his runs were planned, while the other half were times when he scrambled to make a play.
"They really shut off our running backs," Barnett said, "keying on them and making me make the decisions with the ball in my hands."
The red-shirt freshman converted four first downs on runs, including three third-down conversions on third-and-10 or longer.
"He's got the ability to make cuts like a running back does," Rhoads said.
Barnett also was complimentary of KU's defense, saying he was impressed by the Jayhawks' speed and ability to hit.
"I think I came in not expecting them to play that hard and play as good as they did," Barnett said. "But they really did come out and really gave us a tough time on offense. I think they surprised a lot of people with how they came out and played us on defense."
Last season, the Cyclones lost their final three games to finish 5-7 — one victory short of bowl eligibility.
This year, Iowa State finishes its season with a home game against Oklahoma State before playing at Oklahoma and at Kansas State.
"This was a great win for this team, this 2011 team," Rhoads said. "Now we've got to continue to build on it."