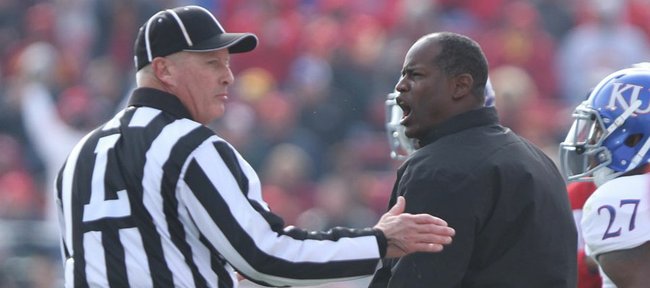 Podcast episode
Kansas coach Turner Gill talks to reporters following the Jayhawks' 13-10 loss to Iowa State on Nov. 5, 2011.
KU vs. Iowa State
Ames, Iowa — The guys wearing KU ballcaps and blue coats, the coaches, wanted to win the game played Saturday in Jack Trice Stadium on the campus of Iowa State. So did the players wearing nameless jerseys and a "KU" on their helmets.
They were disappointed when it didn't happen, when the Cyclones scored a 13-10 victory against a Kansas University football team that has lost seven in a row.
Yet, a thought hung in the brain and looped all day: Would the average Kansas fan, hooked to a lie detector and answering in the affirmative when asked if he or she really, really, really wanted the Jayhawks to win Saturday, pass the test?
Publicly, of course, even if hiding behind an anonymous screen name, all would claim so. Who knows? Maybe a victory could have changed some minds about the state of KU football, but it's doubtful.
The unsightly fashion in which Big 12 competition dominated the Jayhawks the previous six weeks seems to have left the majority of the fan base already checking out on the Turner Gill Era and investing emotions in the search for the next football coach. When will it happen? Who will it be? Which winning coach who lost his job for alleged mistreatment of a player is the favorite? Is it Mike Leach, the offensive genius, or Jim Leavitt, the defensive disciplinarian? KU athletic director Sheahon Zenger knows both men well.
After Saturday's loss, Gill answered questions of another sort in a room probably about the size of the one Adam James was sent to by Leach during a Texas Tech practice.
The questions sent Gill's way centered on a pair of fourth-down decisions he made. The first came midway through the third quarter. After Jordan Webb lost a yard on third-and-goal from the 1, Gill decided to let Ron Doherty kick the field goal, rather than go for it on fourth-and-goal from the 2. If that's seven points instead of three, maybe Kansas wins, 14-13.
"I felt like we should have run it up the middle there," said KU's all-purpose man D.J. Beshears.
Me too. Twice with Toben Opurum. If The Fridge can do it the Super Bowl, Opurum could have done it in the Big 12 last-place game.
Gill also was queried about the decision to punt rather than go for it on fourth-and-11 from the 19 with less than three minutes remaining. He said if it had been fourth-and-6 or fourth-and-7 he would have gone for it. Tough to argue with that, though it didn't work because the KU defense couldn't get the three-and-out it needed. Jordan Webb was sacked for a 6-yard loss on third down.
Webb would have loved to go for it, which makes him no different from any offensive player ever to play the game, but he would have decided otherwise had he been wearing Gill's headphones.
"I understand because they were the side that was hot today," Webb said of the KU defense. "We weren't as an offensive unit. We weren't doing what we needed to do and he had to put it in the defense's hands because they were."
Wrong call, right call, whatever. Gill didn't lose this game, and based on how the outcome wasn't a blowout for a change, he hasn't lost his team.
Sophomore running back James Sims, forever a team-first guy, stood behind his offensive line and his coach when talking about the game. He was more disappointed in losing a fumble than in gaining 50 yards on 11 rushes.
"We were trying to bounce back from the Texas loss and the offensive line said they were going to do a better job and that's what they did," Sims said.
The 43-0 loss to Texas was the most complete a drubbing of so many one-sided KU losses and begged the question of whether the Jayhawks' spirits had been irreversibly broken. How did that not happen?
"Coach Gill's motivation got our minds of last week and on the week ahead, on getting better," Sims said. "And I feel like we got better today, as far as moving the ball. We've just got to punch it in the end zone. I can put some of the blame on me, fumbling going into the red zone. I've got to take care of the ball there. I've got to have ball security going in there."
Their spirits weren't broken and the gameplan was sound, but playing better won't change minds. Staying close in a game that looked about how a game should when a ninth-place team plays a 10th-place one won't sway opinions. Even if it didn't register as embarrassing, it doesn't change the three-word summary of the Gill Era: Not good enough.