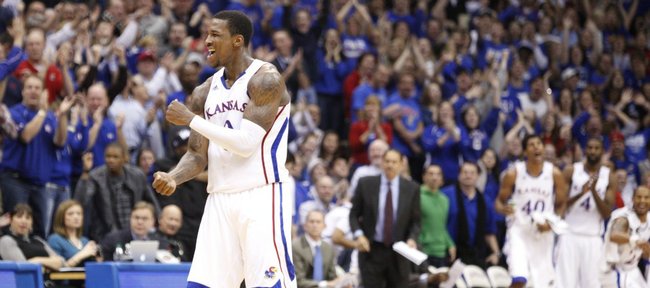 Podcast episode
Kansas coach Bill Self talks to reporters following the Jayhawks' 88-80 victory over Long Beach State on Dec. 6, 2011.
Videos
KU vs. Long Beach State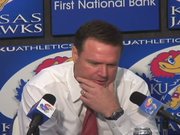 KU defeated Long Beach State, 88-80, on Tuesday, Dec. 6, 2011 at Allen Fieldhouse.
KU vs. LBSU
Kansas University forward Thomas Robinson was asked if his 26-point, 11-rebound performance against Long Beach State on Tuesday sent a message to Ohio State preseason All-America big man Jared Sullinger.
"I hope he got it," Robinson said with a wide grin following KU's 88-80 victory over LBSU. "But no, definitely, I'm not trying to start anything with that. But speaking of that, Sullinger's a good player. I know he's going to be ready Saturday. Message or no message, he's going to come ready to play."
The Jayhawks will play host to the No. 2 Buckeyes at 2:15 p.m. Saturday on ESPN.
Before getting there, though, Robinson played a big part in assuring that KU didn't have a letdown against LBSU.
The 6-foot-10 junior was a perfect 8-for-8 from the floor in the first half, racking up 18 points and six rebounds.
Many of his twos came on mid-range jumpers — an area he focused on in the offseason.
"As much as I worked on (my shot), I'm going to be honest with myself: Don't expect me to come out 7-for-7 every night," Robinson said with a laugh. "But it was definitely something that I'm proud of, hitting shots tonight."
Robinson finished with a career-high 26 points, which broke his previous high of 20, set on two occasions.
His final totals included 10-for-14 shooting, three assists, three turnovers, a block and a steal.
Robinson also stayed composed as LBSU threw different double-teams and traps his way.
"That's something that D-Manning is now working with me on every day," Robinson said of KU assistant coach Danny Manning. "He makes the red team trap me on purpose, just so I can work out of those situations. So I don't panic at all any more, especially having people like (Conner) Teahan on my team and Tyshawn (Taylor) shooting the ball great."
After watching the 49ers a few times previously on TV, Robinson wasn't surprised by how well they played Tuesday.
"They're physical, and they're fast, and they have one great player," Robinson said. "That's a formula for staying in the game with any good team. So we definitely knew they weren't going to go away easy, especially when we were up 19. They kept fighting."
Robinson also was optimistic that KU would take care of its turnover issues. The Jayhawks had 16 turnovers in the second half and 22 total.
"It's that ADD again. That's all it was. It kicked in," Robinson said. "I caught it. A couple of our guards caught it. We just got careless again, but like I said, it's still early. It's still early.
"As much as we don't want to keep turning it over, I'm glad we're doing it right now. We've still got a long week of practice, and like I said, our guards will be ready, and the turnovers will not be there Saturday."