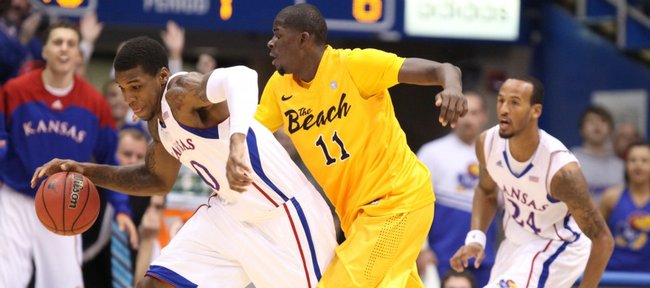 Podcast episode
Kansas coach Bill Self talks to reporters following the Jayhawks' 88-80 victory over Long Beach State on Dec. 6, 2011.
Videos
KU vs. Long Beach State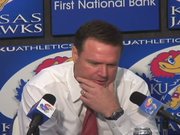 KU defeated Long Beach State, 88-80, on Tuesday, Dec. 6, 2011 at Allen Fieldhouse.
KU vs. LBSU
Long Beach State coach Dan Monson figured the best way to contain Kansas University junior Thomas Robinson was to make KU's 6-foot-9, 237-pound monster of a man hang around the perimeter as often as possible.
Oops.
Robinson finished with 26 points and 11 rebounds ­— his seventh double-double in eight games. He kick-started his spectacular night, as well as KU's 88-80 victory Tuesday at Allen Fieldhouse, by hitting a couple of deep jump shots during a 16-4 run by the Jayhawks that put the 49ers on their heels from the start.
"Defensively, I probably made a mistake," Monson said. "We wanted Robinson to try to beat us from the perimeter, and he did that. He showed why he's a preseason All-American candidate. He really hurt us."
So did the opening run that helped KU race to a 34-15 lead, a cushion that proved to be crucial as LBSU trimmed KU's lead to as few as four points in the final minute.
"When you come into an environment like this and you fall down 17, 19 in the first half, you're just battling uphill the rest of the way," Monson said. "We're obviously disappointed. We came in with four seniors, and we didn't play like seniors to start with."
LBSU senior T.J. Robinson said KU's opening run momentarily sent the 49ers into shock.
"They just made shots," he said. "We left Conner (Teahan) open twice during that little run. Robinson hit two in a row. So they started out, and it was 12 before we had hardly even scored."
Prior to Tuesday's game, everything about Long Beach State's team indicated that the 49ers were ready to play. The LBSU players had a bounce in their steps, a flicker in their eyes and enough confidence to make anyone watching believe they were here to win. But the environment, a few early mistakes and a stellar first half from the Jayhawks put a kink in their plans.
In racing to a 51-39 halftime lead, the Jayhawks (6-2) hit 59 percent of their shots, including a 50 percent mark (5-of-10) from three-point range.
"You have to give Kansas credit," Monson said. "I think even if we weren't out there, it would've been hard for them to make every shot they made in the first half. They were on fire. I'm beating our guys down because we came in here and expected to win, but the bottom line is you gotta give Kansas some credit. They built that lead up not by accident."
LBSU's road does not get any easier from here. Already saddled with losses at San Diego State (77-73 in overtime) and at Louisville (79-66), the 49ers on Saturday will travel to No. 4 North Carolina.
Knowing that the daunting task of going into the Dean Dome awaits, Monson took a little extra time during postgame handshakes to chat with KU coach Bill Self.
"I just thanked him for the opportunity to come in here," Monson said. "He knew we were gonna have a good team, and he had enough confidence (in his team to play us). Obviously, you don't want to lose a game like this, but this is a class place to play and a lifetime experience for our guys to come in here and battle. And I just told him I appreciated it."